Even though three-cornered hats and sleeve ruffles aren't as sexy as they used to be, one thing that never falls out of fashion is dining out at one of Boston's many historic eateries. From the favored spots of Paul Revere to the first restaurant to use "scrod," here are Boston's 10 eldest eating establishments.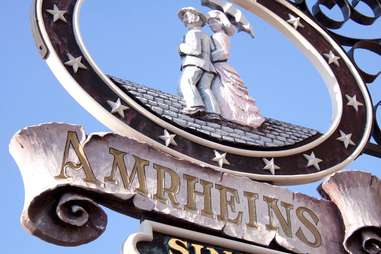 Southie
Opened: 1890
The Amrheins of 2015 may not be exactly like the Amrheins of 1890, but it's pretty darn close. It still sports both the oldest hand-carved bar in America still in use and the first draft beer pump in Boston on display. After a general upgrade several years ago, it now offers eats that are a bit fancier than the family vittles that made it neighborhood-famous. Regardless, Southie stalwarts and local politicos swear by it for the perpetually hearty meals, like lobster pie.
Jamaica Plain
Opened: 1882
Doyle's is not only a life-sized time capsule of Boston history; it's also a love letter to simpler times when gents like Honey Fitz (and the ensuing Kennedy dynasty) bellied up to the bar. The cafe's most infamous story involves original owner Billy Doyle shooting and killing a robber, then quipping that those were the only "shots" he ever gave away for free. Also, in 1984, a young Jim Koch convinced the owners to try his new beer, and Doyle's became the first place to serve Sam Adams Boston Lager.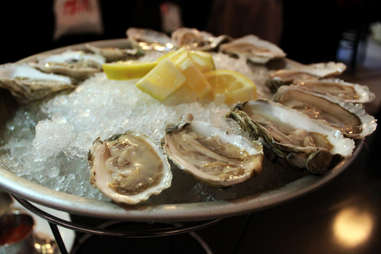 Downtown
Opened: 1875
Parisian Henry Marliave landed in the Hub with his wife, some recipes, and a dream. Not the one where you're running after the school bus naked -- the AMERICAN dream. After honing his culinary skills at the famous Young's Hotel (now demolished) he opened Marliave. The restaurant has weathered every storm, including numerous publicized raids during Prohibition, to emerge as one of Boston's finest dining establishments. Current chef Scott Herritt (Grotto) maintains the tradition with modern versions of classic dishes from France, Italy, and New England.
Theatre District
Opened: 1868
Another immigrant success story, Jacob Wirth started as a wine importer on Eliot St and then opened a beer hall evocative of his German homeland. Dedicated to legit Deutschland food and beers, Jake's oom-pahs all day long… from one end of the bustling antique mahogany bar to the other. Even though famous people, like Babe Ruth and Al Pacino, have dined here, the real VIPs are the beloved Average Joe regulars. If you're lucky, the restaurant will even name a chair in your honor.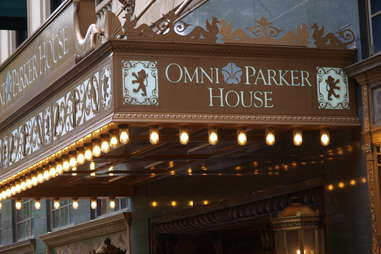 Downtown (in the Omni Parker House hotel)
Opened: 1855
This year marks Parker House's 160th birthday, and it's got plenty of reasons to celebrate, like inventing Boston Cream Pie and Parker House Rolls, or coining the term "scrod" -- all notable contributions to American cuisine. (Okay, maybe not "scrod.") Now the hotel's a member of Historic Hotels of America, and the restaurant's legendary fare and architectural heritage still charm visiting dignitaries, celebrities, and Bostonians alike. Also, its former employees include Ho Chi Minh (baker) and Malcolm X (busboy).
Fanueil Hall
Opened: 1827
Durgin-Park was originally a no-name warehouse dining room for market men and sailors circa 1740 before customers John Durgin and Eldridge Park bought it in 1827 and gave it their names. They also introduced the signature "Yankee cooking" menu and established the waitstaff's sarcastic swagger. Today it's one of the few places where you can actually get a crock of Boston Baked Beans, and you WILL be sassed by your server for ordering them... and for that shirt you're wearing. You've been warned.
Faneuil Hall
Opened: 1826
Ye Olde Union Oyster House, the oldest US "restaurant" (different than a "tavern") in continuous operation, will always and forever be home to bivalve-fanatics… and anyone else who wanders in from the Freedom Trail. Statesman Daniel Webster held court at the front raw bar, eating plates of oysters and chugging brandy, while JFK preferred a quiet booth (now memorialized) upstairs. Union's other odd claim to fame: toothpicks were first popularized here.
Faneuil Hall
Opened: 1795
Jimmy Wilson cashed in on his celebrity status as Boston's town crier and opened an alehouse for folks who needed some cold beer and a warm meal. And in the early days, those folks were Paul Revere and Daniel Webster (when he wasn't at Union Oyster House). According to lore, Jimmy's house ale was high-test and so thick that it required two glasses, one for the beer and one for the froth. Today you can still slug a pint of Bell In Hand ale (sans mega-froth), now brewed by Sam Adams.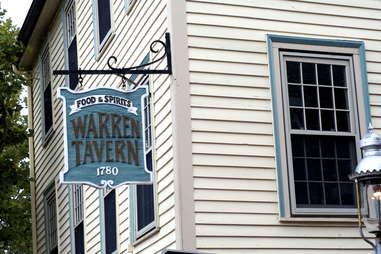 Charlestown
Opened: 1780
Take a step back in time at The Warren Tavern and eat/drink where our Founding Fathers toasted a crazy little idea called "democracy." George Washington, Benjamin Franklin, and Paul Revere all frequented the tavern. The "oldest tavern in Massachusetts" was one of the first structures rebuilt in war-torn Charlestown, because brews and grub would be… umm… helpful for the remaining reconstruction. And also for democracy.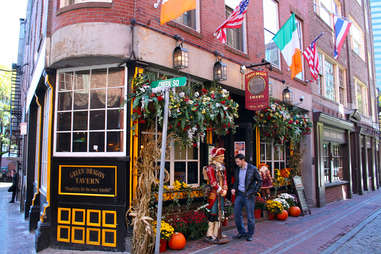 Faneuil Hall
Opened: 1654
This quiet public house (formerly in the North End) became the mouse that roared as the unofficially official "Headquarters of the Revolution." The Sons of Liberty met at The Green Dragon to plan the Boston Tea Party, and Paul Revere preceded his famous ride here with a pint. For a whopping 361 years, The Green Dragon has fed weary travelers, patriots, and the hungry masses.

Sign up here for our daily Boston email and be the first to get all the food/drink/fun the Hub has to offer.