5 Boston patios to hit this weekend... and beyond
Boston Now that the weather is cooperating (for now... bum bum BUM), it's finally time for some outdoor dining and drinking (sans parka). These Boston-area venues have recently opened their outdoor spaces and are anxious to help you forget about the last few months upon your arrival.
Canary Square (info and address)
Jamaica Plain
Everyone's favorite eco-friendly JP hangout Canary Square invites you to their cozy sidewalk patio for drinks and bites. They just re-launched $1 oysters every Monday (after 4pm), so grab a seat in the sun and enjoy some cold bivalves and drafts (18 excellent choices). With local, farm-fresh ingredients arriving every day, you should stop by often to see what they're cooking up. Continue Reading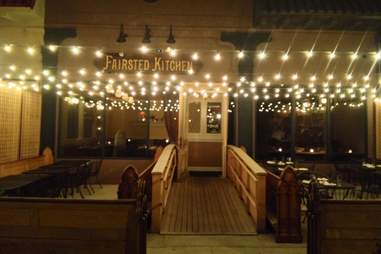 Evan Bradford
Fairsted Kitchen (info and address)
Brookline
If you're looking for a secluded secret garden dining experience (are you Bruce Springsteen?!), head to Fairsted Kitchen's ivy-trellised oasis for the ultimate relaxed vibe. It's like Narnia for foodies. Sit in reclaimed church pews and partake in Chef Jason Albus's menu of American cuisine with Middle Eastern and European accents. Sharing is always encouraged, but that might prove difficult with selections like cod beignets, duck fat-fried potato cakes, and cumin-dusted lamb ribs.


Bistro du Midi (info and address)
Back Bay
You don't have to go all the way to France for fine Provencal cuisine or quaint park-side nooks, because they have both at Bistro du Midi. Come for Chef Robert Siska's journey-through-Provence offerings and stay for the sweet views of Boston Public Garden. The All Day Café menu (available only on the lower level and patio) showcases bold flavors and French favorites like Croque Monsieur and Nicoise Salad. Throughout the warmer months (May to September), Bistro du Midi will feature the Summer Rosé Tour with various Rosés (by the glass) that pair well with Summer-y fare.
Legal Sea Foods - Charles Terrace (info and address)
Harvard Square from mid-April to mid-October
Boasting one of the largest outdoor spaces in the city, Legal's pop-up in front of the Charles Hotel (Cambridge) is a local fave complete with raw bar, lobster rolls, and a couple of TVs so you can watch the Sox game. Homemade purees and signature Spring/Summer mixes add flair (way more than 15 pieces' worth) to the cocktails.


Moksa (info and address)
Central Square
Be a good sport and help Moksa officially open their patio (Monday, May 19th) at their outdoor barbecue bash from 5pm-8pm. They'll be grilling sliders, kebabs, tacos, and dumplings ($5 each!), and will also have their ongoing Monday night all-you-can-eat sushi menu ($15/person). Award-winning mixologist Noon Summers is creating a special cocktail for the occasion: Spiked Snow Cones. Choose from pineapple and coconut with tequila, rooibos lime with rum, and hibiscus & yogurt with gin.