Ready-to-cook gourmet meals delivered to your door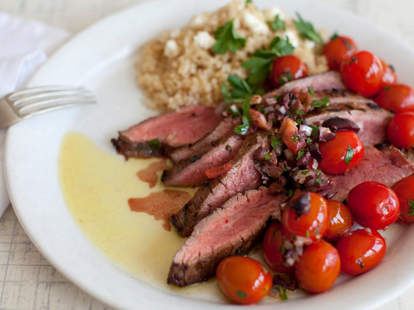 Because nobody's ever been impressed with your signature cold-Ragu-over-hot-rotini Tuesday night special, step up your culinary game with Plated, a just-now-available-in-the-Hub food service that delivers chef-created, ready-to-prep (in 30min or less), gourmet meals right to your door.Here's how it works:
Plated
Sourced from up-and-coming chefs, cookbooks, and definitely not Paula Deen, the five-meal rotating menu (which may include this tasty bowl of tagliatelle w/ shrimp asparagus & mixed mushrooms) is posted on Monday morning. And the clock starts. You have until noon the following Monday to pick your plates in order to ensure overnight delivery by 8p on Tuesday.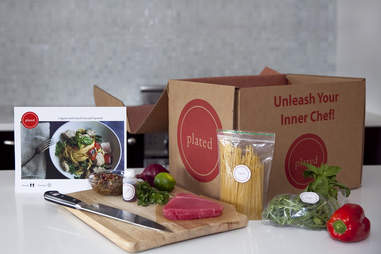 Plated
So that you don't have to rush home from Krav Maga, they use a sweet insulated (and recyclable) box like this one, which keeps food fresh for hours. And, inside, you'll find a world of delight and......
Plated
… all the locally sourced, pre-measured ingredients you'll need to make the dish, along with a visually pleasing, easy-to-follow, step-by-step instruction card.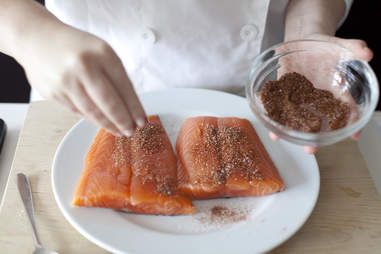 Plated
But wait -- what if I add too much cumin? I'll ruin everything. Impossible. Plated only assumes you possess the "basic pantry staples like milk, eggs, olive oil, etc." and provides the exact amount of everything else, including the seasoning for each dish. So even ye of little cooking confidence can't screw things up.
Plated
And because they recognize the damage Columbia House/BMG did to your music collection ability to commit, they offer two ordering options: a simple, a-la-carte, no-commitment plan so you can cook whenever you want, or a $10 per month, cancel-any-time membership that scores you cheaper plates, automatic ordering, and 12 White Snake cassettes for a single penny.
Plated
Finally, to ensure you never tire of the options and/or go back to hot dog-topped, chicken/mushroom ramen, they overhaul the menu weekly with "heart-healthy" meals (each between 600-800 calories) that include the likes of grilled steak w/ red wine-onion marmalade and farro-vegetable salad, and chili-seared salmon w/ sweet & spicy mango salsa and chipotle & roasted garlic mashed potatoes.