Book one of these four pig roasts right now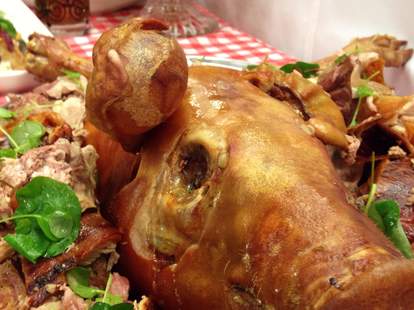 All Photos: Franklin Restaurant Group
They sniff out $1,000 tubulars. They chow down on sky-diving GoPros. They make adorable Geico pitch animals. So it's little wonder Citizen Public House and Franklin Southie went whole hog (!) with their new Roast Suckling Pig Dinners. Each sister resto has already been in the epic swine feast game, but now they're offering four different slow-cooked treatments, officially elevating the city's pork pickings. Check out these little piggy spreads:
Southern American BBQ
This is the saturated fat motherload. The smoky glazed pork pieces come with cheddar grits, fried green tomatoes, and cornbread. What, no butter? OF COURSE butter. Peach butter!
Suggested drink pairings: You and your boarish comrades can make a hospitable night of it with rounds of mint julep punch and whiskey lemonade.
Polynesian
It's just like that Mad Men Waikiki segment, minus all the Dante and Vietnam War nonsense. Wilbur gets a sweet soy-glazed treatment, with yakitori ribs clearly playing the starring role. Sides include scallion pancakes, green papaya salad, and sticky rice.
Suggested drink pairings: They say post-dinner ennui is best washed away with a Scorpion Bowl or Mai Tai.
Latin
Muy caliente and muy difficult to resist. Once you've stuffed your gullet with every manner of adobo mojado-enhanced meat, continue the feast with an assist from grilled corn, mole poblanos, and rice and beans.
Suggested drink pairings: Que mas? Caipirinhas, batidas, and frozen margaritas.
Classic New England
What you order for those out-of-towners who keep suggesting Durgin Park. Classically prepared porcine parts (mmm… roast pork belly) come paired with sweet native corn, cranberry sausages, salt pork baked beans, and clam chowder.
Suggested drink pairings: Forefather-worthy drink choices include the Cranberry Shrub and the Tea Party Punch.
Stick an apple in it -- you're done.
The deets remain familiar: 10-guest minimum, with reservations needed at least 72 hours in advance. Get the finger-licking lowdown from Citizen Public House or Franklin Southie's websites.