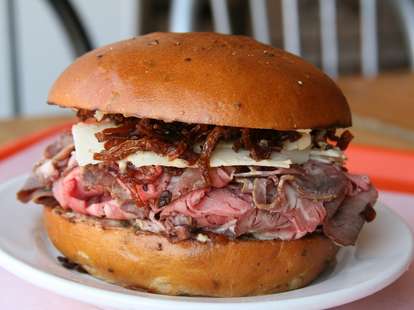 Erwin Chuk
Erwin Chuk
Boston's known for many things -- rich history, distinct accents, morally questionable tight ends -- but right up there with any of them is the food. Boston's been the birthplace for many an iconic American dish, and the city's status as a culinary innovator remains today. Here are 11 dishes that helped define the Boston food scene, from beloved standbys to instant classics.
Roast Beef 1000
Brookline
Piled high with slow-roasted beef, crispy shallots, Thousand Island dressing, and sharp cheddar -- all served on a brioche bun -- this sandwich is so popular that it makes up half of Cutty's sales. But this sandwich doesn't use just any ordinary roast beef. Owner and Chef Charles Kelsey creates his beefy masterpiece by giving a whole beef chuck roll an overnight dry cure with his own spice rub, then slow-roasts it in a low oven until it reaches its juicy peak perfection.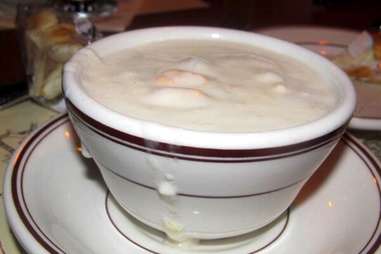 Clam Chowder
Union Oyster House
Faneuil Hall
Union Oyster House is a historic landmark all on its own -- it's been around since 1826, after all -- and it's also the oldest restaurant in continuous service in the nation. 10 years after opening, Union Oyster House began serving steaming-hot bowls of their now-famous clam chowder. Made with just the right amount of potatoes, clams, butter, onions, and cream, this rich and chunky chowder has set the standard for the soup people think of when they think of Boston.
The Double Awesome
Fenway
This vegetarian indulgence's crave-worthy deliciousness is sufficient to make it one of the newer entrants on this list. It's a scallion pancake sandwich with local greens pesto, Vermont cheddar, and two slow-poached and subsequently fried eggs -- because two eggs is obviously twice as awesome. Good enough for a late breakfast (they open at 11am), lunch, or dinner, this dish lives up to its name, especially when you bring their spicy ketchup into the mix.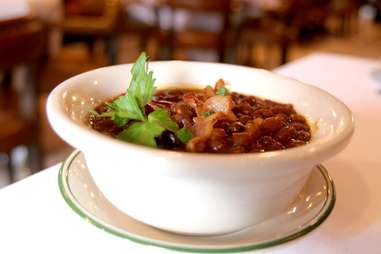 Homemade Boston Baked Beans
Fanueil Hall
Durgin Park made our city's baked beans famous, and continues to keep their recipe one of the most coveted in the city and beyond. It's more than 150 years old, and utilizes salt pork, sugar, molasses, dry mustard, and onion to flavor the beans. With each nostalgic spoonful, it's no wonder why their recipe has endured seemingly forever.
Local Grass-Fed Beef Burger
Centrall Square
With only 18 burgers served at dinner -- in the bar area only -- locals know to get to Craigie on Main early if they want to bite into one of Chef Tony Maws' signature grass-fed burgers. Served in a homemade bun and topped with Shelburne Farm cheddar cheese and house-made mace ketchup, the only thing that could make this meaty masterpiece better is adding a fried egg ($3) and/or (AND, always AND!) house-smoked bacon ($3).
Cannoli
North End
When there's a line out the door on a daily basis, you know you've got to be doing something right -- and Mike's Pastry's cannoli are definitely worth the wait. These delicate, handmade shells with rich ricotta-cream filling are worth flighting the crowds and the diabetes. Mike's serves a multitude of cannoli flavors -- such as chocolate chip, pistachio, and limoncello, to name a few -- but honestly there isn't much improving upon the original plain ricotta.
Roast Chicken with Garlic, Lemon, and Parsley
South End
You wouldn't think a roast chicken dish would make a list of iconic dishes, but Hamersley's Bistro is no ordinary roast chicken. Hence why it's been on Chef Gordon Hamersley's menu since the restaurant opened in the late 1980s. This incredibly juicy roast chicken possesses an irresistible brown crust, created by the parsley paste that's rubbed on the bird before cooking.
Maine Lobster Roll
North End
New England is known for having fresh, delicious lobster rolls, but only one local restaurant can make the most iconic one: and that's Neptune Oyster. Neptune piles their toasted rolls high with chunks of fresh Maine lobster, making this sandwich worthy of all its praise. Neptune even caters to both sides of the lobster roll debate: theirs is available hot with butter or cold with mayonnaise. Served with fries, this is the essential Summer (and New England) meal.
Sausage Pizza
East Boston
Sure, Boston has plenty of celebrated pizza places (hello, Regina's), but this mozzarella, sausage, and garlic pie from Santarpio's is one we can't resist -- and many other Bostonians can't, either. It's the family-owned pizzeria's most popular pie, and it's dotted with flavorful sausage that's made in-house. Another thing that makes this place (and its pizza) iconic? It's been in business since 1903, and has won a slew of awards for its pies.
Egg in a Jar
Kendall Square
Local food writers and everyday diners made this West Bridge appetizer a Boston phenomenon when it opened back in 2012. The dish consists of a poached duck egg served over hen of the woods mushrooms, pomme puree, and crispy duck skin. As if a rich, runny egg dripping down all of that deliciousness wasn't enough, it's also served in a convenient 7.5oz Ball jar to boot. Things just taste better in jars.
Boston Cream Pie
Downtown
The Boston Cream Pie we know and love today was created at Omni Parker House -- the then-called "Chocolate Cream Pie" was served at the hotel (then known as Boston's Parker House) when it first opened in 1856. Today, the custard-filled, chocolate-frosted "pie" is available in cake mixes and doughnut shops (to name a few) pretty much everywhere your sweet tooth can find it. But for the real, delicious deal, this original recipe is worth every dollar (and calorie).