What you should eat (and drink!) at Bronwyn's new brunch
All Photos: Jacqueline Dole
Boston loves brunch. Boston loves Bronwyn. So it stands to reason that Boston would love the fact that Bronwyn now has brunch. Chef Tim Wiechmann has rolled out a menu featuring Central and Eastern European classics that relies heavily on locally farmed food. There's a beef tongue pastrami sandwich. There's pig's head scrapple. There's more!

Presenting the Cold Wurst Platter: liverwurst, bologna, blutwurst, mustard, and roggenbrot. Don't let the name fool you, it tastes more like the best.
Chicken & Biscuits are all well and good, but Schnitzel & Biscuits involve pork, along with bratwurst gravy, a soft-boiled egg, and bratkartoffeln (fried potatoes, German-style).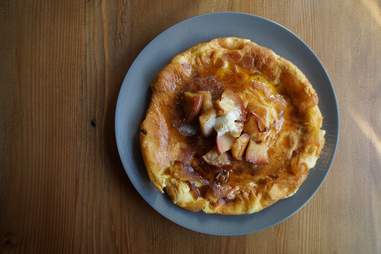 This Pfannkuchen, a cast-iron German pancake with roasted apples and maple syrup, is fun to (attempt to) pronounce. It's also fun to eat. Luckily, you do not have to choose.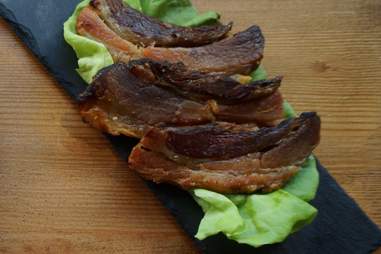 Of course they smoke their own bacon in-house. As if that was even a question.
The pronunciation doesn't get any easier when it comes to cocktails. Wake up to an Alarmglocke; cold-brew Karma coffee, Palmos Wisniowka, Jägermeister, and Krusovice beer. Prefer your brunch cocktails to have some bubbles? Don't miss the Morning Sekt; Dr. Loosen Sparkling Riesling and strawberry-cherry rumtopf, or the Red Rhuby Tea; Mourin Vermouth, Rhuby tea liquor, and sparkling riesling.
Brunch is served Sundays from 11am-2:30pm and both reservations and walk-ins are welcome.