Billed as the more laid-back "cousin" to his upscale French bistro, Craigie on Main, this highly anticipated sophomore endeavor from acclaimed Chef Tony Maws is a casual 115-seat "neighborhood public house" off Inman Square that's built in the same vein as an English gastropub and serves meats cooked on a giant wood-fired grill.
Recommended Video
This Mojito Hot Toddy Is the Destroyer of Colds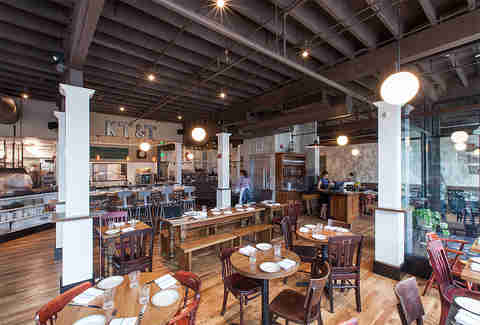 Vacant since '07 when popular neighborhood watering hole, the Kirkland Cafe, shuttered after 37yrs, the space has been overhauled (thankfully -- it was an absolute eyesore on the block) and rocks a woodsy, rustic aesthetic with exposed brick and ceiling beams.
Steal a peek of what folks are eating, including grilled Merguez sausage, farmhouse terrine w/ red onion compote, and this chicken with the claw still on (!!), as you make your way to…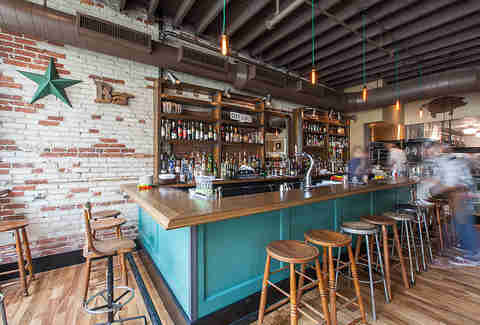 … the handsome 12-seat bar that flanks the kitchen's aforementioned wood-burning grill.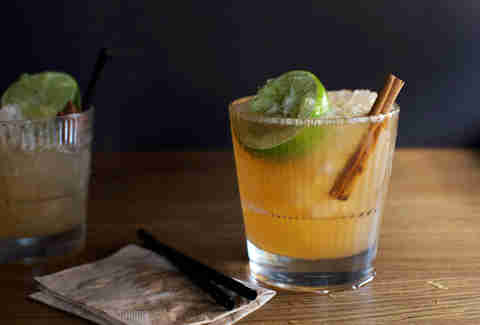 Perhaps you'd like to start with a craft cocktail, maybe the Storm Cloud (Cocchi Americano, Fernet Branca, citrus) or the Plantation Dark rum- and allspice-mixed A Tale of Two Kitties?
Depending on your intentions for the evening, either settle in at an intimate two-top tucked away in the corner…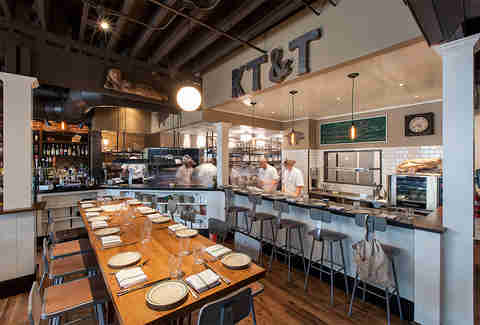 … or wait for your group to arrive and engage in a raucous night of revelry after annexing this communal table that looks into the open kitchen.
With a focus on proper beer, KT&T curates a solid lineup of eight drafts and 16-bottles, including Monks Cafe Flemish Stout, Victory Prima Pils, Moa Breakfast Wheat, and Jack's Abby Copper Legend.
And now it's your turn to order. Burlier "nose-to-tail" entrees run the gamut from grilled salmon head (pictured top), smoked and roasted Berkshire pork neck, and, yes, a burger (but not the Craigie burger), to giant grilled pieces of meat and this Braised Pigs Trotter Lyonnaise topped with chanterelle mushrooms.
And finally, assuming you've enjoyed too much of the aforementioned libations, this is a brief recap of how your evening's progressed at The Kirkland Tap & Trotter... or something like that.
Previous Venue
Next Venue
Venue Description
1. The Kirkland Tap & Trotter
425 Washington St, Somerville, MA 02143
Tony Maws' Somerville gastropub is more laid-back than its upscale sibling, Craigie on Main, but the food is just as good. Inspired by English neighborhood pubs, KT&T wants to be the kind of place you can go every night of the week, so it serves an American comfort menu that will have you begging for more. Both brunch and dinner are a meat-lover's paradise, and the kind of amazing grass-fed cheeseburger is available on both menus.