Boston's Guide to Catering Your Super Bowl Party
For the first four Pats Super Bowl appearances, you might have splurged on private room rentals, noisemakers, and sheet cakes with Brady's image silkscreened onto the frosting. By number seven, you'll want a quiet(er) Sunday at home with your closest friends. While the villainous Roger Goodell adds a layer of intrigue, and there's always the over/under on how quickly Joe Buck mentions Deflategate, New England fans have been here before, so we might as well maximize our relaxation and let someone else do the Super Bowl party cooking. To that end, we've rounded up our favorite pick-up-and-go-home catering packages to let you focus your stress on our special teams play.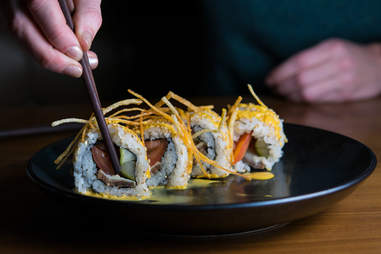 Andrea Merrill
Back Bay
Availability: $100 for four people; 24 hours advance notice needed. Email info@uni-boston.com to place an order.
One doesn't typically equate "Super Bowl Sunday" with izakayas, but UNI chef Tony Messina happens to be a rabid Pats booster and he's bringing a novel lineup of gourmet to-go platters: gochujang chicken wings, crispy wagyu beef dumplings with black vinegar dipping sauce, the deliciously incongruous White Castle Burger makimono roll (beef, pickles, lettuce, tomato, potato sticks, secret sauce), and the specially created "Brady Roll" (spicy tuna, avocado, puffed rice). May our defensive schemes be as clever.
Pat Piasecki
Inman Square
Availability: A la carte; must order by Thursday 2/1. Email info@trinastarlitelounge.com to place order.
Chef Suzi Maitland is all about Southern comfort fare (read: guilt grub) that's hard to justify any other time of year. So what are you spilling down the front of your vintage Bruschi jersey on Sunday? Mini corn dogs, pepperoni rolls, pigs in a blanket, chili, barbecue sweet potato chips with dip, and even a bit of pie (choose from pumpkin, bourbon pecan, apple cobbler, or hot chocolate mousse). If you're balking at game-time bar-back duties, add in the Fallen Angel or Bloody Mary mixes to make cocktailing a bit more no-fuss.
All locations, excluding airports
Availability: $12 per half-gallon; pickup in restaurant only.
Because sometimes high-stakes football demands a trough of chowder, Legal is ladling out half-gallon servings of its well-regarded clam chowder as part of its, yes, "Souper Bowl" takeout special. Even better, the six-serving special clocks in at just $12 (normally $23.50) in honor of No. 12 himself. And if you've wasted your weekend plotting your betting squares strategy, no worries: You can pick up the soup on the day of the game.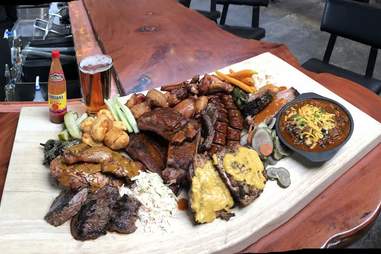 Courtney Vivan
South Boston
Availability: Order 24 hours in advance. Orders can be placed online at www.CoppersmithBoston.com or by calling the restaurant directly at 617.658.3452.
Executive Chef Jason Heard is worried you're looking less Gronk and more Danny Woodhead, which explains the mess of protein he wants to send you home with: brisket, bone-in jerk thighs, St. Louis ribs, homemade sausage loops, pork belly, smoked chicken, and pulled pork, plus sides like maple sweet potato mash, seared collard greens, cheddar grits, and chili mac & cheese. Score!
Harvard Square
Availability: A la carte. 100 buns or more require 48 hours advance notice; email info@tomsbaobao.com to place order.
We love a good food pun as much as the next hack, so here goes: make it a "Super Bao-wl" celebration. Tom's BaoBao launched its new catering program just in time for Sunday's matchup, which means Chinese steamed buns will muscle out the Cool Ranch Doritos as your crowd's chosen finger food. Fillings range from the classic (juicy pork, curry beef) to the veggie-friendly (sweet potato, bok choy, shiitake, and tofu).
All locations
Availability: Prices vary. 24- to 48-hour advance notice required; email catering@annastaqueria.com to place order. Delivery available for an extra fee.
Has anyone ever been sad about game-day Mexican? Exactly. Anna's is open for big-platter business, with everything from a DIY taco bar with all the accoutrements (65 tacos runs you $260) and mix-and-match burrito trays. And in honor of our fearless leader, No. 12, all orders come with a 12% discount.
Craigie on Main
Central Square
Availability: $85. Order by Friday. Place order here.
Pig's head, pigskin -- it all goes together, in a "holy crap, I'm munching on a baby pig's ear while watching Hogan score his fifth TD" sort of way. The "swanky" package, which serves up to six people, includes the aforementioned porcine noggin as well as wings, guacamole, sweet potato and peanut salad, and cornbread (add a rack of ribs or country sausages for an additional $25).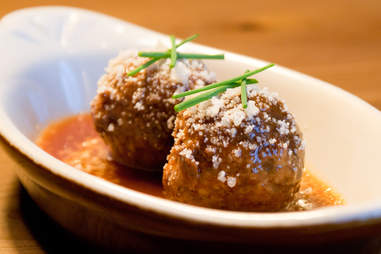 Dante Restaurant
Cambridge
Availability: Orders due by Thursday 2/1. Email events@restaurantdante.com to place order.
Chef Dante de Magistris doesn't want anyone going hungry by halftime, which means a party platter menu available at this location, and his other two restaurants, il Casale Cucina Italiana and il Casale Cucina Campana. Basically, you're carbo-loading on the players' behalf, with your choice of pastas (tufoli, radiatore, strozzapreti), sauces (tomato basil, puttanesca, ragu bolognese), lasagna (vegetarian or meat ragu), meat (meatballs, chicken scallopini), and veggie (broccoli rabe or green salad).
Eric Luciano
South Boston
Availability: A la carte; order 24 hours in advance. Call 617-917-5626 to place order (delivery available on request).
The "taco box" sounds like a modest offering, but it's actually a Pandora's box of DIY deliciousness. Your taco choices include Baja fried fish, grilled avocado, and blackened swordfish, and after that it's sides like bacon guac, loco chips, and roasted corn salsa. And not that the Loco folks don't think the world of your intellect, but just in case someone's confused about the art of the proper taco build, there are instructions included.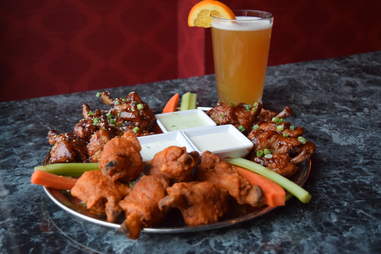 Smoke Shop
Kendall Square
Availability: Order 48 hours in advance; call 617-577-RIBS to place order.
Chef Andy Husbands would be super sad if you resigned yourself to chips and dip, so his massive Super Bowl packages are all about grade A 'cue. The Halftime Hero option stuffs the guts of 22 folks and includes five dozen wings, five racks of ribs, five dozen pork sliders, a tray of mac & cheese, and cornbread ($470). Then there's the far more modest Upgraded Tailgate for 10 folks, featuring a smorgasbord of cold fried chicken, two sides, and gravy or ranch dressing ($140).
The Urban Grape
South End
Availability: Email orders@theurbangrape.com to arrange yours.
So, you've secured a menu of bao, barbecue, bolognese, and Baja fish tacos. What the hell are you drinking with all of this? The folks at Urban Grape are here to elevate your game-day imbibing. Shoot an email to the staff with your menu particulars, and they'll make wine, beer, spirit, and sake pairing suggestions. Even better, they're offering Saturday deliveries so you don't have to brave the foolishly unprepared crowds.
Sign up here for our daily Boston email and be the first to get all the food/drink/fun the Hub has to offer.
Meaghan Agnew is a writer from Boston.