The 15 Best Ice Cream Joints in Massachusetts
Tim Barrett for Kimball Farm
Everybody knows that Massachusetts loves it some ice cream: Friendly's, Brigham's, Baskin Robbins (yep, it's based here, too), we've got plenty of big-name brands. But when it comes to ice cream and the Commonwealth, it's all about the great local dairies and farms that supply our shared obsession -- and the small-town shops that scoop our favorite flavors. So which shops/flavors are worth pulling over for as you're road-tripping around Mass this summer? These 15, of course.
Carlisle, Westford, Lancaster (and Jaffrey, NH)
Kimball's, a Massachusetts tradition since 1939, earned its ice cream street cred early by using local ingredients and milk from its own cows. It's grown from a handful of flavors to over 50, like fan favorites Maple Walnut and Frozen Pudding, as well as the newer/funkier Kahlua Crunch and Peanut Butter Butterfinger. Bonus: its flagship farm in Westford doubles as a fun-plex with a pitch & putt, driving range, mini-golf, bumper boats, The Olde Sawmill Arcade, and Grand Slam batting cages.
Acushnet Creamery
Acushnet
For over 10 years, Doug and Donna Coray have been scooping their homemade Lazy Cow ice creams, yogurts, and sherbets for the South Coast folks, and the North Coast folks are totally envious. Everything is crafted with sugary love on the premises, including 24 standards (Espresso Brownie Fudge, Cookie Monster), 16 seasonals (Cape Cobbler, Tropical Oasis), and their coveted waffle cones. Frappes, floats, sundaes, and splits round out the slate, and you really need the S'mores Sundae with two scoops (your choice), graham crackers, hot fudge, and marshmallow sauce.
Hyannis and South Yarmouth
The award-winning Cape Cod Creamery rocks some seriously smooth and creamy gourmet ice cream, and it's a must-have when you're vacationing like a Kennedy. All of its hand-made offerings are cleverly named for nearby towns, such as Dennis Double Chocolate, Barnstable Bananas Foster, and Nauset Peach. Plus, it stocks only the finest ingredients and proudly uses hormone-free cream from New England dairies, cocoa from France, and vanilla from Madagascar (talking wildlife not included).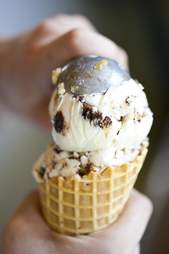 DownRiver Ice Cream
Essex and Rowley
After you stuff yourself at Woodman's or relax on Plum Island, head to the nearest DownRiver for Amy Ahearn's old-fashioned, premium ice cream and thoroughly insane flavor combos. Your sweet tooth will be duly satisfied with Mill River Mix (coffee ice cream, fudge, Heath Bar chunks), Monkey's Uncle (banana ice cream, Reese's Peanut Butter Cups), and Kung Fu Grasshopper (mint ice cream, Oreo cookie halves). However, the most over-the-top award goes to Phyrexian Peanutbutter Corruption, a diabolical treat with chocolate ice cream, peanut butter truffles, and swirls of liquid peanut butter.
Pepperell (and Brookline, NH)
Started in 1939 by veterinarian Dr. "Doc" Davis, this parlor is part ice cream mecca, part hangout spot for Pepperell locals. And it's easy to see, or taste, why: its hand-made ice cream is crave-worthy, from the basic (butter pecan, rum raisin) to the more adventurous (Caramel Apple Pie, Peanut Butter Moose Tracks). Pay homage to the founder with Doc's Special, a giant cup brimming with any two scoops, sliced bananas, hot fudge, strawberries, and marshmallow or whip cream (add walnuts for 60 cents). Fun fact: current owners Billy and Rose Dee began their courtship at Dr. Davis Ice Cream. (They're sweethearts... get it?)   
 
Sterling and West Boylston
Meola's has been in the dairy biz for over 100 years, and its all-smiles, small-town charm comes through in every spoonful. And you need infinity spoonfuls of its 65 options, like Butter Crunch (rich butterscotch ice cream, crunchy butterscotch candies) and Maine Black Bear (red raspberry ice cream, dark chocolate chips, chocolate-covered raspberry truffles). Its masterpiece is Grahama Meola... it's a pie in a cone (win-win) with graham cracker ice cream, chocolate-covered graham cracker chunks, and a sweet swirl of graham cracker crust. Stay tuned to its Facebook page for new flavors, specials, and friendly messages from Mark Meola.
Cambridge (Central Square)
Even The New York Times thinks Toscanini's is "The World's Best Ice Cream," and the legions of devoted fans will tell you the same thing. This family-run business produces all of its frozen wares in-house, and it's constantly experimenting with new flavors. There are 32 tough choices in the freezer, but everyone knows that Burnt Caramel, Khulfee, Grapenut, and any of its chocolate wonders are mandatory indulgences. And so is its famous Micro Sundae, a perfectly sized goodie comprised of one scoop (any flavor), a dollop of whipped cream, nuts, and sprinkles.
Westborough
Uhlman's is one of those places where you go on a Sunday drive, but visiting Monday through Saturday seems totally appropriate, too. Because how else can you try all 60 of its ice creams and fro-yos? Start with fan-faves such as Chocolate Raspberry Truffle, Oreo, pistachio, and rum raisin, then dive into its limited editions like peach and Ginger Creamy with fresh shaved ginger. Old-fashioned sodas, frozen lime rickeys, and made-to-order whoopee pies are other signature treats that pair nicely with any hot day.
 
Worcester
For over 75 years, Gibby's has been serving homemade frozen goodness that keeps customers coming back for generations. Since it's part of Gibson's Dairy Farms, only the freshest milk goes into its ice cream -- all 60+ flavors, plus 20+ non-fat yogurts. If you're overwhelmed already, then try a house specialty: pistachio (with real pistachios!), Key lime pie, raspberry, and chocolate peanut butter cup. It also has "Wizards," which are essentially Blizzards, only better since many of the mix-ins are local fruits and scratch-made confections.
Herrell's
Northampton (and Huntington, NY)
Herrell's is a national ice cream industry legend due to its many sweet innovations... pun intended. It was the first to mix name-brand candies into ice cream (Heath Bar, etc.), and it introduced "Smoosh-ins" to planet Earth. Over the years, it's developed over 340 flavors, and they range from the famous Malted Vanilla and Chocolate Pudding to the funky Cheesecake Cream and Jalapeño. Regardless of your choice, Herrell's mind-numbing small-batch hot fudge MUST be the topper. Soooo yum-tastic, and you can order jars of this liquid gold online.
West End Creamery
Whitinsville
Even though this quaint family farm is on Purgatory Rd (seriously), its ice cream is pure heaven. Everyone in Blackstone Valley comes here for the ultra-rich flavors like Campfire S'Mores, Salted Caramel Chocolate Pretzel, Chocolate Peanut Butter Cookie Dough, and Graham Central Station. Or catch a major sugar buzz with the Strawberry Sensation: strawberries over vanilla ice cream, white chocolate-coated strawberry truffles, strawberry swirl, crushed Nilla Wafers, whipped cream, and a chocolate drizzle... for good measure. Bonus: West End has mini-golf and it just installed new greens in May.
Maple Valley Creamery 
Hadley
Maple Valley loves its cows, and so should you, as their high-quality milk becomes super-premium 16.59% butterfat ice cream. (Everything else = bush league.) Other local growers and producers supply ingredients, and you can taste the freshness in flavors like Honeysuckle Ginger, strawberry, and rhubarb. However, the crowning glory is maple bacon, which obviously combines three of your favorite things: maple, bacon, AND ice cream. Maple Valley is currently renovating one of its barns into a store, but you can buy the frozen delights from its roving Scoops Truck and many Massachusetts supermarkets, including at Atkins Farms in Amherst.
 
Southwick
Besides having the best name ever, Moolicious Farm has ice cream that would make Willy Wonka jealous. It offers 25 flavors of hard pack and a whopping 15 different flavors of soft serve including standouts like Coffee Mud Pie, Blueberry Buckle, and Green Apple (sorry, no Snozzberry). Pro tip: the crew also bakes out-of-this-world pies, and a slice a la mode is a mere $2.75. Or put on your big-boy pants for Smash-A-Pie, a game-changing dessert consisting of a whole pie slice crushed in a bowl of soft serve vanilla. Moolicious, indeed.
Mt. Tom's Homemade Ice Cream
Easthampton
If you've got sugar fever, the only prescription is more Mt. Tom's ice cream and candy. Chief Freezer Jim cranks out impeccable classics (vanilla, chocolate, strawberry) as well as newer inventions (Cake Batter, Cashew Turtle, Irish Cream), and the valley villagers just can't get enough. Another tempter is the Ice Cream Cupcake... yeah, it's a mini waffle cup filled with a cupcake and topped with icing, whipped cream, fudge, and a cherry. Once you're able to focus again, check out the 235 jars of candy filled with everything from wax lips to Swedish fish. (Settle down, Beavis.)
SoCo Creamery
Great Barrington
A trip to the Berkshires is incomplete without stopping at SoCo Creamery, a Great Barrington staple since 1989. The Mazursky family makes everything in microbatches to ensure you're eating the best ice cream possible. And that's evident in the Banana Brownie with Banana Brown Sugar ice cream and handmade SoCo fudge brownie pieces. And don't miss the Dirty Chocolate, a blend of three high-end chocolates that combine to form a frozen truffle. So, that just happened. Stalk its Facebook page for flavor updates, tastings, and events.
Sign up here for our daily Boston email and be the first to get all the food/drink/fun the Hub has to offer.