The 7 Best Restaurants in Union Square, Ranked
Somerville's Union Square has been up-and-coming for a while, but with the Green Line rolling in by 2017 (finally), the Square is busier than ever. Luckily for us, that should mean more good restaurants added to an already strong showing.
But what about right here, right now -- which current neighborhood eateries stand out? We decided to find out, and then rank them for your dining convenience.
Christina Ng/Thrillist
What you're getting: Jajangmyun and jabchae
Buk Kyung is not young, hip, or like what you expect Union Square to be these days. In fact, the interior is rather plain and the walls are painted a muted, "'70s" yellow. But you can't always judge a place by its repurposed barn doors and collection of vintage beer cans, and BK still prepares some of the most authentic Korean food in the Boston area.
What you're getting: Choripan and the Esqueleto cocktail
There aren't many restaurants in the Square that have both great cocktails and a solid dinner menu, let alone serve them to you while you play Rock 'Em Sock 'Em Robots, shuffleboard, or Jenga. Maybe it's nostalgia, but this is certainly a good way to spend an evening, not to mention a great place to bring a date.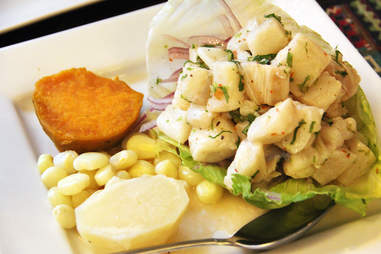 Christina Ng/Thrillist
What you're getting: Ceviche de pescado and Seco de Carne a la Norteña
Machu Picchu is a festive sit-down spot touted by locals as the Peruvian gem of Union Square. Its native Peruvian owner, Rosie Cerna, cooks traditional and authentic dishes like the seco de carne (marinated beef with rice and beans) and lomo saltado (juicy sirloin with onions and tomatoes) alongside her own creations like the Pollo Chan-Chan, which's essentially a chicken roulade stuffed with shrimp, spinach, and cheese.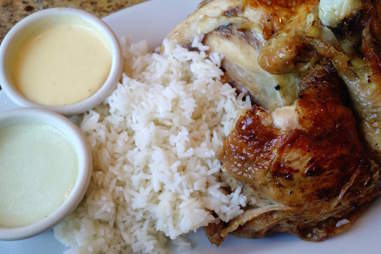 Christina Ng/Thrillist
What you're getting: Peruvian charcoal chicken
Anytime you're in Union Square and happen to smell the smoky aroma of charcoal goodness, it's Machu Chicken. "Flavorful," "tender," and "crispy" are all words that have been used to describe Machu's famous Peruvian "pollo a la brasa," or charcoal chicken. And at $10 for half a bird, it's a win-win for everybody.
What you're getting: Albondigas and Tabla de Ceviches
Sometimes what's chic doesn't taste good (see: shoes), and what tastes good isn't chic (see: hot dogs). That is not the case at Casa B, where delicious and fresh Spanish and Caribbean tapas are served up in a stylish, white mod setting. Frequenters swear by the albondigas -- organic beef meatballs in guava and tomato sauce.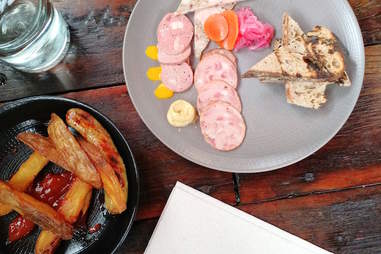 Christina Ng/Thrillist
What you're getting: Currywurst and schnitzel
House-made sausages, schnitzel, and German beer, what could be better than that? Enjoying them whilst sitting outside, of course. Bronwyn's regional Eastern European menu (along with its classic biergarten decor and deck!), brings just the right amount of Bavaria to the heart of Somerville. FYI: be on the lookout for Playska, Bronwyn's more casual, eat-in/takeaway Eastern European sandwich shop opening in Inman Square in September.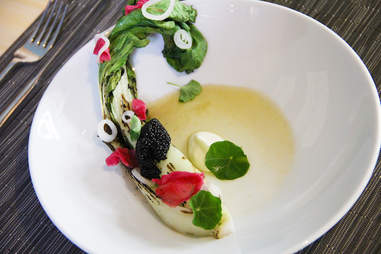 Christina Ng/Thrillist
What you're getting: Chef's choice (includes a vegetarian option)
If you're up for food that's innovative, interesting, and inspiring (and don't mind an $85 price tag), then Journeyman is the best of the best. Four chefs whip up daily changing tasting menus from bok choy with pickled rose petals and roasted yeast broth to a veggie-inspired potato cake topped with a dusting of vibrant red beet & honey powder. Dinners are ticketed and can be snagged one month in advance, right here.
Sign up here for our daily Boston email and be the first to get all the food/drink/fun the Hub has to offer.