And on the 3,507,844,023rd day, God created The Bacon Truck, and it was good. Like, really good.
After doing some reconnaissance work as truck managers for Lobsta Love and the now defunct Grilled Cheese Nation, two childhood Rajon Ron-bros purchased and baconized the once-beloved Staff Meal truck.
Designed by Brooklyn artist Aaron Meshon, the fresh but still-very-pink truck has a snout on one side ('natch) and depictions of dozens of bacon strips doing important things like pumping gas, riding pigs, and holding over-sized pencils.
Now, about the bacon: it's stuffed into five different sandwiches including a B.E.L.T (BLT w/ curry egg salad), a grilled cheese, and this Turkey Avo with in-house roasted turkey breast, bacon, beefsteak tomatoes, avocado, and house-made chimichurri aioli. Make a plate of it by adding the Tater Salad and some seriously spicy habanero-garlic dill pickles.
Oh, and don't leave the truck without grabbing a piece of their Nutella-covered bacon or a Green Tea Lemonade. But mostly just the Nutella-covered bacon thing.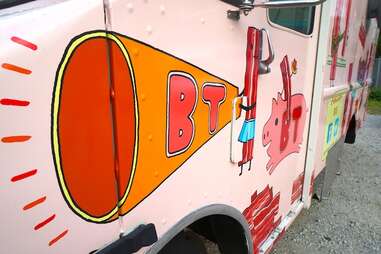 And while The Bacon Truck may have hit some speed bumps getting into Boston's truck lottery for this Fall, you can find them at SoWa Open Market for the remainder of the season and at select special events. Also: hold your breath (and cholesterol level) until April, when they plan to hit the road six days a week.