The 10 Best Bacon Dishes (and Drinks) in Boston
Courtesy of Union Square Donuts
What's the point of bringing home the bacon if you can't trade it for actual meat that somebody else fries up? In really weird, creative ways. Like at these 10 spots around the Hub.
Gorditas
Dali Restaurant & Tapas Bar (address and info)
Somerville Ward Two
Remember that time your paleo friend made bacon-wrapped dates and you were like "that's weird" but you tried one, and everything was perfect for 10 seconds before you had to eat another, and another, and another? Gorditas (no, not the kind from Taco Bell) are kinda like that, except instead of dates, they're bite-sized, bacon-wrapped dried plums, and they're filled with soft goat cheese and sliced almonds.
 
Custom pork-tails
backbar (address and info)
Union Square
If you want to take your new special friend on a comprehensive pork-drinking experience through Somerville (and, really, why wouldn't you?), start at backbar; it offers a rotating menu of bacon bourbon, a whiskey described as "like drinking liquid bacon," and a house-made ham tincture for custom pork-tastic cocktails, like one that blends Westland single-malt, Four Roses bourbon, coconut water, orgeat syrup, lemon, and muddled bacon. And for snacking, add bacon to the house-made caramel corn or slurp up the bacon ramen.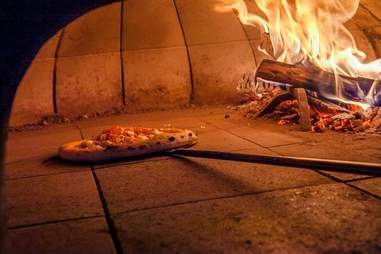 Courtesy of Area Four
Clam & Bacon Pizza
Area Four (address and info)
Kendall Square
A4 slings some of the tastiest pizza in town, and you can do everybody at your table a favor by ordering the one topped with juicy fried clams, bacon, pecorino, hot pepper, and fresh parsley. The best part is that Area Four uses just enough clam sauce to keep the pie moist without letting it get limp. And yes, we just used the words "moist" and "limp" in the same sentence -- feel free to fill in your own joke.
Courtesy of Union Square Donuts
The Bacon, Cheddar & Sage savory donut and the Maple Bacon donut
Union Square Donuts (address and info)
Union Square
It's pretty hard to pick between the TWO all-star bacon options at Union Square Donuts. The savory one is covered in crispy baked cheddar and filled with bacon awesomeness, while the Maple Bacon donut offers the right balance of dense, fluffy, and sweet, and is topped with a wreath of crunchy pork chunks. Whichever one you choose, just make sure to go early -- the shop closes at 1pm.
 
Adirondack Cocktail
Trina's Starlite Lounge (address and info)
Inman Square
Trina's might look like a local dive bar from the outside, but it serves some of the most amazing Southern food in greater Camberville, with the cocktails to match. The Adirondack, an extravagant mix of butter-infused bourbon, maple syrup, and chocolate-covered bacon, should be enough to convince you to brave the brunch line.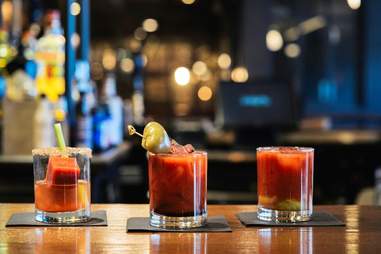 Courtesy of Park Restaurant and Bar
Bacon Bloody Mary
Park Restaurant & Bar (address and info)
Harvard Square
Park's Bloody Mary is unlike any you've ever had, and that's not just hyperbole. Okay, maybe it's a little hyperbole. Either way, what sets this brunch 'tail apart is its mix of ingredients: a whole slice of bacon, house-infused bacon-cilantro-jalapeño mezcal (which gives it a deep, smoky quality with a bit of spice), and amaro (to bring out the sweetness of the tomato juice and offset the spiciness of the horseradish and peppers). Pair it with Park's Bacon 3-Way or Jenga tower of bacon-encrusted potato skins and you'll be in hog heaven.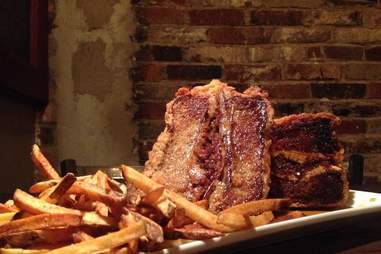 Courtesy of jm Curley
The Monte Cristo
jm Curley (address and info)
Downtown
Much has been made of Curley's Cracka Jack, a smoky bag of bacon caramel corn, and for good reason -- it's pretty insane. Its Monte Cristo, however, is legendary. Nicknamed the "anti-cristo" on account of its leviathan-like proportions (two people often struggle to take down the whole thing), the Cristo is soaked with maple-brined ham, bacon, and Gruyere, and its fried brioche French toast exterior is reminiscent of the best funnel cake of your childhood. It's one of those sandwiches that will make the couple at the table next to you swoon with an unholy mixture of jealousy and fear.
 
The Sklarmageddon
The Friendly Toast (address and info)
Kendall Square
Sklarmageddon is one of the weirdest (and best) omelets in the city. It's a totally unexpected combination of old brunch standbys (sausage, bacon, eggs, and jalapeño jack) and Southern red-chile pecans, with a drizzle of maple sour cream on top. The experience is sweet, spicy, soft, and crunchy all at once, and one heck of a hangover cure.
Tim Ellis
The b.l.a.t.
The Bacon Truck (info)
Various locations
Why settle for a regular old BLT when you can get one with avocado and chipotle aioli? Why eat a regular bacon, egg, and cheese sandwich when you can have one with Havarti and onion-bacon hash? The answer to both questions is, obviously, that you shouldn't. The Bacon Truck even offers sweets like bacon truffles and Nutella-covered bacon.
 
Bacon & Bourbon Brunch
Anthem Kitchen + Bar (address and info)
Faneuil Hall
On the second Sunday of each month, Anthem Kitchen offers a bourbon- and bacon-inspired brunch featuring everything from bacon-drenched breakfast sandwiches to candied pork belly and bacon breakfast pizza with house-made mozzarella. There are also three bacon-infused cocktails on the bourbon-heavy menu.
Need to work off that bacon? Check out the Boston Bacon Ride. 
 
Sign up here for our daily Boston email and be the first to get all the food/drink/fun the Hub has to offer.