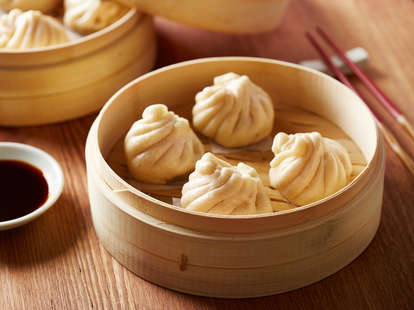 As blasphemous as it might be to say, brunch can sometimes get boring. Which is exactly why it's important to stretch out to something exotic every now and then. Enter dim sum: a meal that doesn't judge those who prefer seafoods and meats in their various guises for breakfast. And in Boston, we know how to do it just right. From the bigger houses to those smaller, yet still delicious, hole in the walls, here's where to get the best dim sum around (and just a little bit outside of) the city.
Chinatown
There aren't many places in the country where you can eat dim sum in a 113-year-old theater... but you can in our version of Chinatown. The location for Empire Garden served as the venue for vaudeville acts such as Abbott and Costello and a few burlesque shows back in the day. The remnants of the old theater -- the high vaulted ceilings and scalloped arches -- can be seen throughout the grand dining space. If the beautiful area alone doesn't keep you coming back, the cheap prices definitely will. Honestly, $20 for five filling dishes? Sounds like a win.

Chinatown
This is a major dim sum favorite in Boston, and not just because it has parking available above (which you can have validated on weekends!). Hei La Moon's dim sum is always hot and fresh and the carts are never not full. And thanks to it's bright and festive atmosphere (because of the large glass windows, which admittedly do fog up during dim sum time), it's the perfect place for your next event or even a wedding.
Malden
Yong Yong is located slightly outside of Boston but is accessible via the Orange Line on the T. Like Winsor Dim Sum Cafe, this neighborhood favorite doesn't have carts rolling around. Diners tick the items they want on a menu sheet (very similar to how it's done in Asia) and the dim sum is made fresh to order.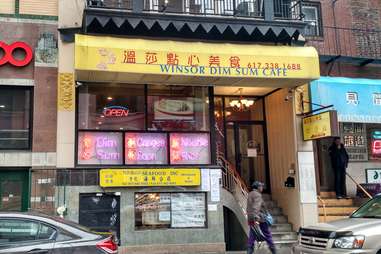 Chinatown
No, the décor is not all that great. And yes, because of its size you generally have to share your table with another group. But still, this place is one of the more highly rated dim sum joints located in Chinatown and is one of the few restaurants without carts. Instead, the chefs make your baos, dumplings, or noodles fresh to order, which can take a bit longer, but the quality you get is well worth the wait.

Allston
If you're in the mood for Taiwanese dim sum breakfasts, Jo Jo in Allston is your place. It carries brunch favorites like beef wrapped in scallion pancakes, xiao long bao dumplings, and soybean milk with a side of fried crullers. It definitely has a more laid back vibe than Chinatown, although it gets quite busy on the weekends.
Chinatown
This used to be the go-to spot for dim sum way back before newer spots started popping up all over Chinatown. But despite the new competition, China Pearl still boasts an incredible variety of dim sum, such as the har gow (shrimp dumplings) and cheung fun (rolled rice noodles). It also offers a tasty pineapple bun, which is sweetened bread with a killer custard that some of the other big dim sum houses don't always carry. So if you're looking for an oldie-but-a-goodie, this is your place.

Chinatown
Chau Chow City is known as a late night munch destination in Boston, open until 4am on most days. And part of the reason it's so popular is because of the variety of dim sum, offering a wide selection that's freshly prepared. Our thoughts: your best bet is the steamed meat baos and dumplings.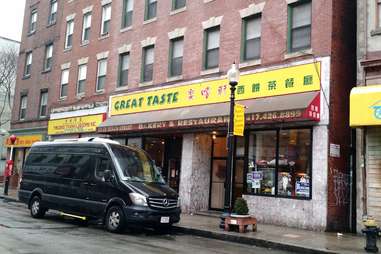 Chinatown
You get double the goodness with Great Taste because half the restaurant is a Chinese bakery serving up favorites like pineapple and cocktail buns, as well as freshly prepared egg tarts. Dim sum lovers can't get enough of this place, especially since you can grab a few baked goods to bring back home while waiting for your dim sum.

Belmont
Shangri-La may be off in the 'burbs, but be warned, there's a fair amount of waiting at this small dim sum eatery. Regulars know to go straight to the traditional Taiwanese brunch menu: that's your ba-wans (giant meatball dumplings encased in a gelatinous casing), fried dough and soy milk, gua baos (braised pork and pickle buns), and the classic steamed xiao long bao (pork dumplings).
Chinatown
The inside of Bubor Cha Cha is festive to say the least (think: Chinese restaurant meets Hawaiian tiki hut). The dim sum is very reminiscent of what you see in Hong Kong and includes sweet treats like the molten custard bun, which is actually molten here as opposed to the pasty imposters of many other dim sum restaurants.

Woburn
Sure, you're out of Chinatown at New China Pearl, but you still get all the varieties. Even though it's a little north of Boston, it's right off 93 and there's a full (free!) parking lot. So if you're looking to get the shu mai, har gao, egg tarts, and pork baos, well, it's all here. Another plus is that you're able to dine in a pretty large dining space as opposed to the big dim sum houses in Chinatown.
Sign up here for our daily Boston email and be the first to get all the food/drink/fun the Hub has to offer.
Christina is a Boston-based food and recipes editor. She's one of those annoying girls who has to take a picture of everything she eats. When she's not wreaking havoc in the kitchen or taking pictures of food, she's out visiting her favorite open-air markets. If you're interested in following her crazy adventures or want to see what she's cooking up, check out her website EastMeetsKitchen.com.