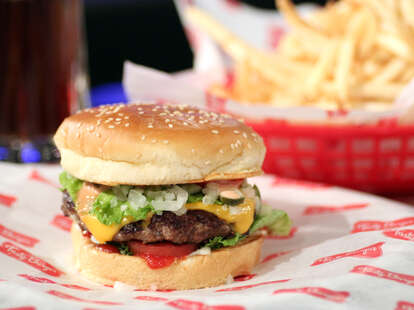 Because it's late and nobody at Clerys is cool with you crashing in the basement, cap off your night out with a giant plate of 3am pancakes (or a sausage or a slice or a chickpea fritter?). And to help you find food without wandering aimlessly down Dartmouth Street, we rounded up the absolute 12 best spots in the Hub for late-night eats.
Harvard Square
Open until: 4am, every day

There's a reason it's called Tasty Burger and is open until 4am... because they know what the kids want. At 3:37am. And believe us, there will be TONS of them of there. Just be sure wash down that burger with a milkshake or a Cheerwine, and you'll go to bed thoroughly satisfied.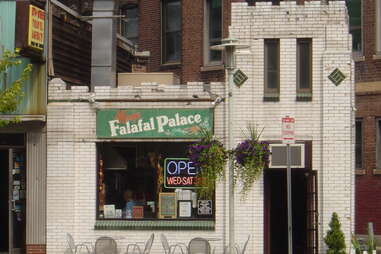 Central Square
Open until: 3am, Thursday-Sunday

Bucking the late-night trend of pizza and hot dogs, Moody's flips the script with their hand-crafted Syrian street food that's easy on the wallet and mostly good for you. The lamb shawarma roll-up (only $5.50) is your obvious play, but if your hunger pangs are more intense, the Palace Super Veggie Plate comes loaded with falafel, hummus, baba ghanouj, foul, tabouli, grape leaves, salad, and bread.
South End
Open until: 3:30am on Wednesday, Thursday, and Sunday; 4:30am on Friday and Saturday

We don't know about you, but made-from-scratch tacos sounds pretty good any time of day... and especially after 2am. And that's what you're getting at El Triunfo. Steak, shrimp, or ground chicken tacos with pico de gallo, onions, cilantro, hot sauce, jalapeños, guac, and sour cream. Round out your order with pupusas and tamales. We're done here.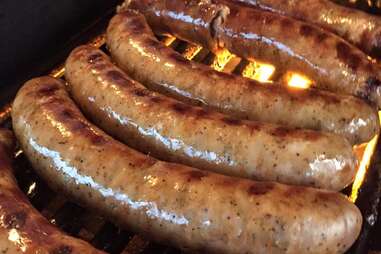 Any random sausage vendor
Faneuil Hall
Open until: Varies... mostly until everyone has been fed or they run out of sausages
No matter what time you stumble out of your favorite Faneuil Hall guilty pleasure bar, there will likely be sausage vendors grilling somewhere nearby -- just follow the wafting aromas of sizzling peppers and onions. Go for the works (kraut, extra mustard, and onions, etc.), and you'll sleep like a baby. That is, until you wake up in middle of your own dutch oven.
Chinatown
Open until: They're always open

South Street Diner has been THE go-to spot for night owls since 1947, and they wouldn't have it any other way. Like a good neighbor, this greasy spoon is always there for you with their signature Monte Christo, Chocolate Fantasy French Toast, and blueberry pancakes. For savory hankerings, the Supreme burger, turkey club, and the Steak Tip Bomb are ample fuel for rehashing your evening's adventures.
Harvard Square
Open until: 2:30am on Thursday, 3am on Friday and Saturday

The Harvard Square icon achieved its legendary status in two ways: by pouring some pretty mean scorpion bowls and keeping the kitchen open late. And they've got a full spread. Grab a table as early as you can, start with some Peking ravioli and egg rolls, and then dig into your preferred noodle/fried rice plate of awesome. (Fisherman's Fury, hot basil fried rice.)
Bay Bay
Open until: 3am, every day

Admittedly, Boston doesn't have that many after-hours brick-and-mortars, but Little Steve's is one of the best. Since 1968, this humble pizza parlor has been baking up delicious pies for the hungry masses who don't want to wait for that DiGiorno to bake in the toaster oven. The long line and somewhat unruly crowd are totally worth it for any jumbo slice (meat lover) or whole pizza (also meat lover). Pro tip: after 2:30am, every order is take-out only. (But they have a sidewalk.)
Chinatown
Open until: 4am, every day

Chinatown has a long tradition of catering to the midnight oil set, and New Golden Gate is one of the neighborhood's brightest late-night beacons. They have all your Chinese favorites, from Imperial Pork ribs to Foo Chow fried rice to beef udon noodles; just don't forget some crab Rangoons and boneless spare ribs -- absolutely mandatory.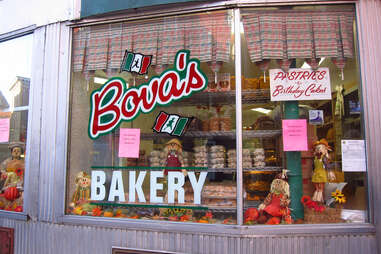 North End
Open until: They're always open

Any revelry in the North End should end with a visit to Bova's, a family-run bakery jammed with pastries and tasty treats. You walk in already hungry, and then you smell the fresh-from-the-oven goodness. Game over. And the list of must-haves is daunting: ricotta cannoli, turnovers, eclairs, fruit tarts, Neapolitans, whoopie Pies, sfogliatelle, and tiramisu. Oh, and also calzones, Sicilian-style pizza, subs, and spuckies. That's amore.
Beacon Hill
Open until: 3am, Thursday through Saturday

Instead of foolishly waiting for a cab near MGH at 2:27am, swing into Felcaro's for some well-deserved slices of pizza. Straight, no chaser. But don't rule out any of the foot-long subs, like the steak combo or the classic Italian, because you just might need something mighty. Bonus: they have waffle fries AND jalapeño poppers.
Boston
Open until: 24-7, Thursday, Friday, and Saturday

Since 1949, Victoria's has been serving home-cooked meals after the witching hour to FOUR different Boston neighborhoods (Dorchester, Southie, Roxbury, and South End), and they make it look so easy. Menu standouts include the breakfast burrito with shaved sirloin, Victoria's Homemade Buttermilk Biscuits with sausage cream gravy, and the meat lovers omelette. If you need a sam'ich, the triple decker club and grilled lean pastrami will both make you wonder why you don't end up at Victoria's more often. (You also need a root beer float. Just sayin'.)
Central Square
Open until: They're always open

Located in the former spot of another long-time, late-night joint (Hi-Fi), Clover Food Lab is open 24-7 and cranks out their signature soups, sammies, and sippers for the end-of-the-night masses in Central Square. For those in the know, the menu changes daily... but there's a good chance that you'll stumble onto their famous chickpea fritter. The rest is bonus.
Sign up here for our daily Boston email and be the first to get all the food/drink/fun the Hub has to offer.
By night, Erik Christensen is freelance writer who enjoys a late-night slice. By day, he's an architect. And by the weekend, he's a man in need of many naps.