Harvard Square is edging on having too many restaurants -- there are more than 70, not including the tiny cafes and pastry shops. Considering the sheer breadth here, picking the top 12 spots with the right food, drinks, ambiance, and price was no easy feat. But we did it -- for all you Cantabrigians out there. Without further ado, here's a ranking of the best restaurants in Harvard Square:
Recommended Video
Thrillist's Best (and the Rest): What You Actually Need to Know About Natural Wine
BonChon is more or less a fast-food joint hidden in the basement of a not-so-well-ventilated, multi-story building. It doesn't have the array of authentic Korean menu items as its upstairs neighbor, Kaju Tofu House, but man oh man, is its fried chicken amazing. The twice-fried technique gives the skin a thin, light, and crispy texture, and begs to be drenched in BonChon's signature soy garlic sauce or spicy chili mix. It's fried chicken perfection, and you can't find that anywhere else in the Square.
Not gonna lie: Maharaja's main draw may be its floor-to-ceiling windows overlooking Winthrop Square. It's the perfect spot to people watch, especially during the lunch buffet, which is less than $14 and served seven days a week. On its own, the gosht lababdar, cubes of lamb simmered in creamy tomato sauce, warrants a visit.
If classy and nautical kitsch (think ship wheels, signal flags, and rowing shells) can exist in the same pub, then The Boathouse is its embodiment. Owned by Irish brothers Lawrence and Brendan Hopkins (also owners of Daedalus), the bar-restaurant serves classic heritage pub fare, like shepherd's pie, fish and chips, and sausage and mash in a casual, nautical setting. There's an abundance of rum drinks (go for the spiced cider) and sizeable selection of beers to wash down your hearty dinner.
Parsnip is what you'd expect from an upscale French restaurant with a head chef that's worked in notable kitchens in the UK and France. The technique and taste are spot on, from the expertly stuffed quail with au-jus to the beef filet, cooked rare to perfection. Drinks are generally traditional, with a few creative substitutions, like in the Big City Mule, where pressed apple vodka takes the place of your run-of-the-mill spirits.
Where else can you get a gourmet, juicy, freshly ground burger for less than five bucks? Flat Patties has to be the cheapest burger joint in Harvard, but it serves up some of the best. Not only are the burgers made from top ingredients and the fries cut by hand, but many customers tout claim that the Flat Patty potato buns -- made daily on premise with mashed potatoes, and then grilled with a generous slather of butter -- are some of the best they've ever had.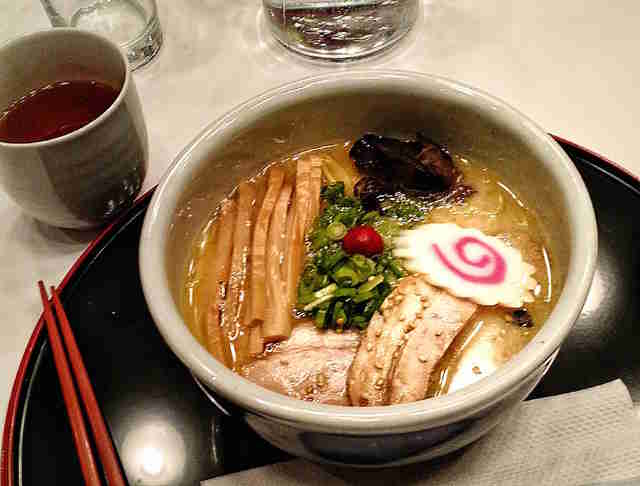 Santouka is putting Harvard on the ramen map. The Hokkaido-style ramen here stars with a tonkotsu (pork bone) base, but adds in bits of seafood, crafting a signature northern Japanese dish. Choose from four varieties: shoyu, miso, or spicy miso. You can ask to adjust ramen ingredients, from the softness of the noodles to the strength of the broth. Definitely splurge on the aji-tama, the marinated soft-boiled egg. Santouka uses the same ingredients as they do in their six locations throughout Japan, so you know you're getting the real stuff.
The Sinclair is the ultimate spot for both indie music enthusiasts and foodies, the intersection manifested in weekly food specials inspired by the bands playing there each week. The rooftop patio, which has a permanent heating system (perfect for those chilly Cambridge nights), is also home to the restaurant's herb garden. Did we mention the Sinclair does brunch? Savvy brunchers know to order the Waffle Flight (small servings of each waffle option: berries, bacon, and fluff; bananas, caramel, and pecans; and fried chicken and Sinclair butter), washed down with the mimosa flight. Now that's how you start a weekend.
Even though it's tucked in an alleyway between a bubble tea shop and and eyeglass store, Cantabridgians know Orinoco is the place you go to for tantalizing Venezuelan cuisine. They're known for their arepas -- Venezuelan corn pocket sandwiches filled with seasoned meats, cheeses, and veggies. The quarters are a bit tight, but along with the vibrantly colored chairs and native decor makes, it's like you've been invited to a Venezuelan household for dinner. Though the Cambridge location doesn't do cocktails, drinks do include a fair array of Latin and South American wines and beer.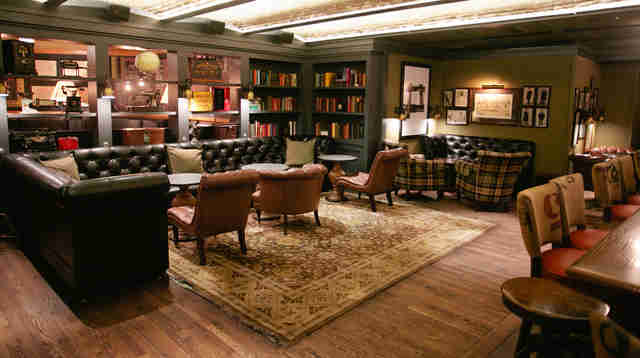 If you like multi-setting, lounge dining and homey classics like meat pies, patty melts, and ranch fried chicken, then head on over to Park. There's a hefty cocktail and spirits menu, and 15 expertly selected beers on tap. You'll be dining in one of Park's four areas, including "The Classroom," fitted with vintage decor like a typewriter, chalkboard, and sewing machine.

Beer aficionados should know that every Thursday at 5pm, Park taps into a fresh cask of a seasonal selection from local breweries like Peak Organic and Dogfish Head. If you're feeling adventurous, cocktail lushes can take advantage of the Tender's Whim, where you tell the bartender custom-makes a drink based on your liquor of choice. One more big plus: Park offers free parking with brunch or dinner four days out of the week, so check with the staff as parking in Harvard Square can be obnoxious as hell.
When you're talking decor and food, no restaurant does a better job of completely transporting you out of Harvard Square and onto the streets of a new locale, Night Market's being an exotic Asian city, evidenced by the Mao-era propaganda and graffiti-painted walls. The menu was inspired by the chef's travels through Southeast Asia, and focuses on local street food in the form of small plates. Get an order of chicken hearts glazed in scallion brown butter, or daikon fries with garlic black bean aioli and smoked tomato-ginger ketchup served on comic book paper. Drinks include floral sake cocktails, but go for the pineapple coconut sake slushie -- it's the perfect accompaniment to spicy, sweet, or savory street food.
Count on Russell House Tavern for consistently great food and drinks. The menu, from small plates like octopus mortadella, to entrees like the signature pork belly sandwich with house-made kimchi and aioli, always hits. The bar has 14 seasonal wines, the most local of beers (including a nitro tap), and a blend of classic cocktails along with modern, handcrafted ones. Pick from one of six eating areas (upstairs tavern, sub-level lounge, wrap-around bar, supper club dining room, private dining room, and outdoor terrace), which blend retro interior design, like wood-paneled ceilings and vintage photographs, with the modern, like industrial light fixtures and black leather banquette seats.
Alden and Harlow serves up quality farm-to-table food, infusing massive amounts of flavor and creativity into its dishes. The price of several small plates can add up, but when every dish is utterly succulent and flavor-packed, such as the pickled corn pancakes topped with popcorn, buttermilk, and shishito peppers, it's worth every penny. Experimentation doesn't just stop at the food: find cocktail ingredients like marshmallow root, pickled pumpkin, chamomile foam, and house-made kombucha and digestif. Tip for late night foodies -- check out the #AHLateNight menu, which starts at 11pm and features Alden & Harlow favorites, like crispy head cheese fritters and the pork scrapple banh mi.
Sign up here for our daily Boston email and be the first to get all the food/drink/fun the Hub has to offer.