The 7 best whole-animal feasts in Boston
Ever since that one dude discovered fire, people have roasted entire animals for sustenance and celebration. And because seared meat is 100% delicious. Unfortunately, braising a whole goat in your city apartment is logistically impractical. Luckily, many Hub restaurants offer whole-animal dinners, for those times when just consuming a leg, or whatever, simply won't do.
Fort Point
Tavern Road is known for its inventive cocktails and impeccable bites, but Chef Louis DiBiccari goes next-level when it comes to whole-animal dinners. He'll roast a pig, lamb, goat, duck, or other surprise critters for you and 12+ friends, and there will be plenty for everyone. The feast begins with small bites (like braised lamb tongue) followed by a major meat bonanza with your choice of three sides (hopefully meat, meat, and meat). The menu varies based on the animal and the chef's whim, so you'll need to call (617.790.0808) to find out more.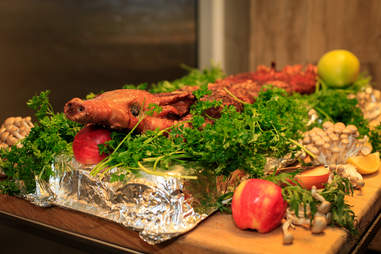 Heloisa Fitzgerald 
South End 
Chef Rachel Klein only cooks all-natural, "Never Ever 3" program meats in her funky L.A.H. kitchen (as in... Never-ever antibiotics, Never-ever hormones, Never-ever by-products). And that's exactly why you need to experience one of her Whole Communal Roasts, served family style. You have four tantalizing choices: Trio of Green Circle Chickens (chicken jus), Milk Fed Upstate NY Suckling Pig (shallot jam, red wine jus), Colorado Leg of Lamb (roasted olives & grapes, mint gremolata), and Rohan Duck (sour cherry marmalade, jus du canard). Yeah, decisions, decisions. Note: there is a 72-hour advance notification required. For more, call 617.457.8130. 
Kendall Square
Belly knows exactly what's good for your... umm... belly: four course Arm + A Leg pig roasts, naturally. With a 48-hour heads-up, Chef Andrew Bonner and his team will put together a mega spread for parties of four-eight very hungry people ($62 each). Settle into one of Belly's excellent wine selections and prepare yourself for cracklings, fried pigs tails, head cheese, and pork cassoulet. Oh, and a fig & pine nut tart (variety!). Pro tip: you should order some charcuterie for extra cured-meat-goodness. Another pro tip: visit their website in the spring to find out when they're roasting lamb (you'll want to know). Reservations only; ring them at 617.494.0968 for details.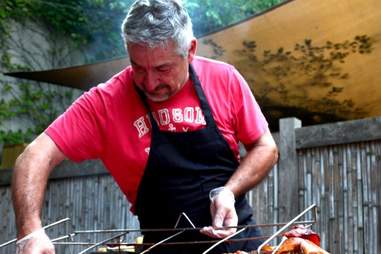 Ashmont Grill 
Dorchester
At cozy Ashmont Grill, you are invited to make a whole day of your whole-animal roast. Show up early, sip some brews, and hang out with the team as they slow-roast your pig, lamb, or goat in their La Caja China Cuban cooking box. You can arrive at dinner time (6pm), but you should check out the early action. They do all the work and you reap the benefits, as they serve up Chef/Owner Chris Douglass' tasty choices of family-style appetizers, seasonal sides, and dessert. Required: eight-16 carnivorous comrades, a seven-day notice, and an RSVP with credit card ($45/person). E-mail the grill for info.  
Davis Square
At Posto, it's all about piles of pork. Juicy, delicious pork. A two-week notice is required for your swine time... just so the team can find the perfect local heritage breed pig (courtesy of Ron Savenor) to feed your crew (12+). Bigger party = bigger pig. Once procured and prepped, your special oinker is stuffed with homemade seasonal fig or chestnut sausage stuffing seasoned with fresh herbs, veggies, and Marsala wine. Also included: seasonal salads, sea salt rosemary bread, warm country olives, more veggies, herb-roasted Yukon Gold potatoes, and roasted apples. Your journey to porky bliss begins here.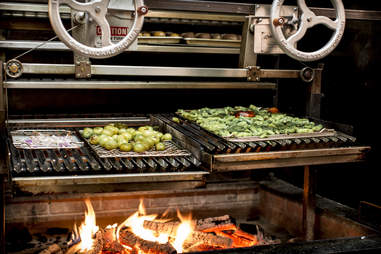 Michael Piazza 
Inman Square
Chef Tony Maws loves roast beast, and he wants to share that love with you at Kirkland's Whole-Animal Feasts, a variation of his popular Whole-Hog Dinner at Craigie. You can still go with hog, but lamb and other critters are available, too. All of the food (meat + tons of sides) and wine are customized to the group (12+), and Chef Maws will dish it up himself. Prices start at $55/person (Monday-Thursday) and $85/person (Fridays and Saturdays). Call the restaurant at 857.259.6585 to book your meat-fest.
Fenway
Too bad Jules doesn't dig on swine (disregarding Vincent's compelling "Bacon tastes good" argument), because he's totally missing out on Citizen's Whole-Roasted Suckling Pig Dinners. They cook your little piggy 14 hours for maximum tenderness, and then present it to you with varying seasonal sides like Brussels sprouts, broccoli gratin, and whipped Yukon Gold potatoes. Major bonus: a bit of surf is part of the deal, with shellfish appetizers (fresh oysters, little necks, shrimp cocktail) when you arrive. $450 for 10 people, $45 for each additional person. Call 617.450.9000 for availability, because they often book up the dinners in advance.
Sign up here for our daily Boston email and be the first to get all the food/drink/fun the Hub has to offer.