Boston Breakfast IS the most important meal of the day, but it's sooo early… and that doesn't work well on the weekends (especially if you've been taking advantage of the new late-night T service). So drag yourself out of bed when it's convenient, and check out one of these restorative new weekend brunches:
Ward 8, Saturdays and Sundays, 10am-3pm: Executive Chef Kenny Schweizer invites you to Ward 8's new weekend brunch, where you'll start off with the The Brass Monkey, aka that funky monkey, aka The Poor Man's Mimosa -- a mix of Colt 45 and freshly squeezed orange juice (brilliant). After you wake up again, dive into the Lobster Crepes (scrambled eggs, chives, three cheese béchamel, mixed greens) or the Breakfast Burger (Portuguese sweet roll, applewood bacon, cheddar, fried egg, hollandaise, tater tots, mixed greens). Maybe you should go both days.

Continue Reading
Petit Robert Bistro, Saturdays and Sundays, 9am-4pm: New chef Stefano Quaresima has wasted no time in establishing the "Petit Breakfast Brunch Menu", serving up classics like Crepe Jambon Fromage ou Nutella (crepe with ham & cheese or Nutella... not both), Omelette Lyonaisse (tomato, bacon, onion), Croque Monsieurs (grilled cheese and ham), and Croque Madames (same, but topped with fried egg). Don't fret, PRB faves like Coq au vin and Moules frites aux trois facons are there to comfort you as well, mon ami.
MET Back Bay, Saturdays and Sundays, 9am-3:30pm: In addition to their ever-popular American Ham and Cheese Bar, MET Back Bay ups the ante with a new brunch menu packed with Nutella Stuffed French Toast (with caramelized bananas and salted caramel sauce), Breakfast Carbonara (double smoked bacon, Parmesan cheese, topped with poached egg), or "The Cure" (pork belly, fried egg, kimchi, Thai chilis, cilantro, and Sriracha mayo on a griddled bun). Bonus: design your own Bloody Mary from the Crafty Marys menu… more than 13,000 combinations (including a slider kebab!). Good luck figuring it out.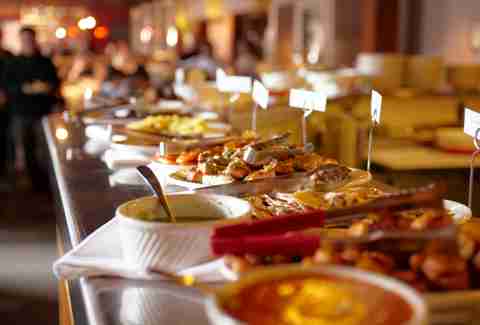 The Blue Room, this Sunday, 11am-2:30pm: The Cookbook Brunch series is an ongoing monthly-themed "tip of the toque" to iconic/classic cookbooks. First up is The Silver Spoon (1955) with selections such as Uova in Cocette ai Porri (braised leeks and nutmeg with a soft-cooked egg on top) and Arrosto con il Rosmarino (pork shoulder with rosemary, braised with onions and garlic). The fan-favorite brunch buffet will also be available. $27/person includes all items and coffee/tea. Wear loose-fitting pants.
Saloon, Sundays, 11am-2:30pm: Sink into a comfy leather booth and enjoy Saloon's recently launched brunch menu, which includes goodness like house-made donuts (with spicy and salty chocolate sauce), the breakfast BLT (bacon, lettuce, tomato, avocado, cheddar, and fried egg on brioche), or the Braised Meat Hash (beef or pork, diced potatoes, caramelized onions). The Gentleman's Buck (bourbon, orange juice, lime, bitters, ginger beer) will put you back on track.