Boston's Most Beautiful Restaurants and Bars
Courtesy of Gustav Hoiland
Sometimes dining out is as much about the ambiance as it is about the food. If you're the type of person who likes to find a pretty place to stuff your face (sorry, we couldn't resist), these 10 restaurants and bars should top your list.
Courtesy of Top of the Hub
Back Bay
If you're going to Top of the Hub, it's for the view -- and what a view it is. We would be remiss not to mention the highest restaurant in town, whose floor to ceiling windows provide a 360-degree view of downtown, the Charles, and beyond. If you're feeling romantic, wait until winter when the entire skyline is covered with snow.
Courtesy of L'Espalier
Back Bay
Everything about L'Espalier is cool and gorgeous, from the sleek signage to the artfully prepared dishes, which the waiters describe in great detail before presenting. The modern interior and second-floor view of Back Bay make for a chic, urban dining experience that complements the acclaimed menu.
Courtesy of Red Lantern
South End
The "red lantern" idea is taken pretty literally in this South End spot. It's typical Asian fusion but with an elevated atmosphere -- stone walls and exposed I-beams never mixed so well with giant Buddhas and deep red lighting. If you want to feel classy while sipping away at a Scorpion Bowl, this is the place to do it.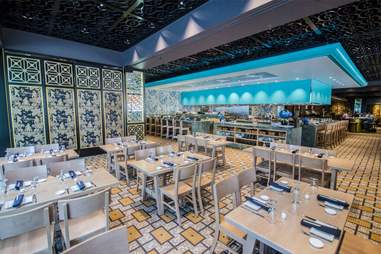 Courtesy of Empire
Seaport District
Empire looks and feels like a club: gigantic, loud, and trendy, with food that you can really take or leave. If you want authentic Chinese, this is not the place, but if you want to look at gorgeous people and take some posh selfies, its location, size, and décor are perfect.
Courtesy of Taj Hotels Resorts and Palaces
Downtown
Each and every space in the city's most prestigious luxury hotel is magnificent (as it should be for a minimum of $350 a night). Whether you're headed to the French Room for afternoon tea, the rooftop for Sunday brunch (overlooking the public garden from May through November), The Café, or The Bar (fully equipped with a fireplace and original furnishings from the 1930s), it's one of the most beautiful dining spots around.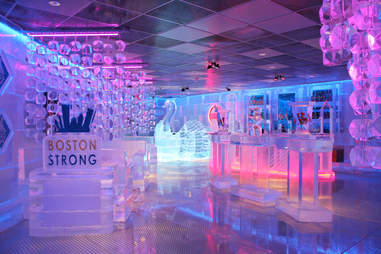 Dave Baldwin/Thrillist
Fanueil Hall
This bar has, hands down, one of the most distinct interiors in the city. You know, because it's made completely OUT OF ICE. Where else in town can you enjoy a frosty cocktail while sitting at an ice bar, with an ice gallery, and ice sculptures of Boston landmarks? Exactly nowhere.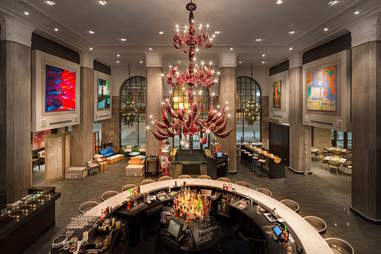 Courtesy of Gustav Hoiland
Back Bay
There's an undeniable caché to this Back Bay gallery/eatery; even the name has a certain aesthetic appeal. Populated by hipsters and Brahmin alike, the entire venue serves as a canvas for the curator's latest art exhibition, which in turn serves as inspiration for the craft cocktail list. The combination of huge canvases and eccentric décor (like a chandelier resembling equal parts black orchid and colossal squid) lends a particular sex appeal to the space.
Dave Baldwin/Thrillist
Downtown
We're suckers for dark wood, dim lighting, and bars so polished you can see your reflection. While there are a lot of these in Boston (Saloon and Wink & Nod come to mind), Stoddard's is our favorite. Located in the historic Stoddard's Fine Cutlery building, the gorgeous gastropub's exposed brick, 30ft tall mahogany bar, and antique décor make it the quintessential example of a vintage American saloon.
Courtesy of Eric Levin
Downtown
Yvonne's is divided into three distinct spaces that elegantly merge sophisticated modernism with Locke-Ober tradition. The dining room features a 129-year-old hand-carved Santo Domingo mahogany bar, while the lounge's ceilings are exact replicas of the building's original tin coffers (discovered during recent renovations). To top it off, there's a gilded fireplace.
Courtesy of The Hawthorne
Kenmore Square
The craft cocktail program at the Hawthorne is well-known, but we also like the bar itself. And the smaller, second bar. Drinking at the Hawthorne is like drinking in your own living room -- assuming your living room was better decorated and staffed by world-class bartenders. OK, so maybe it's nothing like drinking in your living room. But it's definitely fancy.
Sign up here for our daily Boston email and be the first to get all the food/drink/fun the Hub has to offer.
Kim Prosise is a Boston-based travel and lifestyle writer. She tried to see her apartment from Top of the Hub and failed miserably.