9 awesome ways to spend a free day in Boston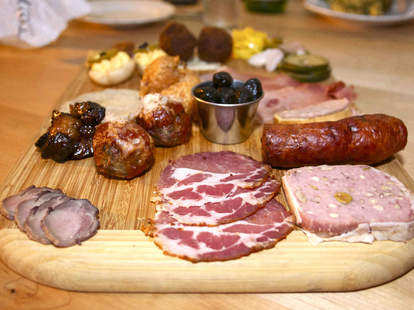 Say someone offered you a free day to go out and do whatever the hell you wanted. You'd probably jump for joy -- or at least pump your fist for joy -- but then after that, you might find yourself paralyzed, because there are just too many possibilities. To help shake you out of it, we put together a list of some of the greatest ways to have the most killer day in the Hub possible.
Eat All The Sandwiches
Don't spend today just selecting one great sandwich, choose from all of the greatest sandwiches in Boston. Parish Café is a culinary supergroup, culling sandwich recipes, like the Mexican Meatball Sub with jalapeno jus, from renowned local chefs and presenting them all on one menu.
Tangierino
Get Exotic
You might not have time to leave the country but Tangierino is the next best thing. Nosh on some za'tar spiced rack of lamb, head upstairs and take in a belly dance, get your tarot read, or sip on a drunken camel (Irish whisky, Moroccan iced tea, and ginger beer) and unwind with some hookah at the lounge.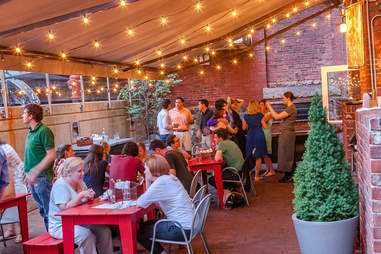 Mike Diskin
Taunt Winter
Winter is…over? Maybe? Take your first few tentative steps into the mythical outdoors at Belly Wine Bar's new patio, complete with fried chicken and fondue specials, plus, yeah, a whole lot of wine.
Enjoy The Upper Crust
Freed from responsibilities, you can finally wait in line at Galleria Umberto. They only serve lunch. They open at 11 and usually close at 2 when they run out of food. But gosh darn it that is a good frickin' slice.
Jacqueline Dole
Make Peace With Brunch
Serving up brunch 7 days a week, you can now enjoy the best of all possible meals at Deep Ellum without feeling like you haven't done your homework (will Sundays ever get easier?). And use this opportunity to get the weekday-only pearl hotdog.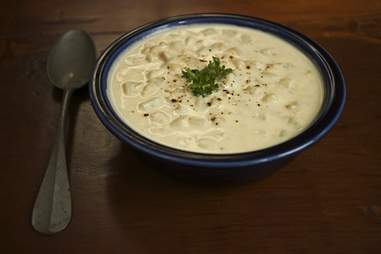 Chris Padgett
Get A Bucket Of White Gold
Two-time winner of the Boston Chowderfest, James Hook & Co. makes a dang tasty bowlful. But if you really want to have it make your day, opt for the half-gallon of the stuff and cancel all other appointments.
Andy Kryza
Hop To It
Brewing your own beer: it only takes a day. The folks down at Hopster's Brew & Boards will walk you through the process step by step, and then serve up some of the best locally sourced charcuterie alongside their in-house brews. Two weeks later and you've got custom labeled, bottled beer that you can tell your friends "you" "made".
Showcase SuperLux
Crush The Cinema
Seeing a movie on your day off? Chump move. Seeing a movie in 4K resolution while reclining in a leather seat that has the ability to call forth drinks and food from a built in iPad at the Chestnut Hill Showcase SuperLuxe? Champ move.
Steak Out
Bogie's Place is hidden in the back of another restaurant (JM Curley), they don't do cell phones, and they don't do kids, meaning you can do the steak and just the steak… or the porterhouse pork chop. You've got all the time in the world to start, and end, a beautiful friendship with the beautiful hunk of meat in front of you.