When it comes to the dining scene in any major city, everyone's always so focused on the shiny and new (we're guilty of this sin, too), but fixating on the next big thing means we sometimes neglect the bedrocks of Boston's dining scene. Of course, we're guilty of this sin, too -- so today, we're trying to absolve ourselves by honoring our elders a little. Here are 10 old-timers who deserve better -- or at least deserve your undying loyalty for making the city's restaurant scene what it is today.
Recommended Video
This Is NYC's First All Japanese Food Hall
Back Bay
This one feels a little tricky, given that the restaurant no longer occupies the Gloucester St townhouse once so integral to the L'Espalier experience. But little-known fact: when it opened in 1978, L'Espalier was first situated on Boylston before heading to Gloucester a few years later. Regardless, the restaurant's (final?) move to its current modern space has actually democratized its meal service. Lunch, afternoon tea, and weekend brunch mean that we hoi polloi can rhapsodize over chef Frank McClelland's French-tinged regional cooking, while the salon menu lets you go hog wild (daintily, daintily) over the cheese and wine programs. And if it's still a celebratory meal you're after, you really can't beat a nighttime tasting menu astride one of the streetside picture windows. Still amazing after all these years.
Downtown Crossing
Here's where we really start getting into Boston's dining history. Marliave first made its debut in 1885, opened by a French immigrant who brought over a closely guarded cachet of Francophile recipes. It's had its ups and downs in the 13 decades since, but Marliave really is an undersung institution. Where else can you enjoy French onion soup and rarebit at the bar while savoring a drink called the Chauncey Warbucks (Baker's bourbon, absinthe, grenadine, bitters)? The first floor reeks of backroom politics gone by, while the upstairs dining space provides a charmingly anachronistic view of Downtown Crossing (you forget how little the architecture has changed here). Oh, and on those deep February nights when you cannot bear to drag your ass out the door? Marliave delivers. Rarebit in bed, baby.
Harvard Square
It's nice to know that old-school Harvard Square hasn't completely disappeared. Over four decades, this Square workhorse has pushed farm-to-table ideals while training many a future celebrated chef. It's New England cuisine the way both locals and visitors want it: ingredients like lobster and halibut done to the nines. The tasting menu is anniversary-worthy, while the two-course "business lunch" is a steal. If you're fixing for the prix fixe brunch, plan ahead, because every maitre d' in town seems to tip off their hotel guests about it (must be those Rise and Shine Martinis). Come summer, a spot on the garden terrace is still one of the most coveted tables in the city.
Chinatown
Many of us who grew up in the city were dim-sum regulars; it was one of the easiest and cheapest ways to get out of the house during daylight hours (hey, there wasn't nearly as much going on in Boston back in the '80s). Most of Chinatown's old-time spots have since quietly slipped away, but China Pearl remains a stalwart. Climbing up those stairs is like slipping down a rabbit hole of nostalgia: the decor, dishware, and menu all feel virtually unchanged, and the dim sum itself is as dependable as ever. Look around and you might notice an older-than-usual crowd; those are the regulars who were sucking down shui mai before you were even a zygote.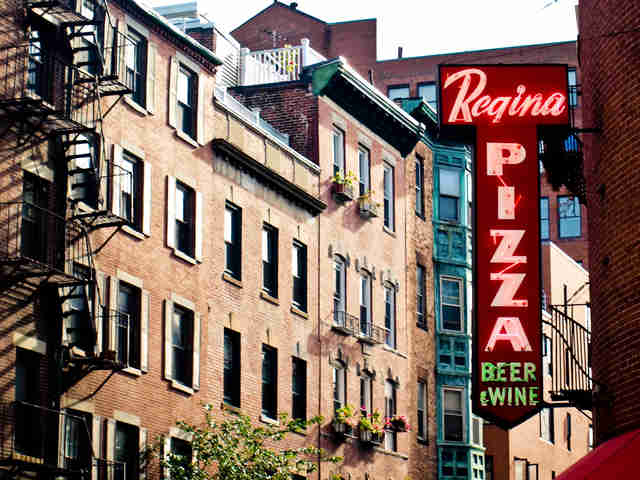 North End
It's hard to oversell this place, even though in some ways it's hard to sell it. Pizzas and pitchers, what's the big deal? Well, the movie-set-like interior, for one, with its frayed booths and framed celebrity headshots. And the history, of course. Regina started in 1926 as both a sit-down and to-go pizzeria; we like to think Boston spurred the home-delivery pizza business. But really it's about the 16in brick-oven beauts you can set your clock to, just as your forebears likely did before you.
East Boston
Because you can't talk about one without talking about the other. The centenarian East Boston spot started life as a bakery, strangely enough, but in 1933 it began slinging the pies that still cause spasms of glee in all who partake. It's simple, it's no-frills, it's hard to get to, it's credit-card-averse... and it's still a legend. Give a Bostonian a salty waitress, a sausage pie, some lamb kabob, and a Bud, and he'll give you that rarest of New England gifts: a smile.
Faneuil Hall
Oh, no big deal, just the oldest restaurant in America. Union House has its critics, but we're talking about a place that began shucking oysters in 1826, back when said bivalves were hella bigger than the ones we eat today and folks like Daniel Webster sucked them down on the regular. Go for the decor and the New England staples (or as the menu calls them, "Ye Olde New England Favorites"): steamers, clam chowder, boiled or baked stuffed lobster, and by all means the baked beans and Indian pudding.
Back Bay
If you think Boston's Mexican food scene sucks today, try 45 years ago. Back then Casa Romero was the city's enchilada oasis, a tucked-away basement eatery (in the basement of the old L'Espalier, in fact) visited by pretty much every single denizen at some point in their residency. And the appeal endures: it's got the Mexican tile tables, the generous margaritas, and the massive menu of classic over-the-border entrees (plus a little-known patio for warm-weather eating). Are the prices a little nuts at this point? Absolutely -- but then again, nowhere in Boston does history come cheap.
Beacon Hill
Was the ordering system always so screwy? Probably, but then again, back in 1937, the lines likely weren't as long. Beacon Hill's classic luncheonette isn't always easy to navigate -- seriously, why is the bathroom all the way in the back? And why will no one let you by to get there? -- but it's always worth it. It's breakfast, lunch, and dinner (or breakfast for dinner, or lunch for breakfast), with most dishes prepped on the griddle and all servings proving crazily ample.
Downtown Crossing
Craving some Boston cream pie and a martini served on a silver tray? Then you've found your nirvana. Here are just a few of the crazy historical tidbits from this 100-some-year-old dining room: It hired the first French chef in America in 1855 (M. Sanzian); Emeril Lagasse, Lydia Shire, and Jasper White all cooked here; and Malcolm X was a busboy in the 1940s. Oh, and Sanzian is actually credited with inventing Boston cream pie. Take all that in before considering the menu full of bygones, with its iceberg wedge salad and roasted quail and baked Boston "schrod" (a staple since 1906). Such throwback decadence is only enhanced by a wood-paneled dining room so ornate you'll feel compelled to end the meal with a brandy and a cigar.
Sign up here for our daily Boston email and be the first to get all the food/drink/fun the Hub has to offer.