When it comes to brunch, let's be real: you're rarely in the mood to wait in line for it. So, if you can grab a brunch that's just as amazing as those lobster biscuits you've gotten used to waiting an hour for, why wouldn't you? We've rounded up our favorite spots that are either so new the crowds haven't found them yet, or have (thankfully) dodged the hype for years -- yet can more than sate all your Saturday morning, bleary-eyed needs. While there's certainly room for the best around town, this weekend, try one of these unsung heroes instead.
Inman Square
This tiny Brazilian coffee shop is a prime brunch spot for a number of reasons: 1) it serves up a fantastic omelet 2) the açaí bowls are way more delicious than anything with "açaí" in the name has any right to be, and 3) you can't get those yucca home fries with that green sauce anywhere else. Add in a solid cappuccino and a short wait, and it's an obvious choice.
Back Bay
STRIP is so popular at night, you'd expect lines for brunch. Not so. People just haven't discovered that it's open on Sundays yet. So for now, expect to get seated immediately. Sure, it's not exactly a sweatpants-friendly establishment, but if you can stand to put on a jacket at 11am you'll be well-rewarded. The moment you're seated you'll get a warm pastry basket and an impressive cocktail menu (try the tepache), and after that you can chow down on anything from an omelet to brioche French toast to a $50 steak.
Seaport
Committee has a gorgeous patio and a breezy interior, making it a great place to hit over the summer. The brunch is relatively new and one of the best around, with fun drinks and Mediterranean-style fare that's filling without being super greasy. It's the sort of place that should satisfy everyone, from the vegetarian to the gastronomical passport-stamper, to the guy who always gets a burger. Must-orders: bougatsa (a sweet breakfast pastry), tyropita (the cheesy version), Greek yogurt pancakes, baklava oatmeal, shakshouka, and the breakfast gyro.
Allston
We're loving Lulu's lately, and it's not just for the beer. This place makes good food without taking it too seriously, and it isn't so crowded in the afternoon that you'll have to wait longer than a few minutes. It also offers killer donut holes with every brunch, along with spiked coffee, and "man-mosas" (mimosas + orange vodka). You'll have fun just reading the menu. Examples: breakfast cereal shots, s'mores pancakes, tater tots with braised short ribs, and Hair of the Dog pancakes with Pilsner-bacon batter and Bloody Mary butter. If you're adventurous, you kind of can't go wrong.
Back Bay
Doretta's Sunday brunch is still pretty under the radar, but it probably won't stay that way. The "Santorini Sunday" series has build-your-own mimosa pitchers, shellfish towers, and great main dishes, plus a rotating fashion show (which is so in the background, you might not even notice it). It's a tad on the pricey side, but the meal won't disappoint, and the open-air atmosphere is refreshing after a long night. Everything is delicious, but you need to at least consider the brunch pizza with lamb meatballs, and the Greek yogurt with fresh house-made granola.
South End
Despite praise in practically every Boston brunch article, most Bostonians still don't seem to know about the $9.95 prix-fixe brunch fiesta at this Southwestern staple. How that's possible, we have no idea, but make sure to get a margarita -- or a tequila flight if it's that kind of morning -- with all the money you're saving. If you're looking for more options, the full brunch (with cool menu items like cornflake-crusted brioche stuffed with caramelized bananas and served with jalapeño-scented Bully Boy American whiskey maple syrup) is also very affordable for the area.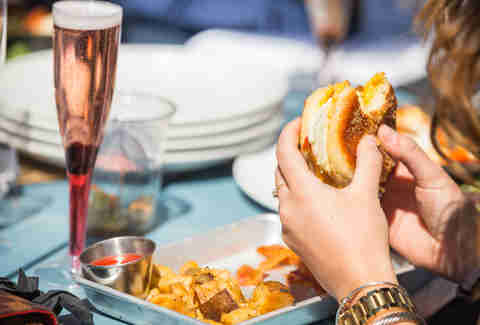 South Boston
Coppersmith has a parking lot and it's open all weekend, so it's winning before you even go inside -- which you don't even have to do thanks to the outdoor patio. It's absolutely giant and laid out almost cafeteria-style, with a huge food truck in the corner where the kitchen staff cooks up your meal while you watch from the build-your-own Bloody Mary bar. The food is hipster-approved (read: tropical gazpacho with mango and cilantro oil; drinks with orchid garnishes) but the atmosphere is also chill enough that you can watch the game while digging into some decidedly un-photogenic but oh-so-delicious Southern-style biscuits and gravy.
Union Square
Though this place is packed at night, it's not always the case for Sunday brunch. Stop by and experience some handcrafted German and Eastern European food -- as authentic as you'll find in Somerville -- or hang out on the Biergarten when the weather's warm (it's first-come, first-served). Whatever you do, make sure you get the sausage, or cart several pounds of giant kielbasa home with you if that's your thing. It's yours until it runs out. Everything on the menu is great, but we're partial to the Pfannkuchen, a traditional German pancake with apples and bacon cooked in a cast-iron pan.

Sign up here for our daily Boston email and be the first to get all the food/drink/fun the Hub has to offer.