Having returned from NYC (and a chef de cuisine gig at David Chang's Momofuku Ssam Bar) to transform his Dad's neighborhood diner, Strip T's, into a national culinary destination and one of Bon Appetit's Top 50 Best New Restaurants, Chef Maslow's embarked on his first solo project in Brookline's Washington Square. It's called Ribelle. It's Italian-influenced (the name actually means "rebel" in Italian). And it's now officially open. Here's what to expect.
After walking in and being like, "No way this use to be Tamarind Bay!", approach what will likely be a much-less-cluttered slab-wood hostess stand to receive your free baseball hat!! copy of the menu, which has been binder-clipped to a piece of cardboard.
Now grab a stool at the 13-seat bar and get comfortable before…
… scanning their selection of spirits and trying to figure out what the hell is in this bowl. Give up? It's a Berkeley's Polypore mushroom, obviously -- edible in younger stages and foraged by Jared, the chef de cuisine at Strip T's.
With Theresa Paopao, of Oleana acclaim, heading up the beverage program, you can look forward to a tightly curated lineup of beers (Dark Horse 'Boffo' Brown Ale, Anderson Valley Brewin Co.'s 'Poleeko' Pale Ale, etc.), and creative 'tails like the bourbon & allspice-mixed Lion's Tale and an Amontillado, Browns, Ristretto number w/ honey shrub, dubbed the Hustle + Cuss.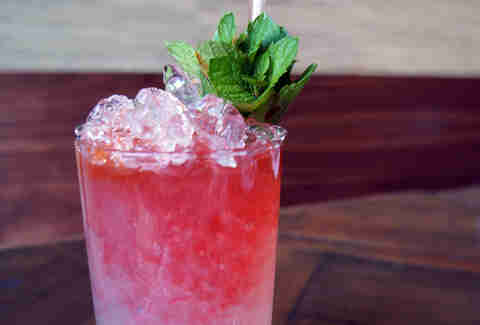 This, however, is the refreshing From the Hip, and it features mezcal, Campari, and falernum, garnished with fresh mint.
Assuming you're meeting twenty or so friends and totally not eating alone, you'll want slide over to this gorgeous Myrtlewood communal table that stretches the length of the 50-seat dining room.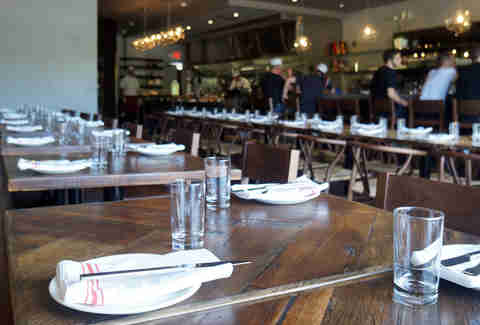 Or maybe you had a more intimate evening in mind; in which case, snag a four-top along the wall.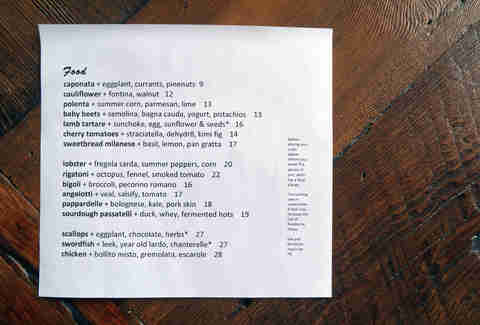 The ever-changing menu (so don't get set on a particular dish) is broken down by meat, fish, and veggie, but "left to interpretation", and includes -- as you can see here -- inventive takes like rigatoni w/ octopus and fennel, sourdough passatelli w/ duck, and lobster w/ fregola sarda, summer peppers, and corn (pictured top).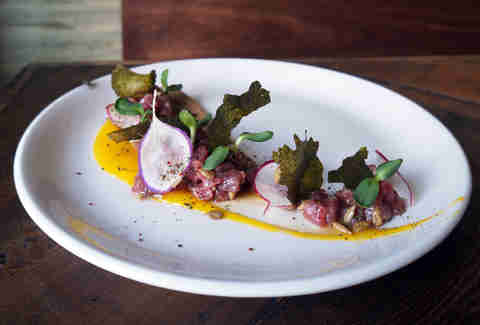 Perhaps you'd prefer to start with the lamb tartare, though? It's served with sunchokes, egg, and sunflower seeds...
... before moving on to a plate of bigoli and broccoli sprinkled with Pecorino Romano, followed by a dessert menu on which olive oil ice cream topped with a may-or-may-not-be Magic Chocolate Shell takes the top billing.