The 11 Best Deals You Can Score During Dine Out Boston
From classic French restaurants to Hunanese spots, there's no shortage of restaurants to check out.
Boston is home to spectacular cuisine 365 days a year, but spring and summer usher in some truly incredible opportunities for Bay State gourmands thanks to Dine Out Boston. Established back in 2001, this food-focused event occurs for two weeks each March and August, with the Greater Boston Convention & Visitors Bureau working with local restaurants to highlight some of the finest dining experiences available in the city.
Participating businesses are charged with crafting a curated tasting menu for patrons, offering set lunches for $22, $27, or $32 and dinners for $36, $41, $46. Although reservations are strongly recommended, participation is as simple as ever, with no tickets required to take part in the festivities.
From refined coastal French fare to perfectly crafted Hunanese cuisine, there's no shortage of spectacular restaurants involved this summer. While there are more than 100 different venues to choose from in total, the following 10 are certain to please.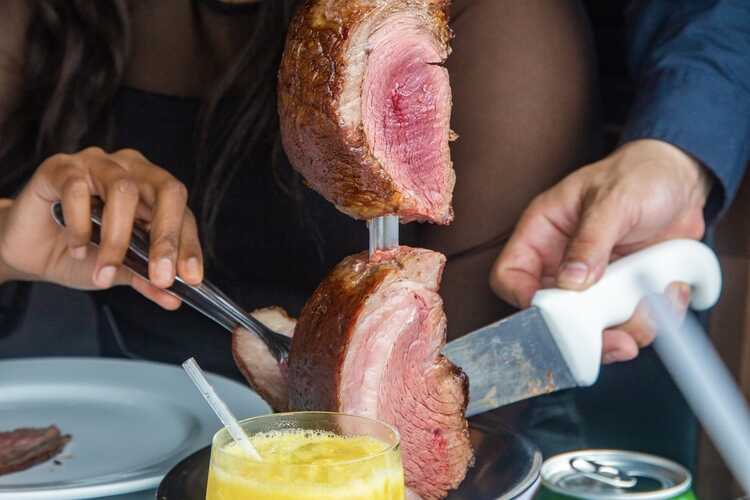 Alma Gaucha

| Dine Out Boston
Pão de queijo, caipirinhas, and more meat than you could possibly imagine are all up for grabs at Alma Gaucha. This D Street venue excels at the fine art of Brazilian barbecue, offering all-you-can-eat salads, sides, and perfectly-prepared chicken, pork, and beef for one price. Though meat reigns supreme around here, don't sleep on their lengthy wine menu, with more than 150 different bottles up for grabs.
The deal: Meat lovers can swing by Monday through Friday for the $32 lunch deal, or make an appearance Sunday through Friday to snag a $46 dinner. The two meals kick off in typical churrascaria fashion with full access to the salad bar followed by a meat-heavy main course and Brazilian dessert to wrap it all up.
Fresh off the heels of its first birthday, The Banks Fish House has made waves across Back Bay thanks to its sumptuous seafood selection as well as its lengthy list of cocktails, beer, and bubbles. The menu serves as a veritable treasure trove for all things under the sea, complete with Spanish octopus, shrimp po'boys, and lobster rolls all in attendance.
The deal: Both lunch and dinner deals are on the table for this summer's Dine Out Boston, with each one offering a three-tiered experience with a range of options for each course. Though seafood dominates the menu around here, desserts like the summer corn ice cream sandwich offer a little diversity, and for wine lovers, there's a shortlist of exemplary sips to pair with your meal.
There's a little slice of the French Riviera just south of the Boston Public Garden, and it's found in the form of Bistro du Midi. While the food menu around here offers a plethora of French dishes ranging from moules frites to foie gras terrine, the seasonal tasting menu is a particular highlight for returning diners, offering a rotating array of haute cuisine plates crafted by chef Robert Sisca.
The deal: A three-course tasting menu is on the table throughout August, with lunch available for $32 and dinner for $46. Fans of perfectly-prepared protein should be sure to snag an order of the American wagyu tartare, while the black forest ham and gruyère-loaded croque monsieur serves as a particularly satisfying main course for evening diners.
Equipped with Waltham and State Street-adjacent locations, Boston Kebab House has been serving up savory Mediterranean fare since 2006. While the company's downtown location is currently open solely for catering, its Middlesex County neighbor is still going strong, offering a plethora of perfectly-seasoned proteins to hungry diners.
The deal: All throughout Dine Out Boston, visitors to Boston Kebab House's Waltham location can swing by for $22 lunch and $36 dinner available every day of the week. Daytime diners can grab a savory kebab plate available in chicken, steak, doner, lamb, moussaka, or falafel format followed by a refreshing baklava or pudding, while evening guests will receive the above options and a meze appetizer platter as an added bonus.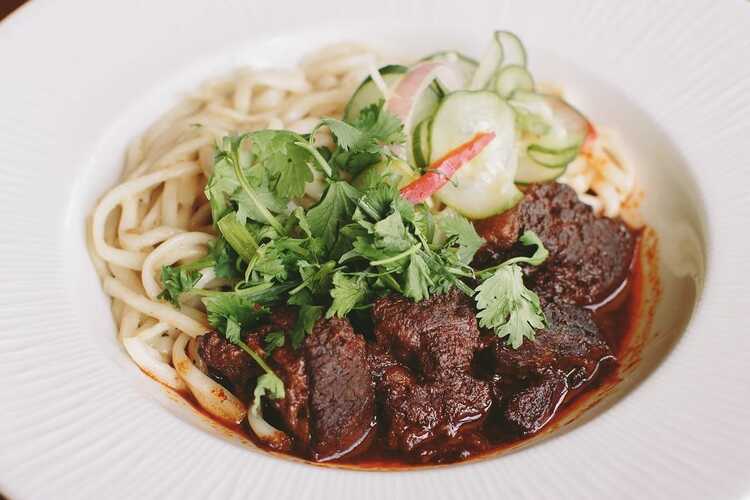 The Elephant Walk

| Dine Out Boston
A South End staple since 1991, the polished Elephant Walk offers the finest blend of French and Cambodian flavors to be found in Suffolk County. Classic Kampuchea dishes like somlah machou and loc lac are essential for first-time diners, while wine lovers will delight in the venue's particularly lengthy list of products sourced from all across the globe.
The deal: The three-course $41 dinner boasts a particularly diverse range of options to choose from, with four starters, six mains, and three desserts all on the list. Chilled avocado soup, grilled corn on the cob, and rouleaux—or crispy pork spring rolls—all serve as worthy appetizers, while diners have a choice between shrimp, chicken, pork, salmon, beef, and duck as protein for the main event.
Yearning for a weekend getaway in Paris? Skip the lengthy flight to France and head to Grand Tour, a sleek and sophisticated venue on the corner of Newbury and Hereford. This Michael Serpa-fronted favorite comes complete with a wide array of French favorites ranging from steak frites to decked-out charcuterie boards to free-flowing wines sourced from all across the nation.
The deal: Visitors can snag a $32 lunch and $46 dinner six days a week, with Saturdays as the sole exception. The mastery of French fare is on full display across both three-course tasting menus with bibb salad, tuna niçoise, and chocolate torte all on display.
In need of some New England-focused fare? Head across the Charles to find Harvest, an elegant venue that's been gracing the storied streets of Harvard Square for nearly half a century. Bay State staples like lobster rolls and east coast oysters are just a few of the savory seafood dishes up for grabs, while plates like the pasture-raised Berkshire pork loin offer an opportunity to sample perfectly-prepared—and locally-sourced—protein.
The deal: From Monday to Friday, the three-course lunch menu is available for $32, equipped with deviled eggs, grilled pork belly BLTs, and berry buttermilk frozen yogurt. Meanwhile, evening diners can look forward to the $46 three-course dinner, with heirloom tomato salad, duck breast, and cookies and cream making an appearance.
Latina Kitchen & Bar

| Dine Out Boston
Offering a seamless blend of Venezuelan and Italian flavors and ingredients, Latina Kitchen & Bar is an essential dining destination for those visiting the Boston suburb of Needham. Operating at the behest of Antonio De Trizio and Luma Marcaccio, the pair lovingly craft fusion cuisine based off of their own personal experience with both cultures, wowing guests with favorites like tequeños, gaucho steak, and shrimp tostones.
The deal: A decadent $41 three-course dinner awaits incoming diners during Dine Out Boston, with a wealth of options included in each course. The meal begins with the tough choice between mushrooms escabeche and empanadas followed by pork ribs or fried fish, concluding with a variety of dessert options ranging from tres leches to gelato.
Cambridge is home to a cornucopia of incredible East Asian restaurants, but if you're searching for top-quality Hunan dishes, don't miss out on Sumiao. Hailing from the south-central region of China, the province of Hunan gave rise to one of the nation's eight traditional cuisines, with regionally-inspired favorites like Changsha shumai and red braised pork belly gracing the Sumiao menu. While the food around here is stellar, don't miss out on the restaurant's lengthy drink menu, equipped with a wealth of baijiu-laden cocktails to sample.
The deal: From Tuesday to Sunday, guests can take advantage of the $27 lunch menu offering a choice of soup, appetizer, entree, and dessert, while the $41 dinner menu is available all week long, equipped with tantalizing options like melted gold soup, lava fish, and sweet tofu pudding.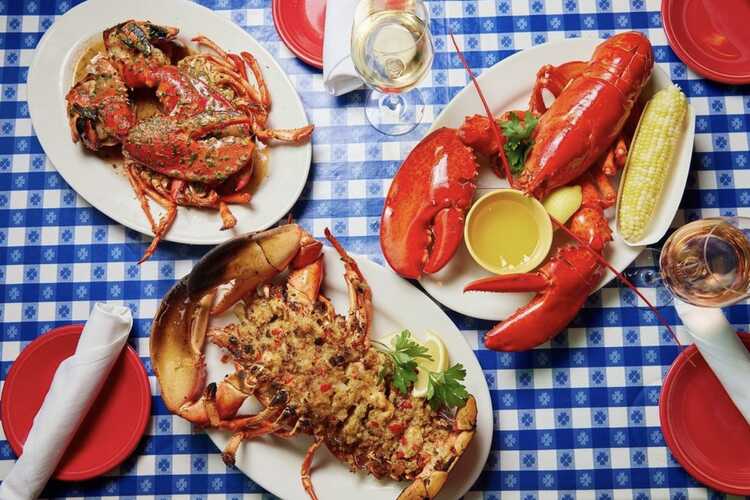 Summer Shack

| Dine Out Boston
Nine flat screen TVs and a 1,500-gallon live lobster tank are just a few of the amenities that await diners at Summer Shack, a Cambridge venue that's been in business since the turn of the millennium. Seafood dishes abound here, but no visit is complete without sampling some fresh shellfish courtesy of the largest oyster bar in the city of Cambridge.
The deal: A plethora of savory seafood dishes can be experienced firsthand at Summer Shack, with a $32 lunch and $46 dinner special both available for diners. Classic Bay State favorites like fish and chips and New England clam chowder are both present on the three-course tasting menu, while a hearty fried chicken sandwich awaits those who need a quick break from all the fresh fish.
Back Bay's polished Trophy Room has been a classic hangout spot for gay Bostonians for years, providing visitors with classic American fare and refreshing cocktails morning, noon, and night. Lunch and dinner standouts range from the hummus plate to the mushroom and brie pizza, but Trophy Room has earned abundant acclaim for its lively weekend brunch, with breakfast pizza and avocado toast both up for grabs.
The deal: Evening diners can look forward to a $41 dinner special during their visit, kicking off with a healthy dose of pulled pork, cotija, and avocado-loaded nachos. For round two, guests can pick between a spicy chicken sandwich or classic Bistro burger, then finish the night with a refreshing pineapple whip.
Jared Ranahan is a freelance writer focusing on travel, wildlife, and food & beverage.