Masquerade balls, carbo-loading, and cruising for bacon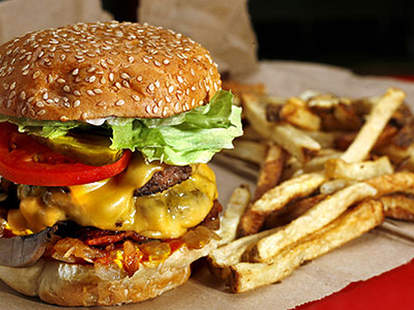 Thursday:
Pizzeria Regina continues its recent flurry of expansion. Grab a slice tonight at their new Fenway outpost, whose location is hidden behind this very link
Just because this year's Boston Bacon and Beer Festival sold out in, like, 12 seconds, doesn't mean you can't get in on the action. Skip StubHub and score tix to the bacon & brunch karaoke cruise instead, right here
Friday:
Friday at the Estate, BYPA's throwing an epic masquerade ball slash night circus where the first 200 guests land gratis Venetian masks. And, just so you know, there will be "a roving jester, stilt walker, and contortionist". Now get your ticket before they sell out
Perhaps you work near Symphony Hall and are looking for a new lunch option? In that case, pop by the new Five Guys on Huntington Avenue. Wait, where exactly?
Assuming you like foreign flicks as much as Sean Connery, don't pass go without helping to kick off the International Film Festival, a ticket to which you can buy right here
Saturday:Fresh off last weekend's Springfest, head over to The Park Plaza Castle for the 60-brewer-strong 2013 Beer Summit. Don't miss this
Do you enjoy movies about the mob? How about pub trivia? If you answered "yes" to at least one of those questions, then you'll probably dig Saturday's "A Quiz on The Sopranos, Godfather, and Goodfellas" rapid-fire trivia contest at Allston's Common Ground. Find out more
If you missed out on a ticket to the Caffeine Crawl, you're still in luck, as the big US Barista Championship is going down this weekend. Learn about all the caffeinated details
Sunday:
Sunday night, hop your Huffy Panama Jack and join the festivities as hundreds of cyclists pedal about town on the 5th annual 26.2 mile Midnight Marathon Bike Ride.
Assuming you spend Sundays grocery shopping and also enjoy eating yogurt, put down the Dannon and try one that's brand-new, called Koru. But wait, what stores sell it?
Because you can't bike or run 26mi fueled on yogurt alone, gear up for a big day of doing neither and watching the marathon instead, by hitting Prezza's all-you-can-carbo-load three-pasta "Marathon Sunday" gorgefest
Or maybe you just want a pizza piled high with pasta, in which case you should pop by Ducali for their tortellini 'za and a pint of Boston 26.2 Brew. Just saying
Monday:
Help the dude from JP's Salmagundi hat shop raise cash for charity as he guest-bartends at Darryl's Corner Bar & Kitchen's next "Big Star on Bar" event, mixing his speciality vodka/St. Germain cocktail fittingly dubbed the "Wide Brim". Don't be late
Tuesday:Start gearing up for Record Store Day by swinging by JP's newest indie album shop Deep Thoughts. Find out how to get there
Wednesday:
You can always count on Olde Magoun's to help get you over hump day -- this week it's with their Jamaican Me Crazy Wednesday night menu. See what's on it