Making the journey over from Placentia (eww!), CA, the patriarch of "unconventional ingredient"-heavy Bruery is leading a 5-course peach of a beer dinner, which includes: a vermouth cream/fried leeks halibut paired with their Belgian-style Orchard White, a Game Roulade/Confit of Squab paired with light-blond spring seasonal Saison de Lente, and a pinot noir reduction New Frontier Bison Strip Loin paired with Rugbrod, a brew "loosely based on the Scandinavian Christmas beer tradition", presumably the one where all the children get their clogs filled with shandy.
Previous Venue
Next Venue
Venue Description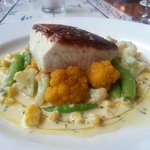 1. Brasserie Beck
1101 K St NW, Washington, DC 20005
From noted chef Robert Wiedmaier comes the European-style Brasserie Beck in McPherson Square. Brews include classic Belgian styles like dubbels, tripels, and saisons, while eats count options like a ratatouille crepe, classic steak frites with bearnaise and bordelaise, and Maine lobster pappardelle. Maine is notably not in Belgium, but doesn't that sound damn good?