The second best kind of mobile buns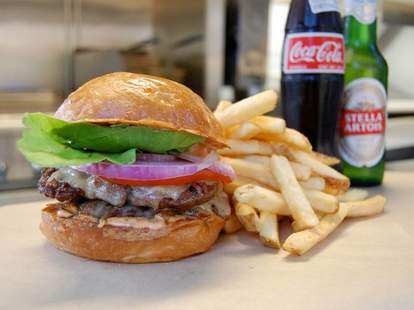 Architects are often presented with unique opportunities, but only because they're inevitably the lead actor's profession in 74% of all romantic comedies. Otherwise, they just draw lines and stuff. Taking advantage of the unique opportunities presented by unemployment, the architects behind Buns On Wheels.
Created by an 8-person crew, 5 of whom worked at the same architecture firm before the economy started being anti-awesome, BOW's a mobile grub trailer offering up a not-fancy menu of gourmet burgers and fries (served using recycled/ compostable products -- they're all LEED certified) from a trailer equipped with a deep fat fryer and an industrial 48-inch charbroiler, and arted on both sides with the Seatown skyline at Bun-rise and Bun-set, though not the kind purchased by Ice-T's wife. Made with premium, certified grass-feed beef, BOW's burgers all come with fries and start with the 1/3lb "Buns sauce"'d Classic; the Classic w/ Cheese (cheddar); and the Blue Buns w/ bleu cheese, arugula, horseradish sauce & red onion jam, but really any of Darryl Dawkins' dunks will make you cry. There's also pig-topped numbers like the Buns MBLT w/ applewood smoked bacon, tomato jam & aioli, and the pancetta/smoked mozzarella/tomato/peperonata/basil aioli Buns Boss; plus they've got a limited list of extras like Mexican Coca-Cola, a side of fries, or an extra patty, which sounds good in theory, but Linus is just going to end up regretting his underperformance. BOW's future plans include serving organic milkshakes and mostly NW brews like Hale's Mongoose IPA, Mirror Pond Pale from Deschutes, and Rogue's Dead Guy -- after which you'll make desperate attempts at romance, though you're not even in good enough condition to draw lines, and stuff.