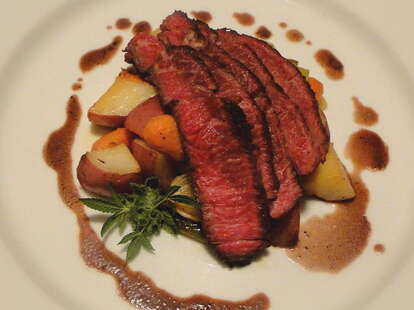 People have long used alcohol to spice up their cooking, but that's because those states are so far from NORML. Spicing up cuisine the West Coast way, Cannabis Catering.
From a Peninsula-born chef who trained at the California Culinary Academy and served as a personal kitchen-minder for John Madden and Jerry Rice, CC creates four- to five-course menus infused with the finest AAA-grade organic medical marijuana, so good it'll make even John Madden sound like a genius. Abiding by Prop 215, CC has already dished out blunt-y goodness for a dozen or so get-togethers, with ganja grub like a Micro Greens Salad with strawberries, Train Wreck-infused caramel candied pecans and a Grand Daddy Purple-lined balsamic vinaigrette, or a Lemon Pepper Tri-tip, served with roasted veggies and red potatoes coated with Blue Dream, which is usually only good for making your sheets sticky-icky. Ooooweeeee! For dessert, the self-proclaimed 420 Chef'll also put your home-made cookies and brownies to shame with a Super Lemon Haze infused Belgian Chocolate Fountain, whose flow can only be arrested by a Van Dam(me).
Oh and if you don't think there's enough infusion going on in CC's eats, they've always got a side of spreadable cannabutter -- an emerald green concoction that's one pound of bud to 15 pounds of butter -- after which, if you try butter in other states, you'll disappointedly whine "I can't believe it's not bud-er".