Opening Friday, this café'll feature wine, cask ale, cured meats, and 35 different varieties of cheese: everything from Portuguese "Acorilhas" to "Toussaint" from Poughkeepsie -- a town whose name sounds like a condition caused by improperly curdled milk.
Recommended Video
Stay Classy This Winter With a Spiced Pear Tom Collins
Previous Venue
Next Venue
Venue Description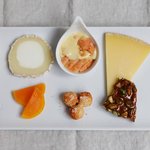 1. Casellula
401 W 52nd, New York, NY 10019
A haven for cheese-mongers, this Upper West eatery has an arsenal of over 40 cheeses, ranging from mild to sharp, classic to obscure. The menu of available cheeses is constantly rotating -- several new strains are available weekly -- and each variety of cheese is expertly paired with its very own condiment (because not all cheeses are meant to pair with quince paste). The tasting menu allow guests to select their cheeses of choice, from French camembert to Brooklyn smoked ricotta, each of which is then carefully plated alongside its prescribed counterpart -- things like chocolate wafers, tomato relish, or candied pecans. House-curated cheese flights are also available for the indecisive eaters, and beyond the cheese program, the kitchen offers a full menu of snacks and small plates -- think chicken liver mousse, and mustard miso pickles -- all served in a minimalist, white-washed dining room. And because great cheese is nothing without great wine, the upscale snack bar offers over 100 different wine pairings.