Charleston may have one of the best burgers in America at Husk, and nationally acclaimed cocktail bars, but if there's one single food that the Holy City really takes pride in, it's barbecue. Ask 11 people for their favorite BBQ spot, and you'll get 11 different answers for 11 different reasons. And they're all right. Whether you're a fan of mustard, tomato, vinegar, or white, here's where you can get sauced in Chucktown:
Recommended Video
The Mexican-Style Grasshopper Tacos You Have to Try When You're in South Beach
West Ashley
The goal at Swig & Swine is to marry delicious, smoky BBQ with cold craft beer, a favorite combination for those of us south of the Mason-Dixon. The menu is full of meats that are slow-smoked in a custom-built smoker, which you can see working hard whenever you pass by. Can't decide between all the delicious options on the menu? Get the family platter, served with seven different types of meat, plus your choice of three excellent sides (I recommend the baked beans, mac and cheese, and pickled veggies).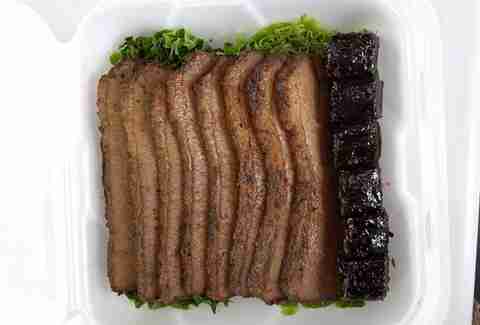 Johns Island
Definitely off the beaten path on Johns Island, JB's is literally a shack packed with some of the best BBQ in town. There's nothing fancy about the place, but therein lies its charm. It likes to say, "the flavor's in the meat, sauce is on the side," and it doesn't lie, but going sauceless would be unfair to the fabulous options, which are also great. Pro tip: mix the mustard sauce with Mama's Sweet and Spicy. You won't regret it.
James Island
Part of the Dukes' family of BBQ joints that span the state, this 'cue spot requires a totally empty stomach to take advantage of the buffet lin-up. If nothing else, you should come here for mac and cheese alone. It's creamy and delicious, and almost manages to overshadow the slightly smoky pork.
West Ashley (& other locations)
If ribs are more your thing, then head to Home Team BBQ. The ribs have been dubbed the "most life-changing ribs" you'll ever eat. Prepare to leave the restaurant with a whole new outlook on life. They're dry-rubbed and slow-smoked, so each bite is packed with flavor.
West Ashley
Bessinger's is like two restaurants in one. First, you've got the buffet side, which is only open Friday, Saturday, and Sunday, and is loaded with BBQ and other Southern favorites. Then, you've got the basic order-at-the-counter sandwich shop, where you can get specialties like the Big Joe (chopped BBQ pork sandwich), served with signature steak fries and a giant onion ring (which is really more of an onion donut, on account of how sweet it is. Which is perfectly fine with us.)
Moncks Corner
If you're willing to make the drive out to Moncks Corner, you'll find some of the best chopped pork and catfish stew in the low country at Music Man's Bar-B-Que. The atmosphere is family oriented and no frills, offering only two sauces for you to choose from. You should choose the vinegar sauce, because hot damn, that stuff is good.
Downtown (& other locations)
If you're looking for a bar to watch the latest sports game over some quality BBQ, Cumberland Smokehouse is the place. Its chicken wings are kiler, and the ribs tend to sell out when they're on special. The best thing on the menu, though, is the loaded duck fat fries, topped with pulled chicken or pork, smoked cheddar, jalapeños, and bacon, with a side of the white BBQ sauce.
James Island
Smoky Oak is a James Island favorite that is constantly packed full of people waiting to gorge themselves on BBQ. In addition to classic ribs and pulled pork, it offers more unique takes on BBQ, like wood-grilled quesadillas stuffed with hickory-smoked pork, BBQ chicken pizza, or the "Spudzilla," a giant baked potato stuffed with beef brisket, cheese sauce, chili, bacon, and green onions.
Downtown (& other locations)
The newest member of the Charleston BBQ family, Poogan's Smokehouse is one of Downtown's best places to find some 'cue. It already has name recognition from its ever-popular sister restaurant, Poogan's Porch. The Smokehouse does a great job marrying upscale Southern cuisine with BBQ. Try the pork belly/pulled pork sliders with "Red Neck" kimchee and Duke's mayo, served on Hawaiian rolls. You'll see exactly what we mean.
Downtown (& other locations)
When a BBQ food truck takes over the space formerly occupied by a vegan restaurant, you can bet it's out to prove itself. Smoke BBQ's menu is full of sandwiches (on buns from Brown's Court Bakery) and tacos that are sure to please any barbecue fanatic. If you're more of a purist, opt for the smoked chicken wings, which are fantastic. Before you leave, be sure to try a shot of the house-made cinnamon whiskey.