Biscuits are not just for special occasions here; they aren't extras and they aren't afterthoughts. In Charleston they are everyday essentials. The golden-topped beauties nestle in breadbaskets, they snuggle under gravy, they get topped with chicken or cheese or blueberries or eggs, but they always must be hot, fluffy, and just the right amount of flaky.
How does a great, bucket-list worthy biscuit stand out from the everyday kind? By being a meal unto its own with a topping or three. We can't help but map our favorites -- the ones every Charlestonian has to have in his eating repertoire -- and kindly suggest that you add a whole lot of gravy to this best-of biscuit bucket list.
Recommended Video
Debatable: Is Shake Shack Really Fast Food?!?
The best bacon, egg, and pimento cheese
Callie's Hot Little Biscuit
Address and Info
Upper King
These petite biscuits have a national following, but many may not know that Callie's also makes some of the best pimento cheese (a Southern staple) in the South, too. Bring them together with bacon and a fluffy egg, and this mini munchie will cure what ails you -- or even soak up some of the fun you've had to drink during a late weekend night.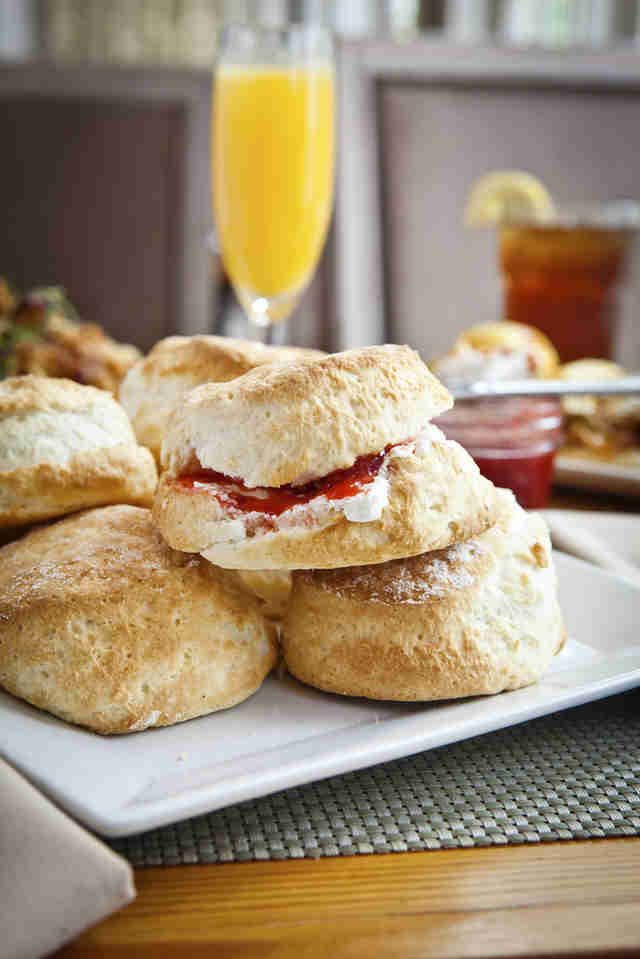 Best buttermilk biscuits
Poogan's Porch
Address and Info
French Quarter
Start with a classic basket of buttery goodness here. Poogan's has been perfecting its buttermilk biscuit recipe since the 1970s, and so a crusty top makes way for a tender interior begging for more butter. A basket of these babies is especially good for brunch on the porch (with mimosas, of course), but be warned: afternoon napping is likely.
Best place to get the Charleston Nasty
Hominy Grill
Address and Info
Canonborough
This biscuit is notorious for having been featured on countless television shows -- but don't you dare think that this beloved all-day breakfast is blase. Here, a fluffy biscuit is topped with fried chicken, sausage gravy, and cheddar cheese that's so nasty you can't help but love it. Make sure to Instagram your exploits, and tag Anthony Bourdain. We're sure he won't mind.
The best biscuit & gravy
The Grocery
Address and Info
Cannonborough
The Grocery's biscuit proves that gravy is an equal-opportunity player -- this gravy is vegetarian-friendly. Morel mushroom gravy, a Parmesan sunny-side-up egg, fava bean vinaigrette, and charred ramps are tucked under all that umami. But per the restaurant's focus on seasonal ingredients, the players on this brunch menu item will change with the leaves. What will not change, however, is the jealousy of tablemates will have when this veggie-focused grub lands on your table.
The best garden biscuit
Harold's Cabin
Address and Info
Wagener Terrace
This place is anything but "shrimp & grits Charleston" (though it does that real well, too), but Wagener Terrace is laser-focused on making vegetables ultra-delicious. Case in point: this biscuit. Shishito peppers, matchstick beets, Gruyere, and mushrooms come together with the fluffiest of scrambled eggs to create a masterpiece of color that tastes better than it looks. Go ahead, you meat eaters; it wouldn't hurt you to have a veggie now and again.
Our favorite Beauregard Benedict
The Glass Onion
Address and Info
Avondale/West Ashley
Biscuits that start with buttermilk and lots of butter get even better at The Glass Onion. Sure, you could go for a jelly topper, but why play small? Instead, clear your calendar for the rest of the day and order the Beauregard Benedict, which is topped with Belle's sausage, Belle's sausage gravy, and a sunny-side-up egg. It's no light brunch, but then again, you didn't come here for granola.
The best black pepper biscuits & gravy
Husk
Address and Info
French Quarter
As befits its M.O., Husk elevates a classic (in this case, the buttermilk biscuit) by adding black pepper to the dough. What results is a spicy bite that is then slathered in silky gravy with tender sausage chunks, all artfully/messily placed on a butcher board. This one is listed as a starter on the brunch menu, but it could be a whole meal.
The best beef tallow biscuits with horseradish creme
Spero
Address and Info
Eastside
It's hard not to order the bread sampler here (we couldn't resist), but don't let the variety keep you from really taking in the layers of flavor in the beef tallow biscuit with horseradish creme. Sure, it's square and a little denser than most biscuits, but you'll be fighting to avoid sharing this one. It's like a memory of sopping leftover steak juice and horseradish cream with the last of your bread. Except it's not a memory; it's right in front of you. Dig in.
Sign up here for our daily Charleston email and be the first to get all the food/drink/fun in town.