Brunch -- it's probably the greatest merger in history. And if you and this delicious hybrid meal want to come together in a similarly perfect fashion, then you need to know where to get the best one, wherever you are in town. Here's the best brunch in our favorite Charleston neighborhoods, so you'll never have to stumble too far for food on Saturday morning.
Hampton Park
The Park Cafe
Address and Info
Park Cafe is arguably one of the prettiest restaurants in all of Charleston. But PC's not just a pretty face; it's got some of the freshest, tastiest food north of Calhoun. The space is bright and airy, and the offerings tend to be a little on the lighter side (like the The Park Lettuces salad with pickled shiitake), perfect for those of you who still need to be, ugh, productive afterwards.
Eastside
Bar Mash
Address and Info
One of the newest restaurants on the Charleston culinary scene, Bar Mash is already making its mark in a serious way. It doesn't start serving brunch until 2pm on Sundays, but keeps it coming until 1am. We recommend the fried oysters & boudin, foie gras French toast, or the corned beef & tots. If you're needing a little hair of the dog, ask Teddy the bartender to make you a Bloody. You won't regret it.
Lower King
Caviar & Bananas
Address and Info
This little gourmet market & cafe is nestled just a block off of King St near the College of Charleston's campus. The newly introduced brunch features an eclectic variety of options for different diets and tastes -- but nothing can beat the crispy chicken buttermilk biscuit (Southern fried chicken topped with scrambled egg, aged cheddar, and tasso gravy on a flaky buttermilk biscuit). It's not on anyone's diet list, but it sure is tasty.
NoMo
Edmund's Oast
Address and Info
The first thing you'll notice when walking into Edmund's Oast will be the giant wall of beer. The second thing is all the meat hanging around (probably not the best place to bring your vegetarian friend). When it comes to brunch at this sophisticated brewpub, you'd be an idiot not to try some of the charcuterie that Edmund's does so well (is it ever too early for charcuterie? Nope.) paired with an order of the cornbread w/ honey butter, and maybe the PB&J beer if it's on tap.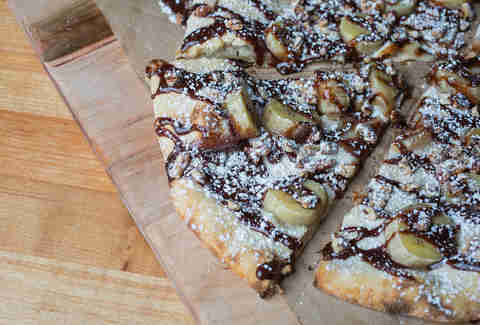 Upper King
Indaco
Address and Info
One might not normally associate brunch with Italian food, but one would be wrong because Indaco is a delicious and underappreciated brunch spot. While it offers some of its popular dinner options (like the black pepper tagliatelle) during brunch on Sundays, it's the breakfast-themed options that are truly unique. Like the eggs al forno (with Italian sausage, caramelized onions, arugula, tomatoes, and pecorino Romano cheese), for example. Oh, and be sure to try the Nutella pizza with bananas and pecans. You can thank us later.
Folly Beach
Lost Dog Cafe
Address and Info
If you want to try the best biscuits and gravy you've ever eaten in your life while surrounded by hundreds of pictures of puppies, then you need to change into your stretchy pants and hightail it (pun intended) to Lost Dog Cafe on Folly Beach. The cozy cafe is a favorite of locals and tourists alike, and is perpetually busy, so be prepared to wait for a while to get a table. Help pass the time by grabbing a Mason jar mimosa or Bloody Mary from the bar to sip on while you wait.
Isle of Palms
Sea Biscuit Cafe
Address and Info
When you're looking for a solid, no-frills brunch that satisfies your need for grease and eggs, Sea Biscuit Cafe definitely hits the spot. It's been a staple on IOP for more than 27 years, so it must be doing something right. But be warned! It's cash only, so leave the plastic at home. We recommend trying the crab cake Benedict with a side of shrimp & gravy.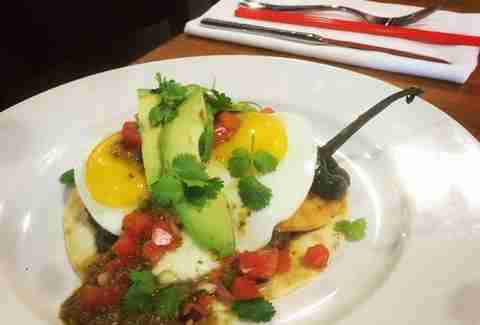 James Island
Stereo 8
Address and Info
It might be one of the new kids in town on James Island, but Stereo 8 has really been bringing the flavor -- Latin- & Asian-influenced flavor, to be exact. The back patio is probably the coolest outdoor dining space in Charleston (where else can you find live art exhibits, live music, and fire pits all in one place?). We recommend ordering the chile relleno (chorizo- and queso-stuffed poblano pepper with fried eggs, black bean tostadas, avocado, and cilantro) and washing it down with a breakfast beer (Blue Moon Belgian White, Stoli O, orange juice) or a build-your-own mimosa from the loaded mimosa bar.
Johns Island
Fat Hen
Address and Info
Johns Island might be off the beaten path a bit, but Fat Hen makes it worth the drive. Marrying the best of Lowcountry cuisine with French classics results in culinary masterpieces like the pulled BBQ duck sandwich, topped with house-made BBQ sauce, bacon blue cheese slaw, and pommes frites. C'est magnifique.
Mount Pleasant
The Granary
Address and Info
Chef Brannon Florie's cozy farm-inspired restaurant is one of Mount Pleasant's best-kept secrets, and the brunch menu's shining star is the duck & waffles (pickled peaches, apples, jalapeño-strawberry jam, buttermilk brown butter waffle, sorghum syrup, hot sauce). Pair it with a $5 Moscow mule made with house-made ginger beer if you're feeling a little frisky.
North Charleston
Madra Rua
Address and Info
Located in the coolest neighborhood in North Charleston -- Park Circle -- Madra Rua is an Irish pub that's a favorite among locals for its authentic Irish recipes and ice-cold layered drafts. On Saturdays & Sundays, it serves one of the best and heartiest brunches in North Chuck, featuring favorites like the Irish eggs Benedict w/ house-made corned beef, or the giant breakfast burger.
Sullivan's Island
Obstinate Daughter
Address and Info
One of Sullivan's Island's newest and most popular restaurants, Obstinate Daughter's brunch menu has a bit of everything. For those of you needing your sugar fix first thing in the morning, we recommend the French toast with local berries. If you're more into the savory options, you can't go wrong with the OD skillet, chock-full of potatoes, chorizo, mushrooms, and eggs. Or get both. We're not the boss of you.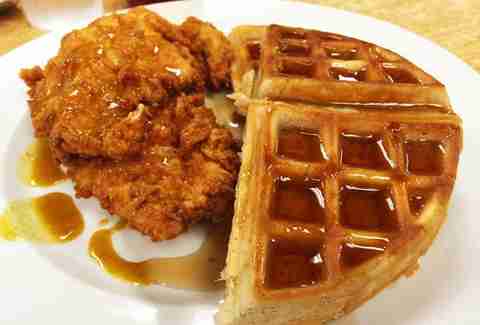 West Ashley
Early Bird Diner
Address and Info
Early Bird Diner is frequently found on "best of" lists when it comes to Charleston dining, and it really lives up to the hype. It's classic Southern cooking done right, with breakfast being served all day (meaning until 4am on Friday & Saturday nights). The true star of the EBD brunch menu are the chicken and waffles (pecan-encrusted fried chicken and a cinnamon waffle drizzled with honey mustard and syrup), which might just change your life.
Sign up here for our daily Charleston email and be the first to get all the food/drink/fun in town.
Sydney Gallimore is a Charleston-based food writer & social media addict who can probably brunch you under the table. See the proof at @Sydney_Inc.