Husk

| Mac Kilduff/Thrillist
Husk

| Mac Kilduff/Thrillist
The Best Burgers in Charleston, According to Our National Burger Critic
The islands confused me.
I've been to Charleston maybe six or seven times in my life, but it wasn't until I came seeking burgers that I truly understood the geography of the city and its surrounding towns and islands. Well, understood is an overstatement. Maybe the right phrase is "became aware." As I was building my list, recommendations came in from all over the place: "Go to James Island." "Go to Johns Island." "You have to hit Mount Pleasant."
Just putting together an itinerary gave me anxiety. But island hopping was worth it, friends. Charleston is a lovely burger town. And with a little help from Post and Courier Food Editor and Restaurant Critic Hanna Raskin and a variety of chefs and other local friends, I was able to narrow down my list to nine burger places, which I hit over the course of 24 glorious hours in the city.
In case you're new to my rankings, here are some guidelines: If the restaurant had multiple burgers, I tried to order its signature burger, or if that was too outlandish and stunt-y, the closest to a classic cheeseburger. If it came with options, I always picked American cheese and grilled onions. If you think I missed a place, please write an episode of Southern Charm in which Shep accidentally ends up telling someone he loves them while simultaneously shouting out all the burger places I missed. But until then, here is my ranking of the nine best burgers in Charleston.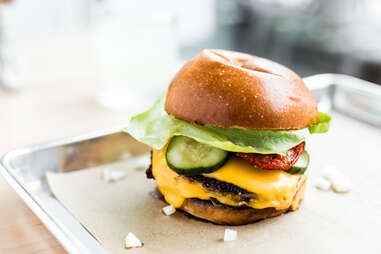 9. Double Cheeseburger
Butcher & Bee
"I'm sorry, we just ran out of cheeseburgers," was the first thing my friend Cat and I heard when we sat down in the later lunch hours at B&B. "NOOOOOOOOOOO," I screamed (internally) and got up to leave, but the waitress -- sensing she might not have a table after all without the burger -- went to the kitchen to double check. A minute later she was back with a relieved smile on her face. "We're good! Burgers are back," she said, beaming.
So we got the burger. And on the surface, it had all the elements I like -- thin patties, American cheese, special sauce, etc. But there was one major thing that was off. "Does it taste... " my friend paused, looking at me quizzically. "Like, um, fishy to you?"
It did. It truly did. For whatever reason, there was a fishy aftertaste to the meat, and we spent the next fifteen minutes taking small bites and trying to parse it out. Perhaps it was the aftertaste of the special sauce, or it rubbed up against something else in the kitchen. Whatever it was, I hope it was merely a fluke. Nonetheless, B&B's fishy charms keep it at 9.
8. The Mac CAB Burger
The Macintosh
A solid burger, that's what The Macintosh offers. The patty is big and thick, but with a consistent loose grind and a salty, meaty but clean aftertaste. It's well-cooked. The bun is charred enough to keep it from getting soggy, and the thin red onion gives it a nice tang. Only issues: The entire thing was more than a mouthful, making it difficult to get a consistent bite (the tomato and leaf lettuce slid all over the place), and there wasn't enough acid to combat the salt and meat haymaker that is Nueske's bacon, aged Cheddar, and a thick patty. The truffle fries were delicious though.
7. The Classic
Blues Cajun Kitchen
(Editor's Note: The name of the restaurant changed from Blues Burger Joint to Blues Cajun Kitchen in the time between Kevin's visit and publication of this piece.)
This is the first place I hit after stepping off a red-eye, so I felt fantastic and fresh and ready to take on the world. Hanna Raskin joined me because she, too, wanted to see what Roadside Seafood owner Sean Mendes would do with his first burger joint. We opted for the Classic, ordered "pink" (it's that or "no pink").
The burger came out gloriously misshaped from being hand-formed. The American cheese melded with the Angus beef and the local bakery bun was soft, but griddled enough to avoid initial sogginess. The composition, with diced lettuce and fresh tomato and tangy onions was good, but it lacked a sauce element to tie it all nicely together. With that said, it was a good burger. Oh, and the fried pickles and peppers are delicious.
6. Track Burger
The Rarebit
I am a fan of smashed burgers. I need you to know that, because I need you to know everything about me. And the smashed-style burger at The Rarebit is definitely solid. The Cuban bun is just a touch sweet and soft; the combination of the acid from the mustard and pickles, and the sweetness of the ketchup gives the entire thing a diner burger feel. My main criticism was that the patty was overcooked and slightly oversalted, leaving your lips smacking. But those are minor quibbles. I could definitely eat a couple of these alongside one of their Southsides a couple times a month.
5. Burger
Artisan Meat Share
I wanted to order so many things off this damn menu. Like the shaved pork sandwich, and the hot fried chicken & biscuit, and the weirdly appealing Nutty Knuckle. But dammit, I am a professional. And so I just got the burger, plus pea and peanut salad, because I was told that's a thing.
Now this is the type of burger I can get behind. Government cheese perfectly locking the double patties together, a fresh Kaiser roll (toasted to an ideal crispness) with a sweetness that almost suggests Portuguese bread, shredded lettuce to soak up all the flavors but still add in a cold, crunchy element. The two issues: The meat was slightly overcooked and the bacon jam was overly sweet, but other than that, this is a burger worth seeking out.
4. Husk Cheeseburger
Husk
In Nashville, I picked the Husk burger as the best burger in the city, so there was a little pressure going into lunch here at the OG. Because I read things, I also knew that this version was a different iteration with Benton's bacon right in the actual grind of the patty, and so I was really curious to see just how that played out.
Obviously, with this Sean Brock-created legend, there are some truly perfect elements. The one thing Brock has truly perfected is the melding element, with those three pieces of American perfectly cooking the shaved white onions, and each of the patties had a diner-worthy crust that you've seen in countless photo shoots. The sauce tasted like an iteration of honey mustard -- tangy and a little sweet -- and the pickles were bursting with acid and heat. But two elements kept it from moving any higher on this list: The bottom bun was over buttered and under-griddled, so it got decently soggy quickly, and while the pork in the patty gave it an incredible smokiness, they also made the patty more dry (it was slightly overcooked) and almost too salty. I love Brock's creations, but I've got to give his younger Nashville burger the nod in a comparison of the two.
3. Tattooed Moose Burger with American
Tattooed Moose
I could likely spend an entire day in this bar, which has just the right amount of grime, graffiti, and people telling stories about misdeeds to keep me locked in a seat for an impressive duration. The entire menu actually looks delicious (how is the Thanksgiving Sammy?!) but again, I had a job to do, and so Cat and I ordered the burger and got into it.
My biggest criticism, which I'll just throw out right off the bat, is that the patties were too thick for a double burger. Perhaps I caught the cook on a day when he was feeling generous, but it didn't look like a 1/4lb patty, and it was hard to get the full flavor profile of the burger with so much meat in the mix. Everything else about the burger, though, was excellent. The fresh local bun was griddled perfectly and kept the elements together, there was serious melding between the meat and cheese, and the combination of a garlic aioli and special sauce gave it just the right amount of messy glory to blend in with the meat and balance the pickles and onions. Oh, and the sweet and spicy pickled green tomatoes on the side are some of the best I've ever had. The Moose makes damn fine food, and I'm coming back to eat everything else.
2. Cheeseburger
H&R Sweet Shop
This is a grand place, friends. Tucked away in a small box of a building with a red door and run by an almost mystical-seeming, quiet man named Mr. Coffee, H&R Sweet Shop is the exact type of place I seek out on these journeys. The burger was nothing close to circular. It looked more like the state of Alaska, with large masses of beef floating out on their own. Also, I will be honest with you because we are close: I didn't put the tomatoes and the lettuce on the burger. I didn't empty out any of the condiment packets provided. I just bit into that Last Frontier-shaped patty with the American cheese and grilled onions on top, and tasted bliss and ecstasy and maybe some butter from the griddle. The meat was perfectly seasoned and the onions caramelized and peppery. The bun was soft and stayed out of the way. I'm not sure what the deal is with Mount Pleasant -- do people normally get over to that side of town? -- but I'd start making weekly pilgrimages. H&R is worth it.
1. Tavern Burger
Little Jack's Tavern
"We are an old school inspired joint." Those are the words you encounter when you visit Little Jack's website. And it feels that way when you walk inside, with the green gingham tablecloths and the gold ornate frames, and dark, worn wood floors.
The burger is simple, but deceptively so: It is small, almost between the size of a standard burger and a slider, and it is enveloped in American cheese. A sunchoke relish sits atop the patty, and the nutty sweetness and acid from the relish blend with the perfectly griddled meat, which is covered in melted cheese and sitting on a buttery but pliable toasted bun. Some sort of magical thing happens in your mouth when you chew all of these elements together, and by the time you've finished you are a changed person, renewed with a certain vigor and strength. Anyway, I'm just trying to say that Little Jack's makes the best burger in Charleston, and -- to be honest, friends -- it wasn't very close.
Sign up here for our daily Charleston email and be the first to get all the food/drink/fun in town.
Kevin Alexander is Thrillist's National Writer-at-Large, chief burger critic, and DL Southern Charm aficionado. If you are Patricia Altschul, please invite me to your parties @KAlexander03.