The Best Deals to Take Advantage of During Charleston Restaurant Week
Twice a year, South Carolina food lovers are gifted a budget-friendly opportunity to try out restaurants that have been on their bucket list during Charleston Restaurant Week. You have less than two weeks to sample some of the best restaurants in the city for lunch and dinner, so it's in your best interest to streamline your selections and go into it with a gameplan to really make your dollar work. To help you in this quest, we highlighted the best deals at both new and classic restaurants around town that should definitely be on your list this winter.
King Street
Whether it's your first or millionth visit to CO, Restaurant Week gives you the opportunity to try out some of its delicious Vietnamese options while also saving you a good bit of money. You can also elevate your dinner with a three-course sake pairing for just $17 more. This is one of the more affordable options during the promotion, which means that if your resolution was to spend less money this year, this is your best bet.
Order: Spicy crab rangoon, curry laksa, beef pho, and strawberry spring rolls.
Cost: Three courses for $20; four courses for $25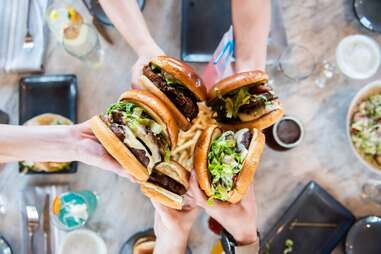 King Street
If you like your dinner with a view, then The Watch should be at the top of your list. The dining room itself is mostly windows, so you get significant natural light during your meal, plus some pretty fantastic views of downtown Charleston. The menu is full of Southern-inspired New American cuisine that is simple in concept and absolutely delicious in execution.
Order: The burrata to start, the amazing burger for your entree, and the chocolate orange mousse to finish the night off.
Cost: Three courses for $30
Mount Pleasant
Bistro Toulouse has long been a sleeper hit for Mount Pleasant diners. It doesn't get some of the critical recognition that other restaurants get, but that doesn't mean you should ignore this quaint Parisian-style bistro. For Restaurant Week, Bistro Toulouse is one of the only places offering lunch, brunch, and dinner for a reasonable price. Plus, it also gives you the option to add wine pairings for just $16 at dinner, in case you want to really pretend like you're in France.
Order: Mussels mariniere for an appetizer short rib Bourguignon for an entree, croque-monsieur for lunch, braised pork hash for brunch, and beignets with bourbon syrup for dessert.
Cost: Three courses for $35 for dinner; three courses for $20 for lunch; three courses for $22 for brunch
King Street
Le Farfalle's Italian dishes are a must in Charleston, especially for those looking for a break from the traditional Southern cuisine. Chef Michael Toscano offers up new and traditional Italian favorites for lunch, brunch, and dinner -- and a pretty decent happy hour, too. The Restaurant Week dinner menu is perfect for those who prefer to eschew dessert in favor of more savory options, giving you a choice of an appetizer, pasta, and main course.
Order: Polpette alla Siciliana to start, fusilli lunghi for primi, and Holy City Hogs Snout-to-Tail Confit for secondi.
Cost: Three courses for $40
French Quarter
If you're looking for something a bit more upscale, The Establishment focuses on artfully crafted seafood, paired with a robust wine and spirits menu. Dark and cozy, the restaurant is adorned with local art and a baby grand piano-- making it the perfect spot for a romantic dinner out. The Restaurant Week menu is split into three sections: taste, savor, and delight, giving diners a great overview of the type of cuisine you'll find on its everyday menu.
Order: Lobster bisque to start, swordfish for your main, and the chocolate olive oil cake to finish off the night.
Cost: Three courses for $40
Mount Pleasant
Grace and Grit has been excelling in the Mount Pleasant dining scene with its elevated Southern cuisine, and for good reason (can you say "grits flight?!"). For those who'd rather forgo dessert in favor of two appetizers, Grace and Grit has you covered. Instead, guests can go the "appetizer, soup/salad, entree" route. But, don't fret, the s'more hot pudding cake is available a la carte, which'll only set you back $10.
Order: Fried green tomatoes for an appetizer, Frogmore salad, and fried chicken succotash for an entree.
Cost: Three courses for $40
Mount Pleasant
A perennial favorite of Charleston diners, Red Drum is an intersection of Southern and Southwestern food that marries chef/owner Ben Berryhill's Texan and Carolina roots. Think a lot of nontraditional twists on some Queen City favorites -- and the restaurant is surely doing something right. In a town where dining spots open and close pretty often, Red Drum has been going strong since 2005.
Order: Salmon poke tostada to start, blackened red drum for an entree, and the trio of tartlets to finish.
Cost: Three courses for $40
French Quarter
Revival has called Charleston home for less than two years, so this is the perfect opportunity to give the place a try. The menu puts a huge emphasis on South Carolina agriculture -- both past and present -- and offers a modern spin on Lowcountry classics. The bright and airy space features exposed brick and lots of natural light (perfect for Insta pics), and its menu is varied enough to please a variety of appetites.
Order: William Dea's crab soup as an appetizer, the crispy duck confit as an entree, and the caramel apple bread pudding for dessert.
Cost: Three courses for $45 at dinner
Radcliffeborough and Summerville
If you go to Halls on a normal night, the eight-ounce filet alone will cost you $44. But during Restaurant Week, you can get the filet with a side of creamed corn and collard greens, a cup of soup or a salad, and a dessert (which varies nightly) for only $1 more than you'd spend on that steak). Don't just enjoy Halls for special occasions.
Order: She-crab soup to start and the eight-ounce filet mignon for a main.
Cost: Three courses for $50 downtown; three for $45 in Summerville
King Street
Everything from the decor to the menu to the building itself (it was built in 1837!) at Parcel 32 is infused with Lowcountry charm. The menu is full of wood-fired fare, so the earthy flavor of its food matches the earthy decor of the restaurant's interior -- including the plant wall that greets you as you enter. During this promotion, the menu includes some of its favorite dishes, as well as the option to replace your dessert with your choice of an alcoholic beverage.
Order: Pecan hush puppies to start, potato and leek soup, cheshire pork schnitzel, and chocolate and chai budino for dessert
Cost: Four courses for $55
West Ashley
Opened in 2002, Al Di La has been serving traditional Italian fare longer than many locals have even lived in Charleston. The ownership has changed hands a couple of times, but the food remains just as tasty and satisfying as always.
Order: The meatballs are a must, the orecchiette for an entree, and the tiramisu for dessert (or consider a glass of limoncello, if you're looking for a buzzier end to your meal).
Cost: Three courses for $35
James Island
Famulari's is well-known for being one of the only places to get a legit Chicago-style deep dish pizza in Charleston. The James Island location kicks things up a notch by adding a brewery component to the already-winning concept, which offers a hefty selection of Fam's beers, as well as a number of local and domestic selections, wine, and cocktails. Enjoy a slice inside or out in the beer garden.
Order: Pepperoni rolls, a Chicago deep-dish for the main (it's a $4 upcharge, but worth it), and a pitcher of Southern Sippin' to split.
Cost: Three courses for $30
King Street Historic District
Bourbon N' Bubbles just recently celebrated its first anniversary, so Restaurant Week is a good time to celebrate this new kid in town. The elevated American menu features a variety of flavors, and the cocktails (while a little pricey) are strong, flavorful, and luxurious. The space feels very hip and upscale, giving off NYC vibes in CHS.
Order: Herb arancini to start, sweet potato and ricotta gnocchi for the main, and one of the daily dessert selections to finish everything off.
Cost: Three courses for $40
Cannonborough
This French-inspired bistro was originally imagined as a wine bar that served snacks but has blossomed into a whimsical restaurant of its own. The space is casual enough for dinner with friends, while also being a great option for a cozy, romantic dinner. As in the French tradition, plates are small but bursting with flavor, so its Restaurant Week menu forgoes dessert in favor of three savory categories to make up your meal.
Order: Burden Creek whipped goat cheese toast to start, curry roasted squash to follow, and the sea scallops for an entree.
Cost: Three courses for $39
Downtown
Although it ironically has the highest price tag of all the Restaurant Week participants, Zero George will pay off in a big way. Typical dinner service is a six-ish-course prix-fixe menu (with beverage pairings) that'll set you back $135 on a regular night. This time around, diners get five courses with wine pairings and save about $70 for a dinner for two.
Order: Menu is prix fixe, but if you're feeling a little spendy, consider supplementing your meal with a ½-ounce of sturgeon caviar for $65.
Cost: Five courses with wine pairings for $100
Sign up here for our daily Charleston email and be the first to get all the food/drink/fun in town.