The Best Donuts in Charleston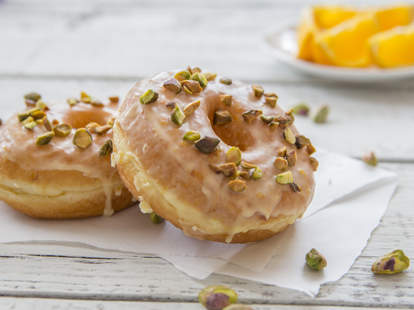 There's no better excuse for eating cake for breakfast than donuts. Like apple pie and orange cheese-coated mac, the love of over-the-top, fried, glazed donuts is one of the few things that bond us together as Americans. From new-school beauties to our tried and true mom and pop shops, these are the best donut shops to start your morning in Charleston.

Downtown Charleston
If you're looking for a normal, glazed cake donut, don't come to Glazed. This little hole-in-the-wall on King Street is serving up made-from-scratch flavors you'd never expect to find if your only experience was with He-Who-Shall-Not-Be-Dunked. We're talking Maple Bacon, French Toast, and Salted Caramel Old Fashioned. These aren't yo mama's donuts.
East Central
Diggity Doughnuts started as a food truck and became so popular that it was able to settle into a permanent brick and mortar locale. Diggity's success derives from its experimental flavor combos that have made it so well-loved amongst locals and tourists... flavors like the Starla (strawberry and jalapeño), the Peppy Pappy (chocolate frosting, mint and pretzel bits), and the Nutty Rooster (creamy peanut butter & spicy Sriracha hot sauce).
Mount Pleasant
If you walk into Joey's and instantly have the urge to press your nose up against the glass and stare in awe at a selection of over 30 different kinds of pastries and donuts to choose from, don't worry: it's OK to feel like a kid again here. The donuts are made fresh to order, which means that you can pretty much customize each donut to your own desire. Joey's signature style is to put a pair of eyes on each donut so that they appear surprised to see you. Almost as surprised as you will be at how delicious these donuts are.
Mount Pleasant
While the flavor and icing of each of the donut is obviously taken into consideration, the piece de resistance of these delicious, fried works of art is found in the toppings. Charleston Donuts' gourmet options are topped with things like M&Ms, Fruity Pebbles, and Potato chips so you can get just as weird as you used to at self-serve fro-yo a few years ago, but for breakfast.
Downtown
Although not solely a donut shop, WildFlour produces some damn tasty sticky buns and donut muffins, which is rolled in cinnamon and sugar and is light and fluffy and a perfect one-bite treat for those mornings when a full sugar rush would send you back to bed an hour later.
Love free donuts? Find out where to stock up for this year's National Donut Day on Friday, June 2, 2017.
Sign up here for our daily Charleston email and be the first to get all the food/drink/fun in town.
Sydney Gallimore is a food writer from Charleston, SC who is currently coming down from her donut sugar high. You can follow along with her sugar munchies on Twitter.