Beach towns aren't always bastions of good eating: When you've got waves and sand to draw a crowd, it's easy to get by with cheap burgers and ice cream. That said, Folly Beach -- a 6-mile sliver of sand known as "The Edge of America" -- stands apart from its peers, with nearly two dozen beach bars and casual kitchens to its name. It's not uncommon for Charleston locals to drive to Folly to eat dinner and never even set foot in the sand.
Whether you're jonesing for ramen after a surf session or seeking satiation on a Saturday morning, here's where to eat on Folly Beach:
Once a mobile sushi station that roamed Charleston's bars, Lisa Dixon's raw-fish-roll-em-up operation found its forever home at The Drop In, an iconic, surfer-themed local dive. She's on hand Tuesdays through Fridays, from 6pm until she runs out, rolling favorites like the Little Wahine (eel, roe, and spicy tuna) and The Washout (shrimp, eel, cream cheese, and avocado).
Funky, authentic, and affordable, the tiny dining room at this local favorite belies the big flavor that emerges from its kitchen. The vegetarian-friendly menu gets an overhaul four times a year, drawing from seasonal offerings to create jalfrezi and panang curries and hot pans of shakshuka. You'll want to try whatever your neighbor's having, so the best strategy is to take a few friends, order way too much, and get to sharing.
Best Vietnamese at a pizza parlor: The 'Wich Doctor
This hole-in-the-wall literally hides with its out-of-the-way location and erratic hours, and figuratively hides with its regular menu of pizza and sandwiches. Those are all winners -- especially the seasonal shad roe pie -- but the real gems are found on the chalkboard of daily specials and seasonal ramen bowls, including a Vietnamese brunch on Sundays that pulls off brisket pho and steamed omelets. And where else can you find a soft shell crab over greens at a pizza joint?
You'll want to beat the weekend rush at this iconic café -- go early (it opens at 6:30am), or on a weekday (if you're feeling a Monday morning mimosa, you won't find a better deal in Charleston County). We're partial to the Huevos Rancheros, but if you want a recovery meal that will cure your stomach's barking, Lost Dog's generous shrimp and grits is beg-worthy.
Best sandwich: The Wooden Spoon at Bert's Market
Open since 1994, Bert's proudly declares, "We may doze, but we never close." Although it still serves its famous cheap hot dogs and free coffee, Bert's embraced the Whole Foods era when it launched the Wooden Spoon: a 24-hour deli offering paninis, subs, and cold-pressed juices made from organic or antibiotic-free ingredients. Order a Turkey Green Apple panini or a Vegan Goddess wrap, plop yourself down in the sand a few steps away, and question why you'd ever leave this island.
You'd be forgiven for not believing this open-air hangout is even a restaurant. Styled after a classic Caribbean beach bar, the ramshackle kitchen window dishes out goat curry, rice and beans, and tacos. The visual menu depicts a pig, a fish, and a chicken: take your pick, order a cold beer from the cooler, and strike up a conversation with the salty old local to your left or the heart surgeon to your right. Closed when raining.
Black Magic began as a coffee shop and grew into its full menu of breakfast and lunch fare. There are ample heavy options (chicken & waffles, biscuits & gravy), but the menu really shines with flavorful, lighter fare like the Aloha Chicken Sandwich with grilled pineapple, avocado, and spinach, and the Beach Burrito packed with eggs, avocado, peppers, and onions. Black Magic's coffee and smoothie game remains strong, as well.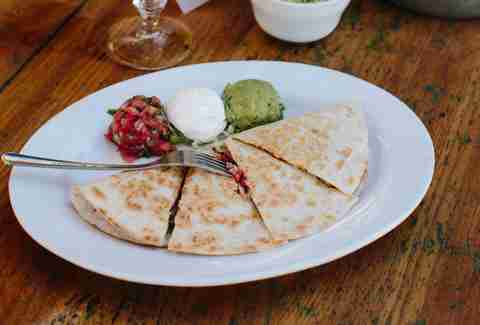 Best delivery: Woody's
If you've got hungry mouths to feed but can't mobilize after a day in the sun, Woody's has your back. Its specialty pies (try the pesto pizza) outdo the corporate chain competition, and the subs are generously appointed. The only downside to delivery is that you'll miss out on the honey that's on every table for those dining in -- seriously, once you try dipping your crust in the stuff, you'll never eat pizza without it.
Best family pleaser: Taco Boy
If your four-year-old (or your own inner child) desperately needs a cheese quesadilla NOW, this indelible mainstay is your spot. Go ahead and order yourself a margarita, a kimchi beef taco, and a Taco Boy salad with seared tuna while you're at it.
Surf Bar's vibe matches its watery name, but the menu is defined by another element, thanks to the wood-fired grill used to cook burgers, cheese steaks, and ahi tuna tacos. Whether you go traditional or black bean burger, you'll find a solid specimen here. 
A top-notch Irish pub isn't quite what you'd expect a few steps from the ocean, but Folly's not your typical beach town. This Irish-owned watering hole feels like stepping into Galway, and the bangers & mash and fish & chips compete with anything you'll find on this side of the pond. Best of all, the bartenders know how to properly pour a Guinness: "proud of the rim."
Open since the 1940s in a ramshackle building over the water, Bowens is the stuff of legend. You can't go wrong with anything on the menu, but save yourself the trouble and order this (it feeds two to four): a full tray of steamed oysters, a bucket of Frogmore stew, and a "Big 'Ol Seafood Platter." It's a meal you'll tell your grandkids about.
Sign up here for our daily Charleston email and be the first to get all the food/drink/fun in town.