Charleston's Best New Restaurants of 2017
Much like every other year in Charleston, 2017 brought a flurry of new restaurants to the Holy City, including a couple of BBQ joints, more pizza than previously thought possible, and about 100 places specializing in Southern cuisine. More restaurants doesn't necessarily mean more variety, though (seriously, how much difference can there really be from one bowl of shrimp and grits to another?), so in the name of celebrating diversity in food, we're highlighting not just the best new restaurants of the year, but the best new restaurants that injected some much-needed excitement into Charleston's culinary scene. Grab your forks and get ready to dig in!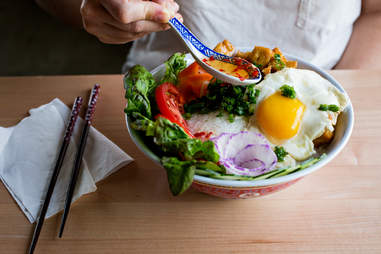 Andrew Cebulka
Wagener Terrace
Upscale food court with a rotating lineup of restaurants
Atlanta has Ponce City Market, DC has Union Market, and now Charleston has Workshop. The concept is simple: Bring together a diverse mix of small kitchens under one roof (ish), all serving up exemplary dishes you'd be hard-pressed to find elsewhere in the city. Currently, Workshop's six kitchens serve everything from Indian curry (at Sambal) to puffy tacos (at Juan Luis), and the outdoor dining space has lots of greenery and comfortable seating, perfect for a little al fresco dining or an afternoon cup of coffee (did I mention they also have a gourmet coffee shop?). With the recent opening of Edmund's Oast Brewing Company across the courtyard, plus the farmer's market that takes place here on Saturdays, everything you could possibly want in life is now located in one convenient space.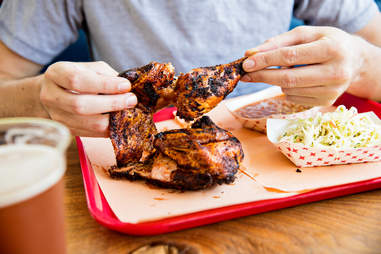 Andrew Cebulka
North Central
Casual BBQ joint serving up down-home Carolina-style 'cue.
For years, people have made the pilgrimage to Rodney Scott's Hemingway, South Carolina shop for simple, quality barbecue -- we're talking pulled pork between two slices of white bread on a styrofoam plate. Earlier this year, Scott made it easier for people to enjoy his life's work by opening a second location right on King Street, and while the atmosphere's gotten a little more upscale (if you consider paper-lined trays an upgrade from styrofoam plates), the food certainly hasn't changed at all. Although the meat is definitely king, the sides are also worthy of love; our favorites are the hush puppies (served with honey butter), mac & cheese, and banana pudding. Go early to avoid the lines!
King Street Historic District
Trendy, eclectic restaurant serving inventive Southern cuisine
Definitely the trendiest restaurant to make the list, this Atlanta-based transplant made its Charleston debut by bringing Andrew Zimmern to town for the soft opening. The restaurant offers typical Southern fare with an elevated twist -- like smoked pimento cheese with house-made tomato and bacon jams -- but also brings a little something new to the plate, like the chicken schnitzel and herb spaetzle. The bar also offers something out of the ordinary, with a list of cold brew-infused cocktails, like the Charleston Tea Old Fashioned, which features Charleston Tea Plantation earl grey tea. The restaurant has a couple of different identities, making it perfect for any occasion: Sit at the cozy bar for a drink at happy hour, move to the lounge area for a more relaxed pre-dinner cocktail, dine in the main dining room for a more traditional dining experience, or take the party out to the fern-lined patio for some al fresco dining.
Juliet
King Street Historic District
Upscale casual Italian restaurant with a focus on thin crust pizza
When it comes to pizza in Charleston, you have to do something truly outstanding to be able to stand out from the crowd, and Juliet does just that. The newest venture from the owners of Collective Coffee in Mount Pleasant, Juliet focuses on doing a few things exceptionally well. The atmosphere is clean, bright, simple, and ideal for taking the perfect food photo. Although the menu features a number of comfortable, elevated options -- like braised ​short ​rib ​agnolotti, bagna ​cauda, and clam pizza, for example -- the margherita pizza is simple, elegant, and as close to perfection as a pizza can be.
Stella's
Radcliffeborough
Homestyle Greek and Mediterranean cuisine
Stella's isn't Charleston's first Greek restaurant, but it's definitely the first one worth really talking about. The space is vibrant and loud, constantly filled with energetic tables sharing small plates and stories -- stories fueled by some fantastically refreshing drinks. Made with fresh ingredients, Stella's cocktails are "a tribute to Greek history and culture with a story behind every sip," with names like Santorini (Tito's Vodka, blueberries, ginger, lemon, and pomegranate) and Onassis (Champagne, mint, lime, house-made syrup, and a float of rum) lining the drinks list. The food menu is chock full of new and familiar Greek dishes that are packed full of flavor and as comforting as your boyfriend's sweatshirt; you can come in for lunch, brunch, and dinner and not have to eat the same dish twice. Crowd favorites include the keftedes (Greek meatballs), moussaka, and the saganaki, which is flambéed tableside. Yia Yia would be proud.
Radcliffeborough
Cozy, rustic, vegetable-focused spot
If 2016 was the year of the Barbecue Invasion, 2017 might just be the year of Vegetable Madness, at least as far as Sorghum & Salt is concerned. The interior space leans heavily into "rustic chic" with lots of natural wood, exposed brick, and a big Edison bulb marquee sign with the word "restaurant" emblazoned in 3-foot high letters (lest you forget where you are). The kitchen puts heavy emphasis on fresh, local vegetables, like salt-roasted beets with "olive dirt," or crispy Brussels sprouts that could potentially take the crown for the world's best. No need to despair, though, carnivores… there are a number of meat dishes on the menu as well, from animals who haven't been fed "antibiotics, growth hormones, or crack cocaine." Good to know.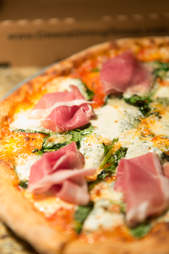 Wood & Grain
Mount Pleasant
Wood-fired pizzas and a raw bar in an open-kitchen concept
Tucked away in the shopping center at Shellmore in Mount Pleasant, Wood & Grain opened this summer with a super simple menu (seriously, it's one page) that's nonetheless packed with delicious options. The sister restaurant of Opal and Langdon's, Chef Patrick Owens's Wood & Grain is a representation of his favorite foods: pizza and seafood. The raw bar features staples like oysters, but also more inventive options like local shrimp with key lime aioli, chilled lobster with tarragon, and ceviche with tangerine. The eight pizzas on the menu are completely distinct from each other, and all worth trying, but go for the salsiccia pizza first: It comes topped with tomato, fennel sausage, garlicky greens, and ricotta. Be sure to stop by early, though, as the space is very small and tends to fill up really quickly (for obvious reasons).
Andrew Cebulka
Westside
Hip, cantina-style Mexican joint
One of the most anticipated restaurant openings of the year, this Mexican cantina brought a young, hip sensibility to King Street food and drinks this year. The atmosphere is lively and energetic, with bright bursts of color everywhere you look. The menu was developed over two years with trips to Oaxaca, Mexico City, and Guadalajara for research to preserve the menu's authentic feel. The cocktails are inventive, yet familiar, and the tequila and mezcal lists are comprehensive. Pro tip: If you want to feel like you're South of the Border, order your mezcal "like a native," which comes with a sangrita or naranja con sal de gusano accompaniment.
Sign up here for our daily Charleston email and be the first to get all the food/drink/fun in town.