That glorious time of year when every weekend is packed full of opportunities to shuck and suck your way to bivalve ecstasy (not a euphemism) is upon us. We're well into the "R" months, which means oysters are prime for the shucking in the Lowcountry. Charleston's many salt marshes, tidal basins, and creeks full of pluff mud mean that oyster reefs thrive in our warm climate. Translation: more local oysters for you to nosh on.
This isn't a new phenomenon; oyster roasts have long been a social event in Charleston, stretching back to at least the early 1800s (although our passion for this pastime has definitely gotten more enthusiastic since then). Although your weekends are likely to be packed with roast after roast, sometimes you just want to forgo all the work of shucking your own oysters and find a nice spot to unwind on the half shell after the workday. We've put together a list of the best oyster happy hour spots for you to get your fix.
King Street Historic District
King Street newcomer The Darling definitely puts a lot of time and energy creating the perfect oyster bar. Grab a chair at the 14-seat raw bar that overlooks King Street for some fun people watching and be sure to stop by during happy hour (4 - 7 pm, seven days a week) for $1 house oysters. You'll also find $1 off draft cocktails and draft beers if all that slurping makes you thirsty.
French Quarter & Avondale
The self-proclaimed "eclectic little oyster bar" has two locations in Charleston, and both feature a pretty hearty list of happy hour specials for that glorious period between 4 -7 pm during the work week. Try the southern fried oysters for $7.95, $3.50 oyster shooters, and -- the piece de resistance -- a dozen oysters on the half shell for $10.95. Both restaurants always seem to be packed, so get there early if you want a seat at the raw bar.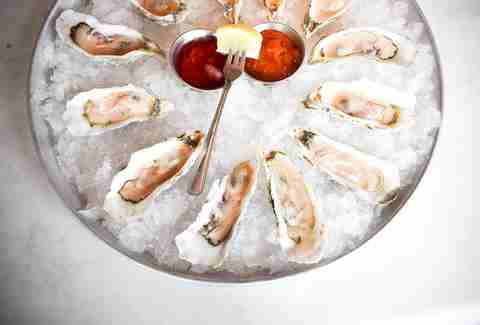 French Quarter
Just a few steps from Market Street and Waterfront Park, you'll find Amen Street Fish & Raw Bar. The raw bar menu changes daily, but it has been known to offer up to 20 different oysters at a time. A regular dozen of house oysters at Amen Street will cost you about $19, but at happy hour (4 - 7 pm during the week), they'll only set your wallet back $9.95. You can also try Amen's award-winning oyster shooter made with house- infused lemon & pepper vodka, bloody mary mix, hot sauce and fresh shucked oyster for just $3.50.
Market Street
Although many locals were sad when Market Street staple A.W. Shucks closed after 37 years, the new, more upscale concept seems to be doing well with locals and tourists alike. O-Bar, the raw bar on State Street, features a diverse happy hour menu (available Monday - Friday from 4 - 7 pm) with a number of oyster favorites. A dozen Gulf oysters on the half shell are just $10, opt for a fried oyster taco with sriracha ranch for $4, or a fried oyster slider with seaweed salad for $7. Pair that with a $3 oyster shooter or glass of champagne to really put the "happy" in happy hour.
King Street Historic District
Owner and James Beard award-winning Chef Mike Lata does amazing things with seafood in his kitchen, which is housed in a building that was once a bank. The menu is full of inventive and fresh seafood options, and happy hour at The Ordinary is anything but: nosh on oysters for just $1.50 every Tuesday - Friday from 5 - 6:30 pm. This restaurant is also one of the only places in the city where you can get a shellfish tower.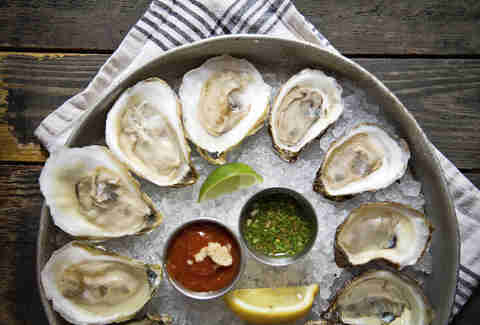 John Street
With a name like "Coast," you can rest assured that the seafood you're getting is up to snuff. The chefs meet with local fishermen and farmers on a daily basis, to ensure they're bringing you the freshest, most quality ingredients. Stroll down Huston Alley to the front door of the ivy-covered brick building and sit yourself in the bar area Monday through Thursday from 5 - 7 pm to take advantage of a half dozen oysters (raw, steamed or fried) for $6.99 and $4.99. There's drink specials, too, so don't forget to stay hydrated during your evening at the Coast.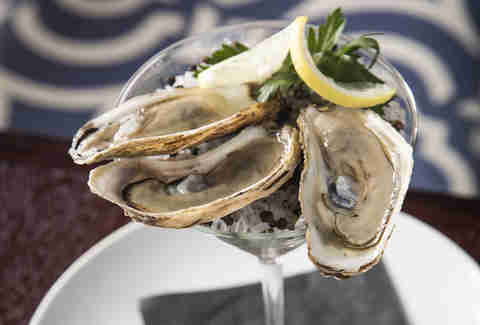 John Street
A little further into Hutson Alley at Cuban-inspired Victor Social Club, you'll find a cozy bar filled with leather couches, Guy Harvey-looking fish paintings, and the highest ceilings of any bar in Charleston. Stop by for happy hour and get $1.50 Oysters, served with cocktail sauce, house mignonette, and hot sauce. Stop by on a Wednesday, Thursday, or Friday for live music and Cuban-themed cocktails, the best you'll find this side of Havana.
Mount Pleasant
Old Village Post House Inn is a hidden gem tucked inside the Old Village in Mount Pleasant. While the regular menu is chock full of Lowcountry-inspired dishes like Shrimp & Grits, stop by for happy hour Monday through Friday 4 -7 pm to take advantage of Benne Seed Fried Oysters for $12. The benne seeds add a nice touch of sweetness to the fried oysters, and you'll find yourself devouring the mollusks like popcorn.
Broad Street
Not many people think to visit a steakhouse for oysters, but Oak should definitely be added to your list of oyster hotspots. Enjoy fantastic deviled eggs with fried oysters for just $12 at the bar from 5 -7 pm during the week. In the dining area, you can get oysters rockefeller for just $3 each or on the half shell at market price.
Cannonborough
Stop by during happy hour to try one of Warehouse's life-changing fried-oyster deviled eggs for just $1.50 each. Pair it with a $5 pint or house cocktail (we recommend the Employees Only with jalapeno tequila and pink grapefruit juice) and a game of pool to help you truly unwind from a hard day. You may even have a celebrity spotting -- Chef Emily Hahn on the newest season of Top Chef on Food Network.
Cannonborough
In addition to drink specials, Cannon Green offers $1 off oysters during happy hour, Tuesday - Friday from 5-7 p.m. Even without the discount, a visit to Cannon Green is worth it for the ambience alone. The restaurant features bright, natural light, lots of greenery, and a fountain-lined courtyard that practically oozes tranquility.
James Island
Every hour is happy hour at Bowens Island when you can get $30 all-you-can-eat steamed oysters, anytime. This Charleston institution is off the beaten path right on the edge of James Island, down a dirt road that you're likely to miss if you blink. Be sure to visit right at sunset, as its marshfront location offers some of the best views in Charleston.
Ansonborough
The cozy unassuming brick building on East Bay street doesn't look like much, but inside, you'll find some of the freshest seafood in all of the Holy City. The sister restaurant of a Nantucket favorite, 167 Raw features seafood fare that's much more common up north -- dishes like lobster rolls, clam chowder, and tuna burgers. If you're lucky enough to score a table after work, you can enjoy $2.75 oysters from their vast daily selection.
Sign up here for our daily Charleston email and be the first to get all the food/drink/fun in town.