For those of you who've already given up (or perhaps never even started) on your New Year's resolutions, don't worry: Charleston Restaurant Week is upon us, during which your failure to commit to a diet will be rewarded with cheap meals at your favorite restaurants (as well as places that have been sitting on your "need to try someday" list). We're talking a third or even half the price of a normal visit, at some of the city's best restaurants -- but just like everything else in life, some best restaurant deals are best-er than others. Here are the restaurants with the best FTD (flavor-to-dollar) ratio, along with how much of a deal you'll be getting there.
Recommended Video
These Onion Rings Are Stuffed With Cheeseburgers
Ansonborough
The deal: Three courses for $49
Although it has the highest price tag of all the Restaurant Week participants, spending a little extra at Zero George pays off in a big way. The normal dinner service is a six-course prix fixe menu (with beverage pairings) that'll set you back $135 on a regular night, so even if you choose to do the $17 "snacks for two" supplement and $15 beef Wellington supplement (which we highly recommend you do), you're still saving half of what it would normally cost you to eat here. And the food is just too good to pass up.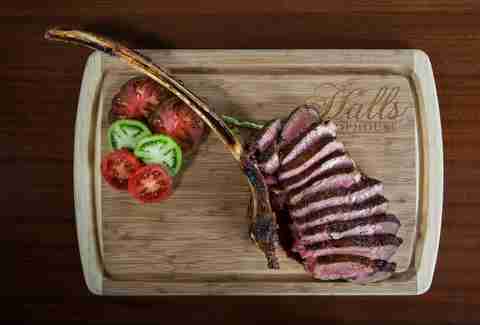 Radcliffborough
The deal: Three courses for $45
If you go to Halls on a normal night, the 8-ounce filet alone will cost you $44, but during Restaurant Week, you can get the filet with a side of creamed corn and collard greens, a cup of she-crab soup as an appetizer, and a dessert (which varies nightly) for only $1 more than you'd spend on just that steak. If you think of Halls as only for special occasions, consider this: Every day is a special occasion during Restaurant Week.
Radcliffeborough
The deal: Three courses for $45
492 got off to a bit of a rocky start when it first opened, but with chef Josh Keeler behind the wheel now, the restaurant is thriving and better than ever. The Restaurant Week menu here is one of the most robust, with eight apps, five entrees, and four desserts to choose from, which means you should definitely try to round up a group to accompany you to dinner (as long as they're willing to share food). Standouts for Restaurant Week include the roasted Brussels sprouts or beef tartare to start, the chef's bacon cheeseburger (one of the dishes 492's most well-known for) or barrelfish as an entree, and Meyer lemon cake for dessert.
Ansonborough
The deal: Three courses for $40
Burwell's is one of Charleston's hidden gems, as it doesn't get the same media acclaim as some of the other restaurants on this list, but the food is just as delicious. The Restaurant Week menu here does a great job of incorporating some of the most popular menu items (like the deviled eggs with candied bacon, pickled veggies, and red wine gastrique) with some new items (like cornmeal-dusted catfish with Jimmy Red grits, rock shrimp, smoked sausage, and house chow chow). It's also one of the few Restaurant Week venues that doesn't treat dessert as an afterthought; choosing between almond chocolate pie (with roasted white chocolate, chicory coffee ice cream, and maple syrup), buttermilk panna cotta (with caramelized bananas and granola), and passion fruit bar (with chocolate sauce, ginger Chantilly cream, and raspberries) might be the hardest choice you make all year.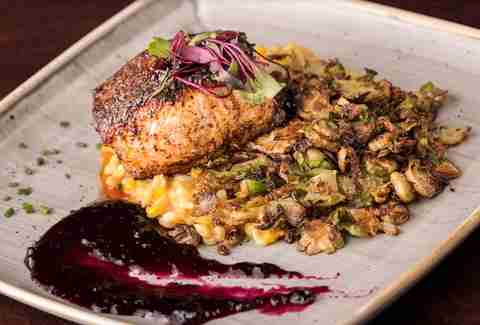 Mount Pleasant
The deal: Three courses for $30
One of the newest restaurants to Charleston also has one of the most creative Restaurant Week menus. A few standout options include fried NC oysters with Rockefeller sauce as a starter, a sweet tea-brined pork chop with peaches 'n cream grits and sweet tea jus as an entree, and swamp pop float for dessert, poured tableside and made with praline cream soda, cinnamon ice cream, and house tuile. Whether you have an adventurous palate or you're just looking to go a little outside your comfort zone, $30 is a pretty reasonable price tag for such a unique meal.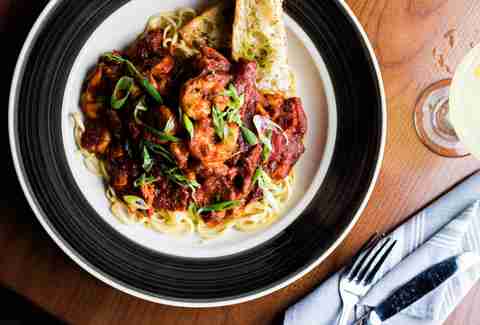 Cannonborough
The deal: Four courses for $35
Another newcomer on the list, Ink n Ivy is mixing things up a bit by offering four courses for $35, instead of the standard three. It's also offering the deal all day, so you can get it for lunch or dinner, and since the totally new and revamped menu got released, it's almost like a completely new restaurant. Some of our favorite Restaurant Week menu items include the tuna tostada (with seared tuna, chimichurri white beans, and charred kale, all served on a crispy tortilla), shaved Brussels sprout salad, buttermilk fried chicken thigh with poblano cream, and cannoli cream with raspberry jam for dessert.
Mount Pleasant
The deal: Three courses for $30
Many people were worried that the food at The Granary might suffer after the departure of founding chef Brannon Florie earlier this year, but new executive chef Curtis Wilson is doing a phenomenal job in the kitchen. For those of you who don't live in Mount Pleasant, rest assured that the food makes it worth crossing a bridge or two to get there. This is one of the few restaurants on this list offering its entire menu up for restaurant week, so you can get a more accurate picture of what a "normal" dining experience at The Granary is like. Some standout menu items include the baked oysters, hot shrimp & lobster dip, duck pot pie, and the mac & cheese.
King Street
The deal: Two courses for $20 lunch/brunch; three courses for $35 dinner
Fans of Italian food, rejoice: Le Farfalle is one of only a couple of restaurants offering its dining deal during lunch, dinner, and brunch during restaurant week. All three menus are pretty distinct, so you can go for three different meals and have completely different experiences each time. Lunch includes your choice of a starter and main (we recommend the whipped ricotta and chicken saltimbocca sammie), brunch includes an entree and your choice of drink or dessert (we recommend the slow roasted pork hash and a Bellini), and dinner is the standard app, main, and dessert lineup you're used to (go for the ceci in umido, fusilli, and olive oil cake). Pro tip: if the weather is agreeable, try to sit out on the patio. The atmosphere is unrivaled, and it's also where you'll get the best pics for Instagram.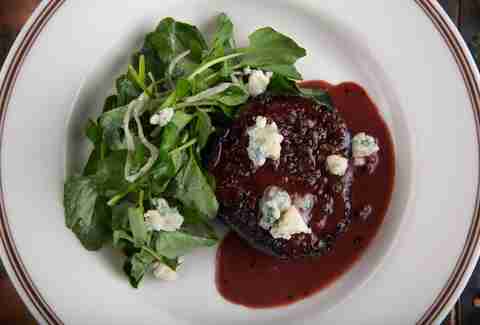 French Quarter
The deal: Three courses for $45
ICYMI, late last year McCrady's restaurant rebranded into McCrady's Tavern, a slightly more casual version of the Charleston mainstay we'd all come to love. Sean Brock and Co. got rid of a lot of the molecular gastronomy in favor of dishes popular at the restaurants of yore (seriously -- there are recipes from Thomas Jefferson on the menu), and Restaurant Week is a perfect opportunity to give the new (er, old) cuisine a try and see if the food really has stood the test of time. If some of the items on the normal menu scare you a little, (like the escargot marrow bone, which is actually delicious, by the way), rest assured that the Restaurant Week menu is a bit more on the tamer side. You can feast on dishes like beef tartare with onion puffs, grilled pork porterhouse with melted onions, and a creamsicle cheesecake.
King Street
The deal: Three courses for $40
If you like your dinner with a view, then The Watch should definitely definitely be on your list for Restaurant Week. The dining room itself is mostly windows, so you get significant natural light during your meal, plus some pretty fantastic views of downtown. The restaurant week options are very pared down (you get two choices per category), making this the ideal spot for date night. What it lacks in options, The Watch makes up for in inventiveness of its dishes: Options like the roasted sunchoke soup with pomegranate molasses and granola, venison loin with huckleberries, and hummingbird cake are sure to make for a memorable Restaurant Week experience.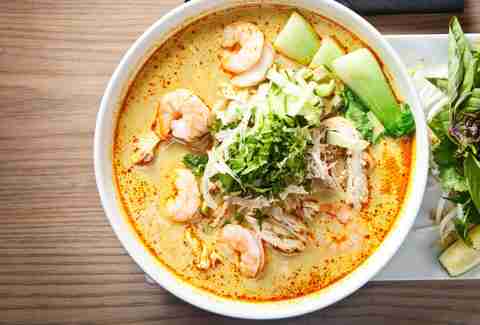 King Street
The deal: Three courses for $20; four courses for $25
CO is a relatively affordable dining option on a normal day, but Restaurant Week gives you a great opportunity to try even more of what the menu has to offer without going insolvent -- and for an extra $17, you can add a three-course sake pairing to your meal, which makes it feel much more like a special event than a normal dinner. Our favorites include the spicy crab rangoon, curry laksa, beef pho, and the strawberry spring rolls with Nutella dipping sauce. The full four-course deal with sake pairings will cost you about 33% less than on a normal night, which means you're still getting a pretty sweet discount on a fun night out.
Sign up here for our daily Charleston email and be the first to get all the food/drink/fun in town.