When people think of Charleston's food scene, pizza doesn't immediately spring to mind. But when people think of delicious foods, pizza usually does spring to mind, and Charleston isn't about to let them down, because it actually has some of the finest pie joints in the state. Here are the best dozen:
Market Street
At 2am, you'll see a line of not-so-sober college students forming on Market St with people waiting to get one of these giant slices of New York-style pizza to eat as they stumble home. We're talking super-thin crust, lots of cheese, and lots of grease on slices that require two hands to hold. It's open during the day, too, so you can get a cheap slice whenever the mood strikes.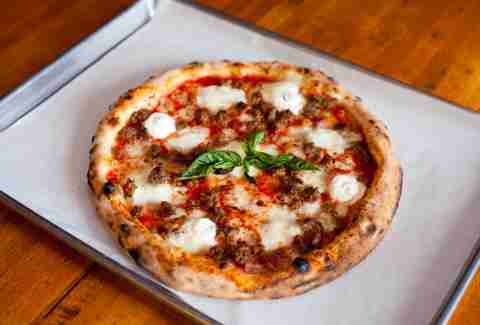 Eastside
DeSano takes its Neapolitan-style pizza very seriously. It adheres to the very strict guidelines of the Associazione Verace Pizza Napoletana (yes, that's a real thing) and imports its ingredients (including flour, sea salt, tomatoes, mozzarella, olive oil, and basil) directly from the motherland. The three wood-burning ovens (also imported from Italy) are constantly set at 900 degrees and can cook your pizza in 90 seconds flat. We recommend the classic San Gennaro, topped with tomato sauce, sausage, peppadews, garlic, caramelized onions, scamorza, mozzarella, and pecorino Romano.
Elliotborough
D'als (as it is lovingly referred to) is a neighborhood favorite, located just south of the crosstown in the heart of Elliotborough Downtown. The menu is filled with unique and creative options for hand-tossed pizzas, calzones, salads, and caljoes (panini sandwich). You can also find its frozen pizzas around town at places like Bull Street Gourmet & Market for a take & bake option. Our favorite: the Chauncinator.
King Street Historic District
Monza is an Italian racing-themed restaurant that specializes in gourmet Neapolitan-style brick oven pizzas. Like DeSano, it also has many of its ingredients and equipment imported from Italy, but it also has a focus on sourcing ingredients and flavors from local suppliers as well. Pro tip: try the Vanwall Special made with pesto, mozzarella, shrimp, and seasonal tomatoes.
Park Circle
EVO (short for Extra Virgin Oven) is constantly packed with pizza fanatics and die-hard fans of its wood-fired pizzas, sandwiches, and baked goods. It's also a bakery, so you can bet that the dough and pizza crust are some of the best you'll ever have. The best pizza on the menu is the Pork Trifecta (seriously, it's got a cult following), with red sauce, house-made sausage, pepperoni, bacon, mozzarella, and Parmigiano-Reggiano.
West Ashley
If you're a fan of pizzas with a lot of wacky toppings and flavor combinations, and thicker crust, then Paisano's is definitely the pizza for you. If you're feeling adventurous, try the Speedy Gonzalez, topped with cheddar cheese, ground beef, jalapeños, onions, tomatoes, and taco seasoning, or the Colbert, with a blue cheese base topped with chicken (grilled or fried), blue cheese crumble, and hot sauce. For a more classic pizza, opt for the Zeus, topped with basil, spinach, tomatoes, olives, and feta cheese.
North Charleston
Located in a pretty desolate part of Dorchester Rd inside a shiny old diner lies the distinctly hidden treasure that is Charleston House of Pizza (aka CHOP). The sauce is a little on the sweeter side, and the pies are loaded with mozzarella & cheddar cheeses. It isn't fancy, and it doesn't pretend to be. The menu is simple, with only five different specialty pies, including the veggie pizza, which is loaded with peppers, onions, broccoli, olives, and tomatoes that even a carnivore is sure to enjoy.
James Island
If you prefer your pizzas on the fancy side, then Crust is where you should go to wet your whistle. Its wood-fired artisan pizzas are made with fresh and local ingredients, and are unlike any other pizza you'll find in Charleston. Because it sources many of its ingredients locally, it always has a few daily pizza specials, so each trip to Crust can feel like the first time. Our favorite menu standard is the butternut squash pizza with roasted squash, mushrooms, caramelized onion, goat cheese, mozzarella, arugula, and truffle oil.
Mount Pleasant
Located in an unassuming shopping center in Mount Pleasant, La Pizzeria is the definition of a hidden gem. Seriously, if you blink, you might drive right on by. Specializing in Northern Italian-style cuisine, La Pizzeria brings a little taste of Boston's famed North End to Mount Pleasant. Our favorite is the prosciutto pizza, layered simply with prosciutto, spinach, and Parmigiano cheese.
King Street
Indaco's wood-fired pizzas are exquisite, with a crust that's thin, but not too thin, so it's hearty enough to support the upscale and creative mix of toppings. Favorites include the Brussels sprouts pizza topped with honeycrisp apples, Brussels sprouts, ricotta, dark honey, and pancetta, or the classic Cerignola olives pie with mozzarella, Calabrian chili, basil, parmesan, and olives.
West Ashley
Famulari's is a locally owned chain that's beloved by locals and tourists alike. It's one of the only places in Charleston that offers a Chicago-style deep dish pizza (for when you have a deep dish appetite), and it really does the Windy City justice.
Johns Island
Fiore's in Johns Island offers a number of specialty toppings for its oven-baked pizzas and grinders. But its true claim to fame is the free (and tasty) crust seasonings. Those of you who usually discard the crust for being tasteless should prepare to have your world turned upside-down. Choose from butter, garlic herb, Cajun, cheese, ranch, or sesame, and start treating your crust with the respect it deserves.
Sign up here for our daily Charleston email and be the first to get all the food/drink/fun in town.
Sydney Gallimore is a food writer from Charleston who's eaten more pizza than she cares to admit (but there's always room for one more slice). Follow her at @Sydney_Inc.