Meet Thrillist Charleston's Chef of the Year: Frank Lee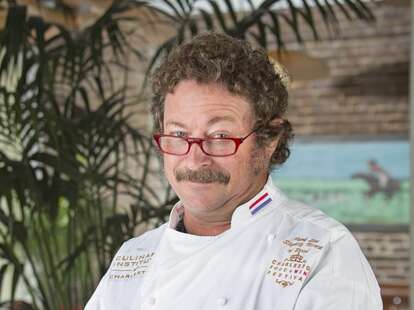 courtesy of Hall Management Group
Editor's Note: This article is part two of Thrillist's year-end look at the best of our cities' local food and drink scenes in 2016. In addition to our annual Best New Restaurants awards, this year, we're spotlighting the men and women behind the dishes we love to tell you to eat. Our Charleston chef of the year pioneered the city's culinary scene... and has yet to slow down over a decade later. You can also check out our picks for the rest of America's 2016 Best Chefs, and then catch up on the Best New Restaurants.
Book a ticket and fly into Charleston this afternoon, and chances are, you'll be able to get a reservation for dinner at S.N.O.B. (Slightly North of Broad Restaurant). S.N.O.B. was once the trendiest joint in town and attracted press from national outlets immediately upon opening in 1993. Yet unlike modern tourism-burdened contemporaries like Poogan's Porch or Hyman's Seafood, which now provoke as many eye rolls from locals as they do enthusiastic recommendations, S.N.O.B. restaurant remains relevant.
That's thanks to Frank Lee, the chef whose vision guided S.N.O.B. to respect and prominence as Charleston's most forward-thinking restaurant nearly a quarter century ago. Before the words "farm-to-table" were ever printed, Lee thumbed his nose at distributor seafood and produce in favor of local offerings. Lee served the city's first plate of pad thai. He pioneered the first charcuterie program in town. For a time, he strived to be known as the "Tamale King" of Charleston. That's all in the confines of a restaurant generally pegged as "Southern cuisine," where blue jeans share space with seersucker and it's still possible to eat a meal for under $20.
"His ability to elevate a dish with restraint is fascinating," said Kevin Johnson, the James Beard-nominated owner/chef of The Grocery and a former cook at S.N.O.B. "[Frank] improves dishes by removing elements instead of adding them."
But why Frank Lee for Thrillist Charleston's Chef of the Year, right now?
Charleston's restaurant scene continues to boom without restraint. Just when it seems our market can't support another place to eat, three more open. Name-brand chefs have literally left New York City to move to Charleston. But amid the scene's accolades and a fawning national press hot after the next big thing, S.N.O.B. holds steady. Frank Lee is Charleston's rock.
Most importantly, he's Charleston's food and beverage mentor. The list of chefs who came of age under Lee's tutelage is stunning -- Kevin Johnson (The Grocery), Josh Hopkins (Empire State South, Atlanta), Chris Newsome (Ollie Irene, Birmingham), Graham Dailey (Peninsula Grill, Charleston), and on and on. These once-aspiring cooks gained culinary skills, of course, but they also learned responsibility and how to run an efficient business. Lee calls his kitchen "a study, a workshop, and an altar." It's a place where young cooks learn how to respect ingredients, customers, and each other.
"He's the best team leader I've ever been around," said Robert Berry, another Lee protégé (from 1995-2001) about to open the long-awaited Pancito & Lefty in Charleston. "Frank taught us much more than just how to cook -- it's his philosophy on life. You had to work your way into the family -- it was a meritocracy --but the harder you worked, the faster you could climb."
Johnson adds that for Lee, "It's just as much about developing people as it is dishes. It sounds simple, but so much can happen once you have a team that cares."
Another of Lee's colleagues at S.N.O.B., Russ Moore, is now at S.N.O.B.'s helm. Lee stepped away in June, focusing his attention on the cookbook he'd put off writing for years. Released December 7th, The S.N.O.B. Experience illustrates the stories behind dishes like barbecue tuna and palmetto pigeon that made him the talk of the town. It also serves as a reminder to Charleston diners that without Lee, none of the variety and eclecticism we now take for granted in our once strictly-old-school Southern city would be here -- at least not quite as quickly and to the level they are now.
Lee's next step is a much-deserved sojourn to New Zealand and a retirement from the kitchen-based life he's led for decades. When he returns in the spring, he intends to put his shoulder to the wheel fostering Charleston's next generation of inspired cooks, just as he has for nearly 25 years.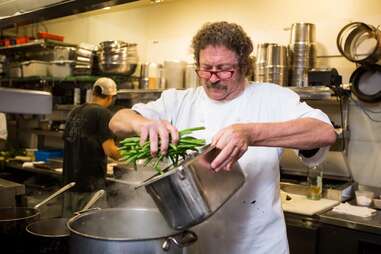 Now that you've been away from the kitchen for six months, putting aside your daily duties for a role as chef emeritus, what's your rearview perspective on what makes the atmosphere at S.N.O.B. special among restaurants in Charleston?
Frank Lee: Our kitchen is completely wide open. It's not just a slot where you can see into the kitchen, so it really blurs the lines between service and culinary. There's no "us and them." You can look from the line and see that your server just got triple sat, or that they've got a table of squirming kids or an elderly couple that's going to really take their time. Conversely, they can see that you're back there hammering tongs. It really builds that team-ship, so it's not "front of the house" and "back of the house."
If Table 10 says their red bean soup is too spicy, I may be grumbling, "It says spicy on the menu. What's wrong with you people?" But then I look out and see that it's a little old lady and say, "Ah, I get it. Too spicy." I can be as busy as can be with three arms growing out of my back trying to keep up and then someone comes back and says, "That's the best meal I've ever had," or I look out and see an old buddy that's popped in for a minute. You get juice from that. That open kitchen really allows you to have empathy with your staff and gain that energy transference with your customer.
It's so unlikely that a single restaurant can claim the array of firsts in a market like S.N.O.B. does, while still maintaining a "Southern" identity. What inspired you to add a now-ubiquitous dish like pad thai before our city even had a Thai restaurant?
Lee: It's just curiosity. We were also one of the first to serve poke, and now it's everywhere.
Even as you introduced new flavors, whenever a dish became iconic at S.N.O.B., you had a tendency to pull it off the menu. That's counter to what most legacy restaurants in Charleston do, but they're also guilty of becoming stagnant and losing their local core.
Lee: Really, we're just as likely to take off the most popular items as the least. If we're getting bored out of our minds in the kitchen with a particular dish, something's got to give.
The first one we pulled was probably the grouper with mustard glaze and cucumbers. Then we pulled the jumbo lump crab with corn sauce and yellow squash, and then the beef tenderloin, and then the sesame crusted tuna. We took off the pad thai and caught a lot of flack for that.
You began your career by opening a vegetarian restaurant in Columbia. What was the moment when you shifted back to eating and cooking meat?
Lee: It was a two-fold punch that started with Malcolm Hudson. I tried to work for him for a year [at the nationally celebrated Hudson's Smokehouse, in Columbia], but he wouldn't hire me until I started eating meat. I started by nibbling on a couple of crispy veal bones. Once I started working, his maître d' ordered me a king cut rare slab of prime rib, all wriggly and bloody.
I always enjoyed the taste and flavor of meat. For me, the crux of vegetarianism is that industrially-produced meat is an inefficient and unhealthy way to get protein. It can take 20 barrels of oil and 50 acres of land to raise a pound of beef. People are finally waking up to that.
So many young cooks that worked for you have gone on to open their own restaurants, and you're known for demanding a lot out of people. You claim in your book that it takes 10 to 20 years to truly master a skill—that's a level even beyond Malcolm Gladwell's 10,000 hours.
Lee: Some people are extremely talented, and they get lucky and make their mark quickly, but it really does take a long time to learn a craft, whether you're a welder or a lawyer or an anesthesiologist. It takes 10 years to become a doctor, and even then you have to sweat bullets for awhile.
I've always focused on trying to develop human beings. We could be digging a ditch, building a jet engine or cooking in a kitchen, and the dynamics for becoming a real human being are the same: You have to learn to be responsible to yourself and others. You have to learn to read and write. You have to learn how to have empathy, and you have to learn how to say, "Please," and "Thank you." It's just basic civility.
A lot of times people who go into F&B are society's rejects. We used to call our kitchen, "Frank Lee's home for wayward girls and troubled boys." I really did teach people to read and to open a bank account and how to be tender and kind to a woman and how to have a healthy relationship. All of this while we're sauteing and slicing and dicing and working that rhythm of mise en place. The No. 1 thing we focus on is being able to communicate. When you do that well, you're successful.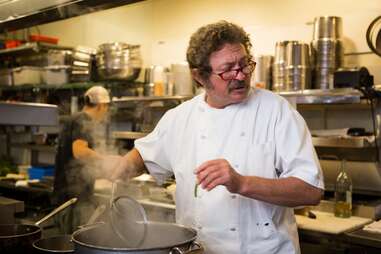 Kevin Johnson praised your work ethic by mentioning that at the end of the night, you wash dishes to decompress. That's more characteristic of a hyper-productive person than someone suited for a quiet retirement. What's next for you in 2017?
Lee: I'd like to do something a little more egalitarian, with education. I've been involved with the Culinary Institute of Charleston for a long time. Now I'd like to make a connection with high schools through the college and the Chamber of Commerce to encourage apprenticeships.
I'd also love to be a culinary diplomat and go to conflict zones to help the State Department open up avenues of discussion with nations we have issues with. If under-the-radar chefs sit down and break bread and marvel at each other's cuisines, that could be just enough to open the door.
You've been a diplomat among chefs in Charleston for years. You're like the city's F&B ringleader. Who will fill that void without you in the kitchen each day?
Lee: We have an intimate little cadre of competitive, cooperative chefs. I worry a little bit that as Charleston gets bigger and bigger and we get more highly trained chefs with well-developed egos coming into the market that they might not necessarily feel the need to continue that camaraderie. But I think the good vibe will continue. It just takes doing gigs and talking and communicating with one another.
Chefs have to be willing to say to each other, "I've got a great cook that's been working with me for three years and she needs to move on and grow," or, "You really need to check out this mushroom dude—he's got terrific Lion's Mane." A rising tide floats all boats.
Have you eaten at S.N.OB. since stepping away?
Lee: I have, but I take up a lot of oxygen and I don't want to make Russ uncomfortable. It's like raising children—you don't want to do something that will embarrass them. My role has been to develop these chefs and managers. I feel deeply that they're well-trained and developed as human beings—Russ is now a year older than I was when we started S.N.O.B. So I can take a step back and nod in satisfaction and say, "My work is done here." It's time for them to spread their wings and for me to get out of the way.
Sign up here for our daily Charleston email and be the first to get all the food/drink/fun in town.
Stratton Lawrence is a freelance writer from Charleston, S.C. He lives in a humble cottage by the ocean with his beautiful wife and infant son. They eat well.