You Can Still Grab Tickets to These 3 Hits at the Charleston Wine + Food Festival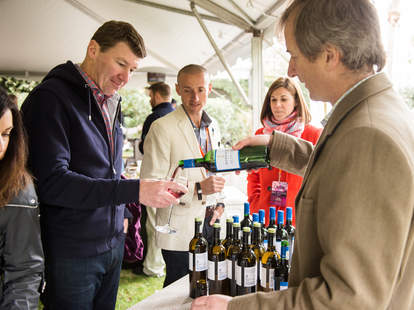 Reese Moore/Courtesy of Charleston Wine + Food
The Charleston Wine + Food Festival is nearly here, and seeing as tickets have been on sale since the fall of 2015, it's understandable that some events sold out quicker than many could ask for that addition of bacon to, well, anything (because we love bacon). But if you think the Culinary Village is all there is to this festival -- now in its 11th year -- then you are missing out on some prime one-of-a-kind food events the South has to offer. And best of all: each of them is well within the festival AND still have tickets available. 
Sure, the village is the central hub of the celebration, but dinners, demos, and more fan out all across the Lowcountry, from brunch on Sullivan's Island to a pork-pairing wine tasting at a barbecue joint in Avondale. Plus, they have some serious promise for being a good time. Why? The combination of chefs and venues.
Best value 
The Roasted Goat / $85
Thursday, March 3rd, 7-10pm
Goat meat is one of the new darlings of inventive chefs, and this sustainable meat takes the spotlight at a gritty grilling event full of cooks, including Top Chef alums Jeff McInnis and Janine Booth of Root and Bone in NYC. High Wire Distilling is the venue for this party, which assures some killer gin and bourbon cocktails, with Fullsteam Brewery providing the beer. Virginia wines and ciders will also be available.
Best seafood with a view
Baked @ Bowen's / $125
Thursday, March 3rd, 4:30-7:30pm
It doesn't get anymore Lowcountry than this. Or is it Pacific Northwest? Either way, the iconic South Carolina oyster roast meets the Northwest's popular salmon bake, where Pacific Northwest wines are served alongside Firefly Sweet Tea vodka. This casual bake will take place at Bowen's Island, an undoubted Charleston Essential with quite a view of the sunset. 
Courtesy of Charleston Wine + Food
Best splurge
North + South + East + West: Le Tour Des Femmes / $750
Saturday, March 5th, 7-10pm
If you're willing to part with the cash, this could be one of those dinners you talk about for the rest of your life. It will be hosted by an all-star team of female chefs, from Kim Floresca of [ONE] Restaurant to Melissa Perello of Octavia. Add Krug Champagne pairings with each course and a setting in a home on one of Charleston's most exclusive streets (Water St.), and this black tie affair will be hard to top. Bring on the bubbles.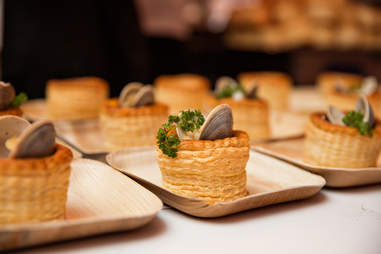 Courtesy of Charleston Wine + Food
What to do in Charleston that weekend when you're not eating or drinking
It can be hard to pry yourself away from the plate, but you have to give your stomach time to digest anyway...
Visit the Aiken-Rhett House
If you want to do something historic but not drive too far, then the Aiken-Rhett House is perfect. Located just an easy walk from the Culinary Village in Marion Square, this house museum is sensitively maintained, not restored, and it includes original outbuildings as well as a ghost story or two. Whether they're true or not, this property is hauntingly beautiful.
Attend Artwalk
The first Friday of each month is the French Quarter Artwalk. Before you head to dinner, feast your eyes on some notable art. Galleries in the French Quarter open their doors, and many offer a little wine and a wealth of people-watching. But mainly: free wine! 
Rent a kayak (or two)
Get away from the crowds and out on the water. The Lowcountry has many waterways worth exploring, and multiple kayak rental companies, from Isle of Palms to Shem Creek. If you're getting "Baked @ Bowen's," plan a day trip out that way and visit Charleston Outdoor Adventures, which is the only other business on Bowen's spit of land. You're likely to spot egrets, herons, and maybe even a dolphin on your outing.
Shopping on King St
No Downtown revitalization needed here. Since the 1880s, King St has been a thriving shopping district. To get a taste of the "shop local" spirit of the city, visit Berlin's, Croghan's Jewel Box, Seeking Indigo, and just off King, the tucked away Hidden Countship.
Sign up here for our daily Charleston email and be the first to get all the food/drink/fun in town.
Stephanie Burt is a contributor for Thrillist and other publications who is proud to have covered all 11 Charleston Wine + Food Festivals. Find her random musings and food discussions at @beehivesteph, or listen to her conversations with Southern food peeps at The Southern Fork.