These Shrimp and Grits Dishes Are the Best in Charleston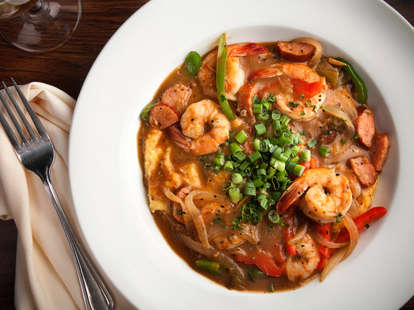 <strong>Poogan's Porch |&nbsp;</strong>jwkpec
Let's get something straight: shrimp & grits is no light dinner. But then again, Charleston doesn't do anything halfway. It's hotter than a cast-iron skillet here in the summer, and even our magnolias and jasmine are some powerfully-scented flora. So it's no wonder we go big or go home with our most iconic dish. Shrimp & grits traditionally consists of tender shrimp in a dark gravy over creamy grits, but there are just as many variations in the Holy City as there are people complaining about the parking or enjoying a round of golf. And that's a lot of people. Like, a lot.
French Quarter
The shrimp & grits here is almost as traditional as it gets, with a rich, brown gravy that proves it's hard to beat the classic version. The fact that this choice is offered at Poogan's makes sense because the place feels just like grandma's house... and not your bingo-playing, scotch-drinking granny who hums along to pop radio. We're talking the one who has doilies on the back of the couch and knows how to cook a proper meal. And just like at her place, elbows off the table!
French Quarter
Magnolias is white-tablecloth fine dining at its best, and is all about showcasing some updated Southern classics. With that in mind, the chefs have upped the ante with this elegant version of shrimp & grits. The shrimp is but one star of the show in Magnolias' shellfish over grits, which also includes scallops and a lobster butter sauce. If you're in Charleston, it's a definite must-try.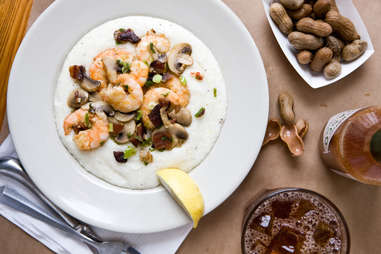 Cannonborough
Speaking of waiting, Hominy Grill's line is almost a Charleston institution. But why do all the locals brave the wait? Well, a couple of reasons: 1) we've got to take our out-of-town guests here for the Charleston Nasty Biscuit (fried chicken with cheddar and sausage gravy), and 2) the tender-shrimp-meets-buttery-grits dish is too good to pass up. This version is the real deal: the shrimp is sauteed with mushrooms, scallions, and bacon, and placed over some cheesy grits.
West Ashley
This wonderful version of shrimp & grits comes two ways: sauteed with tomato gravy, or fried with pepper jelly. Either way, it's stick-to-your-ribs good, which is something you need after being famished as a result of the long wait for breakfast on the weekends. But don't get discouraged; the parking lot is packed for a reason.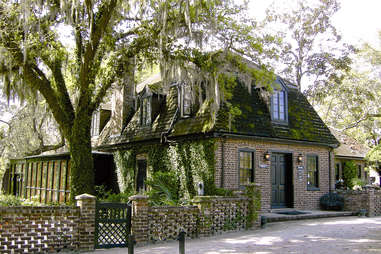 West Ashley
Dinner here is a destination drive, but what you get for the gas money is an iconic dish in an iconic setting. Tasso ham and a little cheddar round out this version, served atop excellently prepared grits that are smoothed into perfection by copious amounts of butter. (Seriously, butter is always better.) Plus, the restaurant sits in the middle of a national historic landmark housing some of the oldest gardens around, so you best believe you'll have some great views to match the food.
Mount Pleasant
Chef Ashleigh Page's version is beloved, but it's probably because she takes the already-rich dish and gives it a great twist by serving the shrimp with andouille sausage and a cream sauce atop fried grits cakes. And just in case that's not enough for your daily caloric intake, the meal comes with either cornbread or a biscuit. Let's hope you've got some stretchy pants...
French Quarter
Green onions, country ham, and house-made sausage are included in chef Frank Lee's version of the Lowcountry classic. That is, in addition to sweet, local shrimp. He was a proponent of local seafood long before it was trendy, and he definitely prepares it better than almost anyone else in the region.
Isle of Palms
The stretchy pants are a requirement at this casual island spot. In fact, there is an entire section of the menu devoted to shrimp & grits. You can get them with pimento cheese if you please, BBQ sauce if you're the boss, or smoked gouda if you woulda-coulda-shoulda. See where we're going with this? Acme's selection is basically a veritable Dr. Seuss-style invitation to deliciousness.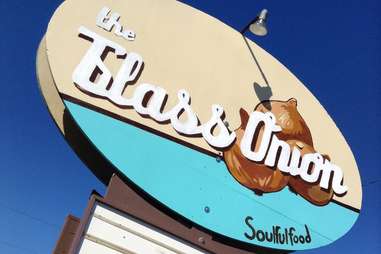 Avondale
This consistently good spot offers Lowcountry-meets-Louisiana fare, and it's actually a favorite of chefs on their off days. Why? Because the menu is Comfort Food 101, with a little touch of elegance and seasonal ingredients. Case in point: the shrimp & grits. It's often on the menu, but not always the same. Chef Chris Stewart folds in delicious rotating specialties -- from root veggies in the winter to anything green for spring -- to make this dish stand out.
Kiawah Island
Located inside The Sanctuary hotel, Jasmine Porch aims to convey that upscale Lowcountry feeling with a view of the gorgeous pool and the beach. But even with the sights, it'll be hard to take your eyes off the plate if you get this version of shrimp & grits, which includes sweet peppers and onions. The shrimp are plump and local, and the grits the perfect creamy accompaniment.
Sign up here for our daily Charleston email and be the first to get all the food/drink/fun in town.
Stephanie Burt is a contributor for Thrillist who is always willing to order multiple entrees or cocktails in the name of research. Follow along with her findings (and tweet exercise tips) at @beehivesteph, or tune in to her weekly podcast about Southern food, The Southern Fork.