The Best Food Trucks in Charleston
Restaurants are great, but it can be frustrating having to deal with annoying tables, chairs, and the fact that the buildings stubbornly refuse to move. Well, thankfully Charleston has a thriving food truck scene which solves all of those problems, and these are the best in town.
Where to find it: It constantly moves around, so check its Twitter for the latest.
This dessert-oriented food truck slings all manner of cakes, pies, and cobblers. The salted toffee chocolate chip cookies alone could be used as currency in some country (so it's a good thing that they're sometimes available by the dozen). And for a legit twist on a Southern classic, try the lemon lavender sweet tea.

Where to find it: Find a calendar of its locations here.
The baby of this list at only seven months old, Short Grain's Shuai Wang has a pedigree that includes being Chef de Cuisine at Chez Sardine (an untraditional izakaya in NYC's West Village) and other lauded Big Apple spots. What does this mean for you, hungry patron? Eat here. Eat here often, and often get the Og Bowl (some local line-caught fish, slow-cooked egg, ponzu pickles, etc.).
Where to find it: Find a calendar of its locations here.
If you have the late night munchies or the morning-after munchies, then nothing hits the spot like the funky goodness of Roti Rolls. Truck-made kimchi, local ingredients, and heaping helpings have made this truck a mainstay on the streets since 2010.

Where to find it: 73 Saint Philip St usually, or check its Twitter.
Owner Thai Phi studied economics at College of Charleston, but the Holy City is happy that he didn't join some think tank somewhere, or we would be without the PB banh mi, with fatty brisket and soju sauce.
Where to find it: 866 Folly Rd (True Value) on James Island usually, or check its Twitter.
The "Lobstah Roll" gets a local Lowcountry twist here with rolls from West Ashley's Pane Di Vita. The Immortal Lobster makes 'em both Maine (with mayo) and Connecticut (with melted butter) style, and if you're feeling it, you can get your crustacean in a grilled cheese, too.

Where to find it: Frequently at the Charleston Pour House, or check its Facebook.
When the beloved El Bohio closed, locals didn't know how much they could miss the Chorizo Empanadas or Cuban Plantains until they were gone. Thankfully, the folks at The Charleston Pour House heard our collective stomach growling, and El Bohio has been reincarnated as Elbo Truckin', which parks at the music venue nightly and for market there on Sundays.
Where to find it: Check its Twitter.
There is a grilled cheese, and then there is a Cory's Famous Grilled Cheese. Stop your eye-rolling incredulousness and get in line for this combo of muenster cheese, bacon, and honey mustard on cinnamon raisin bread. Yeah, told ya.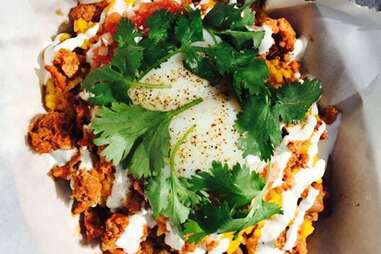 Where to find it: Find a calendar of its locations here.
It's brunch in a truck, without the bottomless mimosas but with huevos rancheros, chicken biscuits, sunny-side-up eggs, and grits from Geechie Boy Mill on Edisto Island, made with lots of cheese and butter. And no judgement if you need brunch on Tuesday where you wear your sunglasses the whole time.
Where to find it: Find a calendar of its locations here.
In the land of Shrimp and Grits, it was surprising that solid fish camp-style fried shrimp was almost impossible to find -- that is, until we flagged down this truck. Shrimp with a side of hushpuppies, slaw and some red rice will, as the locals say, "set you right."
Where to find it: Find a calendar of its locations here.
If you have a hankering for barbecue but no time for a traditional restaurant, then Cast Iron's Carolina BBQ Sandwich is a solid choice. Chopped 'cue with a vinegar base, it will be piled high on a brioche bun and be topped with coleslaw (if you ask). If it's sold out, the Cast Iron Burger is a good alternative with its "seared in cast iron" crust.

Where to find it: Find a calendar of its locations here.
The truck is bright teal. The ladies serve their organic, small batch donuts with a smile. There are rotating flavors such as Nutty Rooster (peanut butter and Sriracha), Tamarind, and Peppy Pappy (chocolate frosted with mint and pretzel bits). And to top it all off, it regularly parks at local breweries to pair their desserts with beer.
Sign up here for our daily Charleston email and be the first to get all the food/drink/fun in town.

Stephanie Burt is a contributor for Thrillist and food writer whose waistline contributed to the research portion of this article. You can find her in line for fried shrimp or: @beehivesteph.