Hamburgers: they're so delicious, if the Hamburglar were to ever get caught, no jury would convict him. And in Charleston, we take them up a notch, with pretty much every restaurant in town making its own next-level version. Here are the dozen best burgers in the Holy City:
The Husk Burger
Husk
Address and Info
King St Historic District
The burger at Husk consistently tops lists of great burgers in Charleston (and America) because of its pure, delicious simplicity. Two Benton's bacon-infused ground beef patties sit upon a house-made buttermilk & benne seed bun, topped with American cheese, diced white onions, bread & butter pickles, and a special sauce (and lettuce and tomato, when they're in season). Very nearly the dictionary definition of a good burger, this is truly a work of art.
The Amontillado
Poe's Tavern
Address and Info
Sullivan's Island
Make the trek out to Sullivan's Island and you'll find one of Charleston's best burger joints -- Poe's Tavern. People flock to the little house on Middle St for its fat half-pound beef pucks and delectable toppings on a brioche bun. The Amontillado is topped with guacamole, jalapeño Jack cheese, pico de gallo, and chipotle sour cream, and it's perfect for those who like their burgers with a little kick.
The Halls Chophouse Burger
Halls Chophouse
Address and Info
Mazyck-Wraggborough
Found on the restaurant's bar menu, Chef Matthew Niessner crafts the Halls Chophouse Burger with 10oz house prime ground beef (direct from the Allen Brothers out of Chicago) and cheddar cheese, then serves it with a generous helping of Parmesan truffle fries.
The Southerner
Charleston Sports Pub
Address and Info
West Ashley
Tucked into an unassuming strip mall in West Ashley, Charleston Sports Pub is something of a diamond in the rough. The menu is loaded with winners, but the Southerner burger is the shining star; it starts with a buttered bun and a seasoned half-pound of ground beef, and then gets some house-made pimento cheese, peach jam, and crispy bacon. You'll love how the sweetness of the peach jam perfectly complements the creaminess of the pimento cheese (trust us).
The B&B Burger
Butcher & Bee
Address and Info
Cannonborough
Everything Butcher & Bee touches seems to turn to gold, and its burger is no different. It's a simple take on the classic with two patties, American cheese, lettuce, tomato, onion, pickle, and secret sauce.
The California Burger
Coleman Public House
Address and Info
Mount Pleasant
The California Burger from Coleman is topped with Monterey Jack cheese, pecan-smoked bacon, avocado, tomato, alfalfa sprouts, and creamy Dijon dressing (and add a couple of jalapeños if you're feeling it). It's a perpetual favorite among locals at this Mount Pleasant staple.
The Memphis
Sesame Burgers & Beer
Address and Info
Mount Pleasant
This sucker would make Elvis proud. The house-ground beef is topped with healthy servings of homemade peanut butter and sliced banana, which come together in an unexpectedly delicious way. Try it with a side of fries and homemade ketchup. This spot's got a number of unique burger creations on the menu and will even do a trio of sliders for those of you who are indecisive.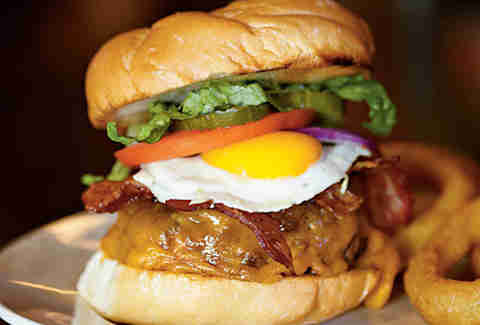 The Eye Opener
Moe's Crosstown Tavern
Address and Info
Wagener Terrace
The guys at Moe's know that putting an egg on anything instantly makes it a breakfast item, so for those of you who want an excuse to eat a burger at 9am, the Eye Opener is for you. In addition to the fried egg, the hand-pattied ground chuck burger is topped with cheddar cheese and bacon to round out the experience.
The Vermont
The Alley
Address and Info
Cannonborough
Prepare for New England on a bun -- this 6oz patty is topped with sharp white cheddar cheese, crispy bacon, thinly sliced Granny Smith apple, maple mayo, and arugula and is probably unlike anything you've ever tasted before.
Two Boroughs Burger
Two Boroughs Larder
Address and Info
Cannonborough
Available only on Wednesdays, the Two Boroughs Burger is a cult classic. This double-patty number is topped with Mornay cheese sauce, bacon, and bread & butter pickles, then stuffed in a bun from local bakery, Brown's Court.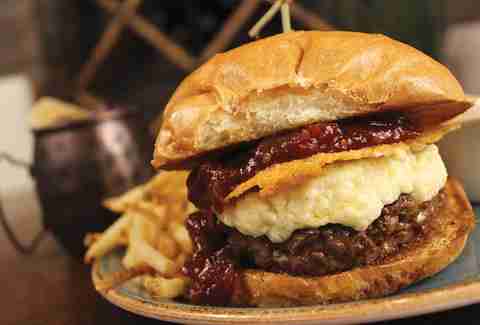 French dip burger
Tavern & Table
Address and Info
Shem Creek
This is what it would look like if a cheeseburger and a French dip sandwich had a baby. The house-ground patties are prepared daily and comprised of Angus chuck, brisket, and short rib. It's all then deliciously topped with white cheddar, tomato jam, candied shallots, and a Parmesan crisp.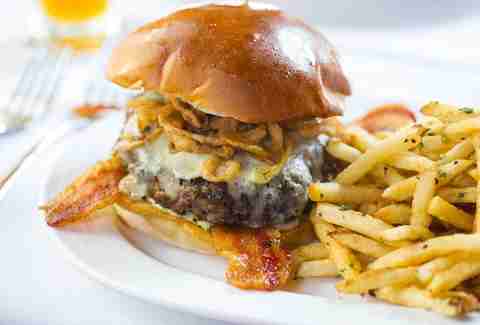 The Barony Burger
Barony Tavern
Address and Info
King St Historic District
Found on Chef Robert Carter's lunch/tavern menu, the Barony Burger is a restaurant signature, made with aged cheddar, bacon, and green goddess aioli (made w/ sour cream, herbs, and avo), then served on a lightly toasted brioche bun.
Sign up here for our daily Charleston email and be the first to get all the food/drink/fun in town.
Sydney Gallimore is a food writer who's proud to call Charleston, SC home. You can find her drinking a Moscow mule, at home with her two cats, or online at her site Queen of the Food Age.