<b>The avocado BLT |&nbsp;</b>Keia Mastrianni/Thrillist
If you're a Charlottean, you know that the Queen City has a thing for burgers and rightly so. We're well versed in the art of the hamburger patty, but that doesn't mean we skimp on other bread-and-meat meals. We dig sandwiches of all kinds from fried chicken to bánh mì and everything in between. Here are 10 of the best sandwiches in town.

Dilworth
What you're getting: Avocado BLT

When Duke's mayonnaise, creamy avocado, and Heritage Farms bacon get together, expect a party in your mouth. Add farm-fresh tomatoes and just-picked lettuce slapped between tender wheat bread and you've got a winning sandwich from the fine family at 300 East.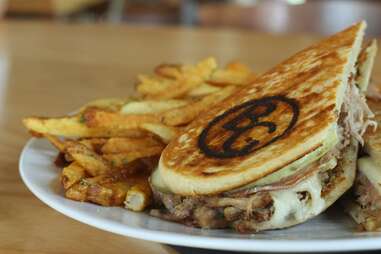 Elizabeth/Myers Park
What you're getting: B&G Cubano

Cuban sandwich purists might throw their hands up at Block and Grinder's take on the beloved ham and cheese sandwich. That is, until they take a bite. B&G smokes Heritage Farms pork low and slow, until it reaches optimum succulence, and then adds a silky slice of cured ham along with house-made pickles, whole-grain mustard, and melty Swiss cheese, all pressed to perfection between a buttered baguette. The added bonus? You get hands that smell of lingering smoke for the rest of the day.
South End/Plaza Midwood
What you're getting: Pimento deluxe
When you feel like eating your feelings, head straight to the Common Market and eat the pimento deluxe instead. It's a naughty sandwich that feels oh so right. Common Market adds jalapeños to its pimento cheese recipe for a peppery kick to the Southern spread. Then the place adds two slices of bacon and diced tomatoes and presses it on the panini grill to its gooey glory.
Elizabeth
What you're getting: Turkey sandwich

This hip gourmet grocery is the place to see and be seen around the lunchtime hour. Folks stand in line for hot bowls of ramen, steak tacos, daily features, and the turkey sandwich. Yes, the turkey sandwich. Fat stacks of deli turkey with smoked Gouda, sun-dried tomato aioli, and avocado stuffed between two slices of lightly grilled wheat bread. The wheat bread sets it off, offering a hint of sweet to the savory insides. It seems so simple, yet you'll find yourself spontaneously thinking about it later.
Uptown
What you're getting: Fried chicken sandwich
The King's Kitchen, the most benevolent Southern restaurant in Uptown, makes a mean fried chicken sando. The non-profit restaurant employs Charlotteans on their way back up from challenging life circumstances and donates 100% of its profits to feeding the poor. If that's not a reason to eat a fried chicken sandwich, I'll tell you what is. One whole buttermilk-dipped and -battered chicken breast fried to golden perfection and crisp, crunchy honey mustard slaw on a house-made ciabatta bun.
North Tryon/Sugar Creek
What you're getting: The #6

Getting to Mr. Le's bánh mì shop is a little like off-roading. But, if you brave the rocky terrain of Charlotte's worst parking lot, you will be handsomely rewarded with the finest bánh mì in town. The cash-only spot (oddly closed on Wednesdays) is one of the few stores populating the depressed Asian Corner Mall. Ask for the #6 -- thinly sliced, caramelized roast pork topped with freshly shredded pickled daikon, carrots, and cucumber laced with mouth-tingling slices of jalapeño and leafy cilantro tucked into a slender French baguette with the perfect chew.
South End
What you're getting: Living Burrito
Okay, Luna's Living Burrito is technically a wrap if you adhere to the carbohydrate credo set forth by the Earl of Sandwich. Regardless, this is a meatless delight for all humans, and stunning too. Luna's uses a sturdy collard leaf as the burrito bundle, covers it in "refried beans" made of sunflower seeds and then stuffs it with cauliflower rice, pico de gallo, onions, sprouts, and cashew sour cream. Be sure to ask for an extra side of Luna's tasty house-made hot sauce.
NoDa
What you're getting: G-man's G-wich

You really know you've made it as a citizen of NoDa, when NoDa Bodega names a sandwich after you. An artsy chalkboard inside the bungalow-cum-sandwich oasis and bottle shop denotes the lucky souls who've made it. A guy named Greg got the "G-man's G-wich," a fiery sandwich layered with London broil, caramelized onions, melted pepper colby Jack cheese, and jalapeño bacon. The sandwich is topped off with lettuce, tomato, and onion along with a squeeze of chipotle mayo and balsamic reduction. The G-man was so gangster, NoDa Bodega now serves it every Friday.
Westside
What you're getting: The Tony Baloney Westside

A bologna sandwich offers a specific kind of comfort reserved for special days, like when you're hungover or feeling a little trashy. The quarter-pound of thick-cut bologna gets a good sear on the flat top and, when you order it "Westside," it comes topped with yellow mustard, chili, slaw, and diced white onions. A little hair of the dog pairs well with this gem of a sloppy sandwich.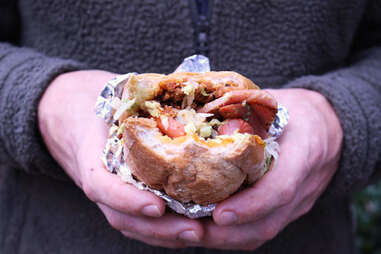 Tacos El Nevado
Central Avenue/Eastway
What you're getting: Torta Cubana

This is not a sandwich, it's a spiritual experience. The torta is Mexico's answer to the submarine and the torta Cubana is how you start at the top. This one is smothered with refried beans and chorizo, layered with carne asada, ham, and hot dogs, and then garnished with pickled jalapeños, lettuce, avocado, tomato, and crema. New state of consciousness, coming right up!
Sign up here for our daily Charlotte email and be the first to get all the food/drink/fun in the Queen City.