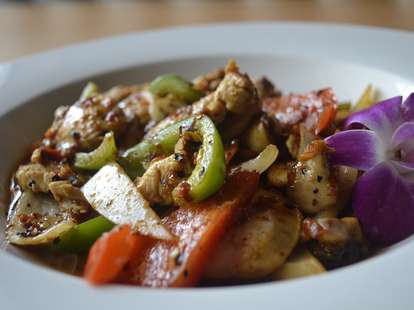 Cristina Wilson/Thrillist
Charlotteans like their savory cuisine the way they like their four-season weather: mostly mild. Melt-off-your-face food is tough to find on most menus, but if you know where to look (and explore a few off-the-beaten-path spots), you can find dishes that bring the burn and keep the flavor. Almost all the dishes on this list can be made spicier on request -- so go nuts. But don't say we didn't warn you.
Pad prik
Deejai Thai (address and info)
Myers Park
There is some healthy competition (and thus deliciousness) in the Thai food category in Charlotte, but for pure fire Deejai's bell and chili pepper-based pork pad prik is a go-to. Unlike curries with creamy or coconut milk bases, this light broth doesn't accidentally tone down the spice. Honorable mention here goes to Thai Taste, for making its Thai spicy flakes available upon request so you can burn your mouth off as quickly as you'd like.
Bun bo Hue
Ben Thanh (address and info)
Plaza Midwood
This local pho favorite always offers rich layers of flavor, and it's no exception when this place brings the heat. The spicy beef and pork stew is delivered hot off the menu, but can be pushed even further on request. The restaurant knows its audience well, serving up a solid pile of jalapeño slices along the other garnishes of cilantro, basil, and lime.
Malaysian curry
Cuisine Malaya (address and info)
Elizabeth
With an eclectic menu of Malaysian and Japanese specialties plus a sushi bar, you can satisfy your spice craving with just about any curry variation, with the traditional Malaysian spicy shrimp paste as the base. The lamb and shrimp especially suit the basic curry -- or just dip into it and take it straight to the face with an order of roti canai flatbread (as pictured here).
Chef's Blazin' Hot Wings
Kickstand Burgers -n- Bar (address and info)
Plaza Midwood
When you want a good, hot chicken wing, you want a smoky flavor that you can still taste through the kickin' hot sauce. Kickstand's variation does just that, with spice that builds bite after bite. Start with the wings, and then build your own spicy burger (you'll regularly find chef's special Fire in the Hole sauce on the menu, concocted with homegrown jalapeños) for a two-course calorie fest that will leave you sweating.
Salsa de arbol
Las Lupitas (address and info)
NoDa
You'll be disappointed if you visit Las Lupitas (look for the "Carniceria Tortilleria" sign rather than the name) expecting a sit-down taqueria. But when you find out that the tender carnitas and barbacoa are sold by the pound -- along with house-made tortillas by the pound for $1 -- you'll grab yourself a hot sauce and happily take that party to go. The arbol sauce, sold at the front of the store, offers nicely layered heat that you can douse each taco with, especially since the tortillas hold up 10x better than most.
Golden Tuna roll
New Zealand Cafe (address and info)
Matthews
If you couldn't tell by the slightly aggressive presentation of this roll, the "spicy on the side" sauce is just that. The super-tender oversized tuna is lightly tempura fried and should be immediately soaked in the red sauce. Plus -- familiar theme yet? -- you can ask master sushi chef Jackie Chen to kick the spice up as many notches as you'd like. For a refreshing cool-down roll afterward, order the off-the-menu cilantro roll with red snapper, crabmeat, thinly sliced lemon, and ponzu sauce.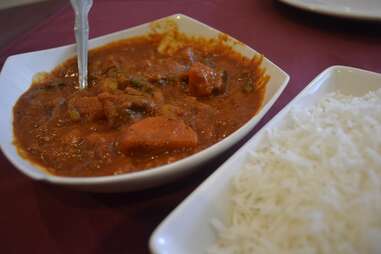 Vegetable vindaloo
Woodlands Vegetarian Indian Cuisine (address and info)
Hickory Ridge
If you're stuck in a chicken tikka rut, it's time to break free at Woodlands -- and you should start with the fiery vegetable vindaloo and the paneer chili (#18 and #19 on the menu). What you think you'll miss in meat is made up for with flavor and spice. Be sure to check it out during the lunch buffet on Saturdays and Sundays -- and wear your stretchy pants.
Go Reap Yourself American IPA
Ass Clown Brewing Company (address and info)
Cornelius
Sip your spice at Ass Clown Brewery, known for its constant rotation of funky flavors and small batches. Both the Ghost Chili IPA and Go Reap Yourself IPA are draws for fire-seekers, but the expert use of world record-holding Carolina Reaper peppers (bred in Fort Mill) in the latter makes it a brew worth driving for. Good thing you've got 20 other flavors on tap to wash it down.
Sign up here for our daily Charlotte email and be the first to get all the food/drink/fun in the Queen City.