After a long week at work, Charlotteans show up en masse on Saturdays and Sundays at their favorite brunch spot for Bloody Marys, mimosas, and all the breakfast/lunch hybrid comfort food that makes brunch the best meal possibly ever.
And while we love the daily breakfast available at Rhino Market, Art's BBQ & Deli, Common Market, and Earl's Grocery, this round-up is strictly for brunch. Whether you are looking to soak up the decisions of the previous night, or have an afternoon catching up with friends and family, we've got the perfect spot for you. Here are the best brunch spots in ten Charlotte neighborhoods.
Cotswold
Eddie's Place Restaurant & Bar
Worth waiting in line for the She-crab soup
Inspired by Cajun cuisine, Eddie's Place has been serving Charlotteans since 1997, and there's no shortage of options when it comes to brunch. The chicken & waffles are served with cinnamon butter that takes the spice of the crispy chicken skin to the next level; the ciabatta French toast with powdered sugar is the perfect balance of sweet and savory; and the She-crab soup makes for a perfect brunch starter or to-go item. And it's perfectly acceptable to lick the bowl when you're finished.
Leroy Fox
Mimosas and fried chicken are the perfect combination here
Serving Southern-inspired cuisine with a contemporary touch, Leroy Fox is known for their fried chicken, and there's plenty of it on the brunch menu. The chicken & waffles is a signature dish, but the pimento & egg sandwich (pimento cheese, fried egg, and bacon topped with Leroy's signature house dressing on a brioche bun) is next-level good and pairs well with a mimosa or one of their signature cocktails.
Dilworth
300 East
The best place to brunch with your squad
Located inside a 100+ year old house, this family-owned restaurant on East Boulevard (its name is the address) has a regular crowd that is passionate about their Sunday brunch menu. Sit outside on the patio, or come early to avoid a wait and sit inside. Grab a mimosa, or another signature brunch drink, and order the crab cake benedict with citrus hollandaise and potato pancake.
Fern, Flavors from the Garden
Vegans and meat-eaters both can't stop coming to this spot
Who says veggies have to be boring? Although Fern is a plant-based restaurant, it attracts vegans, vegetarians, and omnivores alike to their weekend brunch. Order the chicken and waffles and compare it to similar dishes you've had… and then be amazed by the fact that the chicken, well, isn't chicken.
Elizabeth
The Stanley
A small space boasting big flavor
We've been a fan of chef Paul Verica since his days in Waxhaw operating Heritage Food & Drink. Moving closer in, Paul opened The Stanley in 2018 and their Sunday brunch menu has proven why the man is a James Beard nominated chef. From the pork chops served with a biscuit, gravy, scrambled eggs, and grits to their chef's omelet made with foie gras, their brunch menu is elevated and -- more importantly -- delicious.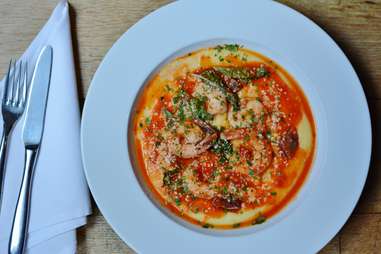 Midtown
Vivace
The spot to go if you want to enter into a post-brunch food coma
With views of the Uptown skyline, Vivace is a destination for any meal, but it's their brunch menu that packs the restaurant on the weekends. Get a two-course brunch and bottomless mimosas for just $25, or something special from the Bloody Mary bar. If you don't want to order from the two-course offering, you can always order a la carte from the menu.
Myers Park
Fenwick's
A Myers Park staple without the Myers Park price tag
Myers Park residents and long-time Charlotteans have been frequenting Fenwick's since 1984 for their lunch and dinner, but this neighborhood staple also offers a solid weekend brunch. Try the cinnamon pecan coffee cake to start (served with an incredible strawberry butter). Next, order the three egg omelet and add all your favorite ingredients. Not into that? Order the featured quiche, trust us, it's good. And when given the option of a side choice, obviously go for the cheesy grits.
littleSpoon
Listen to old-school hip-hop and R&B while eating avocado toast
Every brunch should be accompanied by large mugs of coffee and good music that makes you want to sing along while you eat. At littleSpoon in Myers Park, you get all that and more. This neighborhood spot flaunts tasty creations like the #BEC, a golden runny-egg sandwich loaded with bacon and cheddar, and Cinnamon Toast Brulee, a French toast-like creation that is way better than the cereal of your childhood. In addition to the food, you can't beat the rap and R&B heavy music playing while you dine.
Napa on Providence
California cool in this Myers Park staple
Located on a quiet street, Napa on Providence serves approachable food in a laid-back yet elegant setting. Channeling the vibe of the Napa Valley, Napa on Providence has partnered with local farmers to bring a taste of wine country food to Charlotte. Order the vegetable frittata with goat cheese, haricot verts and summer squash, or the heirloom tomato benedict with walnut basil pesto aioli.
NoDa
Haberdish
Get the brunch goin' up on a Tuesday
Haberdish is our unique entry to the Charlotte brunch scene, as they serve their brunch during the week, not the weekend. Haberdish serves their brunch menu Tuesday through Friday only. Order the Blonde Bloody Mary, the cinnamon roll, and biscuits with gravy to make your week so much better.
Jack Beagles
The perfect spot for a recovery brunch
Known for live music on their back patio, Jack Beagles also serves up a mean brunch on the weekends. Perfect for recovering from the night before, order one of the fan favorites, such as chocolate chip pancakes, grilled rib-eye on Texas toast covered in sausage gravy (no joke, this is called the Shit on a Shingle), and a breakfast hoagie with bacon and sausage. And since most meals are priced under $10, you won't break the bank... though you may end up breaking the scale.
NoDa Bodega
Classic sandwich shop serving a can't-miss Sunday brunch
Charlotte loves a good sandwich, and people are fiercely protective of their favorite spot to grab one. NoDa Bodega is one of those beloved sammie shops. Although locals may come regularly for the daily specials, or for classics like the Italian Stallion, it's brunch that is the star of this shop. Order the southern style breakfast sandwich with pimento cheese and your choice of egg and protein. If it's a nice day, sit outside on their back patio.

Plaza Midwood
Bistro La Bon
European flair meets southern breakfast staples
Bistro La Bon offers two types of brunch experiences during the weekend: a sit down and order off the menu experience on Saturdays and then the Brunch Smorgasbord (that's actually the name) on Sundays. This internationally inspired restaurant offers a buffet that's overflowing with traditional brunch buffet fare, as well as European specialties. For $22 you can eat all you want from the buffet, or until items run out. Pro tip: they don't take reservations, so you'll need to get there early.
South End
Chef Alyssa's Kitchen
Take a cooking class, or just let the experts cook for you
Chef Alyssa is known for her classes that make cooking elaborate dishes accessible and approachable. Her brunch menu is no exception. From hearty bowls and breakfast sandwiches to the popular pancake tacos where the pancake is used instead of a tortilla base, the food is delicious, comforting and not pretentious. Also, their seasonal sorbet mimosas are a perfect change up from the classic champagne and OJ number.
Superica
Where one hot cake can --and will -- fill you up for the rest of the day
Although a chain, Superica has upped the weekend brunch game in South End, which is especially welcomed since the closing of Pike's Soda Shop. Order the horchata, a sweet almond and rice milk drink, and either the tamales and eggs, or the chorizo and potato egg scramble. If you're feeling particularly hungry, snag a hot cake, which is bigger than their plates. If you're feeling aggressively hungry, order two... but be prepared to be useless for the rest of the day.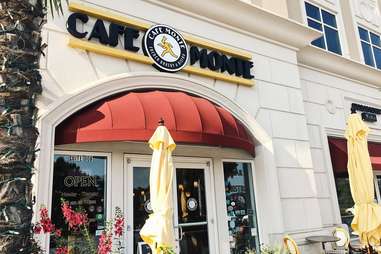 SouthPark
Café Monte
A little bit of Paris finds a cozy spot in Charlotte
For a Parisian escape, get lost in the menu at this adorable bakery and bistro on a weekend when you have nowhere to be. Be sure to order the signature Benedict Monte with smoked ham, two eggs, tomato, asparagus, and hollandaise served on a flaky croissant. Bring your book and dine solo, or bring friends and get a bottle of rosé.
Reid's Fine Foods
Buffett lines and delicious wines
The SouthPark location of Reid's has one of the most impressive brunch buffets in the city. Served every Sunday for $24.99, this brunch spot offers all the favorites: farmer's pie, French toast, an omelet station, eggs Benedict, and more in one glorious line. Loose pants are strongly encouraged.
Uptown
The Asbury
Anything but your typical hotel brunch
The atmosphere at The Asbury gives the feeling of Uptown elegance while its brunch menu exudes down-home comfort. Located in the historic Dunhill Hotel, The Asbury is open to hotel guests as well as visitors. Start your meal with an order of cast-iron biscuits served with seasonal jam. The menu changes seasonally, so be sure to check their website for the latest offerings.
Dandelion Market
Where you can dance the night before, and get a sustenance brunch the next morning
If you've been dismissing the Dandelion as just an Uptown bar, you've been missing out on some good food, especially a tasty brunch menu. Stop by any Saturday and Sunday from 10am-3pm, order up a Bloody Mary (which you can customize to your own spicy preference), and enjoy the Hangover Hash or the Crab Cake Benny -- two must-haves at this underrated Queen City favorite.
La Belle Helene
Incredibly delicious and photogenic food in an adorable photogenic space
La Belle Helene is a French brasserie nestled among banks and businesses in Uptown. On Sundays, diners dress to impress and head to La Belle Helene for a Parisian take on brunch. Enjoy crepes, beef tartare, and their version of avocado toast (poached egg, radishes, and flax seed). This is the perfect spot to impress out-of-town guests and, naturally, add content to your 'gram.
Sign up here for our daily Charlotte email and be the first to get all the food/drink/fun in the Queen City.
Erin Breeden enjoys writing about food, beverages, and all things Charlotte. Due to her love of these things, she can be frequently found at the gym. Follow her and her Charlotte adventures on Twitter and Instagram.