This city is serious about its burgers -- and with good reason. From fancy blended beef at white-tableclothed restaurants to double-deckers served over the counter at cash-only joints, we've got some great ones. The 12 burgers on this list may require two hands for holding and plenty of napkins, but they're worth every last beefy bite.
South End
What you're getting: Irish Hills Black Angus Pub Burger
This pub gets high accolades for all its juicy, over-the-top burgers. And please, don't let us keep you from its famed Southern Prime "Crunch" Burger topped with hand-cut chips. But if you're eating at a place that touts itself as the city's only gastropub, you should probably be indulging in its pub burger. Not that you needed talking in to eating something with melty cheese, thick bacon, caramelized onions, and creamy aioli.
NoDa
What you're getting: Burger with cheese
This rundown red shack on the side of the road next to the railroad tracks looks like a Hollywood caricature of a Southern burger joint. A faded banner on its side proclaims "Charlotte's Best Burger," and the line that winds daily into the dirt parking lot confirms its popularity. Bring cash and a serious appetite. The "All the Way" version includes mustard, onions, and a homemade chili so thick, it's as meaty as the patty. You'll have to eat in your car as there's no seating here, but that's okay, you'll want some time alone with this one.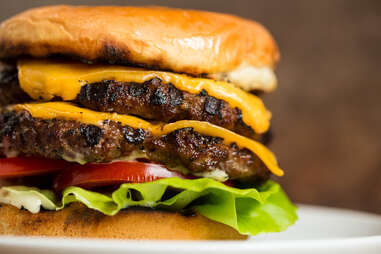 Myers Park
What you're getting: Little Spoon Burger
Consider this your warning: much like its famed pop tarts, there are a limited number of burgers made here every day. If you want one -- and you definitely do -- get there early and make sure it's made the menu for the day. This majestic meatwich changes according to what they've snagged from the farms that morning, but with a toasted bun and perfectly cooked patties.
SouthPark
What you're getting: The Texas Longhorn
You know the nights. Your fairer half says, "I'd like a salad or maybe an avocado roll." And you're thinking, "I'm more in the mood for 5lbs of beef on a brioche bun." Enter Cowfish. The menu is part sushi, part burger (with something called burgushi tossed in, but we won't get into that). This particular mouthwatering monstrosity includes a half pound of beef, cheddar cheese, onion strings, jalapeño bacon, and plenty of barbecue sauce.
South End
What you're getting: The Zack's Special
There's a certain fast-food chain with a certain large-sized "Mac" that has strikingly similar ingredients to this burger. But don't you dare mistake this juicy, homemade cheeseburger for one of those mass-produced versions. This family-owned business has been serving this hot off the grill since 1975. Enjoy the spot's retro look while you're ordering over the counter. Because once you've got your hands on this bun filled with two beef patties, American cheese, lettuce, tomato, pickles, onions, mayo, and "special sauce," you won't look up again until you're finished.
Dilworth
​What you're getting: Bad Ass Burger
You can smell the burgers and bacon from down the block at the original location of this burger bar. Incidentally, you'll definitely be down the block because that's the closest parking you'll be able to find at this ridiculously popular spot known for gloriously decadent burgers concoctions. Along those lines, nothing beats the Bad Ass version made with a 10oz patty topped with lettuce, tomato, horseradish mayo, American cheese, and -- because, why not? -- buttermilk fried bacon.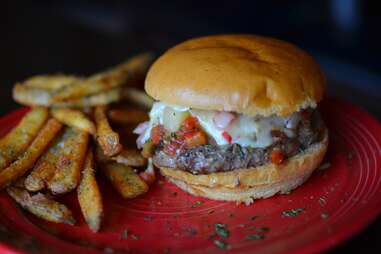 Dilworth
What you're getting: Jerk Style Burger
This burger abides. It's not your typical between-the-buns option. An oversized patty is topped with pepper jack cheese and pineapple salsa for a spicy kick, and then smothered in a sweet jerkiyaki glaze that will make you rethink ever putting something as plain as ketchup on your burgers again.
Ballantyne
What you're getting: NC Local Burger
You're going to walk into this upscale modern restaurant thinking you should be ordering fancy things like rabbit charcuterie or lamb carpaccio. Resist that urge. This burger, which is sourced entirely from North Carolina, is the most luxurious entrée on the list. Topped with a sunny side-up egg, and cheddar smoked in a Charlotte-brewed ale, you can feel good for supporting local -- and probably a little bad for how fast you inhaled that burger in a restaurant with velvet seating.
NoDa
What you're getting: Crepe Cellar Burger
First, there's the soft potato bun. Then, there's the way it's smothered in creamy garlic aioli. Add the melted Gruyere cheese and some onion straws for crunch, and the beef on the burger practically becomes secondary. But only practically. This gourmet burger is plump and juicy enough that you may want to ask for a towel if you expect to stay clean during this meal.
FreeMore West
What you're getting: Ding Dong Style Burger
Okay, bear with us here. Admittedly, crunchy peanut butter, honey-cilantro slaw, and hot sriracha sauce piled on a beef burger sounds weird. But this mouthwatering mix of flavors makes for an unexpectedly tasty version. Pro tip: order the Pimp'n Fries doused in homemade melted pimento cheese to accompany the burger. And then plan on not eating again for a week.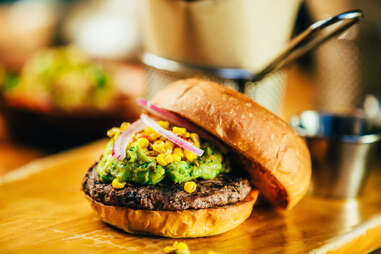 Elizabeth
What you're getting: Guacamole Burger
Forget burritos. Get your grilled corn salsa and guacamole piled on top of a giant ground beef patty. The meat comes from NYC's Pat LaFrieda Meat Purveyors (the same guys behind places like Shake Shack and Union Square Café), which means you're getting high-quality Black Angus between those tasty buns.
Uptown
What you're getting: Umami Burger
Not to get all fancy on you here, but occasionally we appreciate a savory umami taste. The Umami Burger (which pairs very well with Cowbell's whiskey selection) is topped with roasted shitake mushrooms and tomato, caramelized onions, a Parmesan crisp, and a chipotle spiced ketchup. You can have it with a bun, but the "naked" (sans bread) option is comes chef recommended for the best umami experience.
Sign up here for our daily Charlotte email and be the first to get all the food/drink/fun in the Queen City.