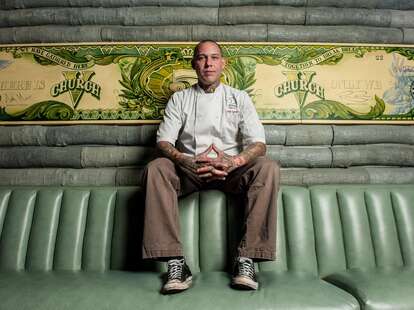 Editor's Note: This article is part two of Thrillist's year-end look at the best of our cities' local food and drink scenes in 2016. In addition to our annual Best New Restaurants awards, this year, we're spotlighting the men and women behind the dishes we love to tell you to eat. Our chef of the year brought national attention to Charlotte's food scene through a
Top Chef
stint, and also managed to revamp one restaurant and open two more. You can also check out our picks for the rest of America's 2016 Best Chefs, and then catch up on the Best New Restaurants.
There are many talented chefs shaping and defining the Charlotte culinary scene -- their resumes are insanely impressive and a who's who of restaurants and cities from around the country. In honor of these talented chefs, Thrillist is introducing its inaugural Charlotte Chef of the Year designation.
Although there were many impressive candidates, the chef that was awarded the designation is a literal and figurative "top chef." After opening two new restaurants in two different states, revamping the menu of his Charlotte restaurant, and competing in Bravo's Top Chef, we wanted to showcase Chef Jamie Lynch of 5Church as this year's Thrillist Charlotte Chef of the Year.
Moving up the ranks in a high-octane life
A New York native, Lynch's relationship with the culinary world began at age 16 when he worked as a dishwasher at a bar and grill in a small Massachusetts fishing town.
"I fell in love with the high-octane crazy kitchen life," said Lynch. "I think that environment either pulls you in or pushes you away and I embraced it. I fell in love with it and was hooked."
Lynch would eventually hang up his dishwasher gloves and pick up kitchen knives. He received his degree in Culinary Arts from the New England Culinary Institute in Burlington, Vermont. His culinary career included NYC heavyweights Le Cirque 2000 in The Palace Hotel, Aureole, Café Boulud and Tocqueville NYC, where he honed "old-school, classical French" techniques.
"What does it for me is the proper way of cooking proteins, making sauces, slow braising," Lynch said of his style. "It's through these traditional, time-tested techniques that focus on taking a product that might be a turn-off, like a tough cut of meat or a bitter vegetable, and transforming it into something lavish and melts in your mouth."
Perfecting his craft, Lynch recounted his time at Café Boulud, Le Cirque, Aqua in San Francisco (now Restaurant Michael Mina) as pivotal to his culinary evolution.
"I was a saucier at Café Boulud," recalled Lynch. "During my time there I worked with one of the best teams in New York. I learned how to properly roast meats, balance reduction sauces, and butchery. It came in handy when I had to breakdown a chicken for the Quick Fire Challenge on Top Chef."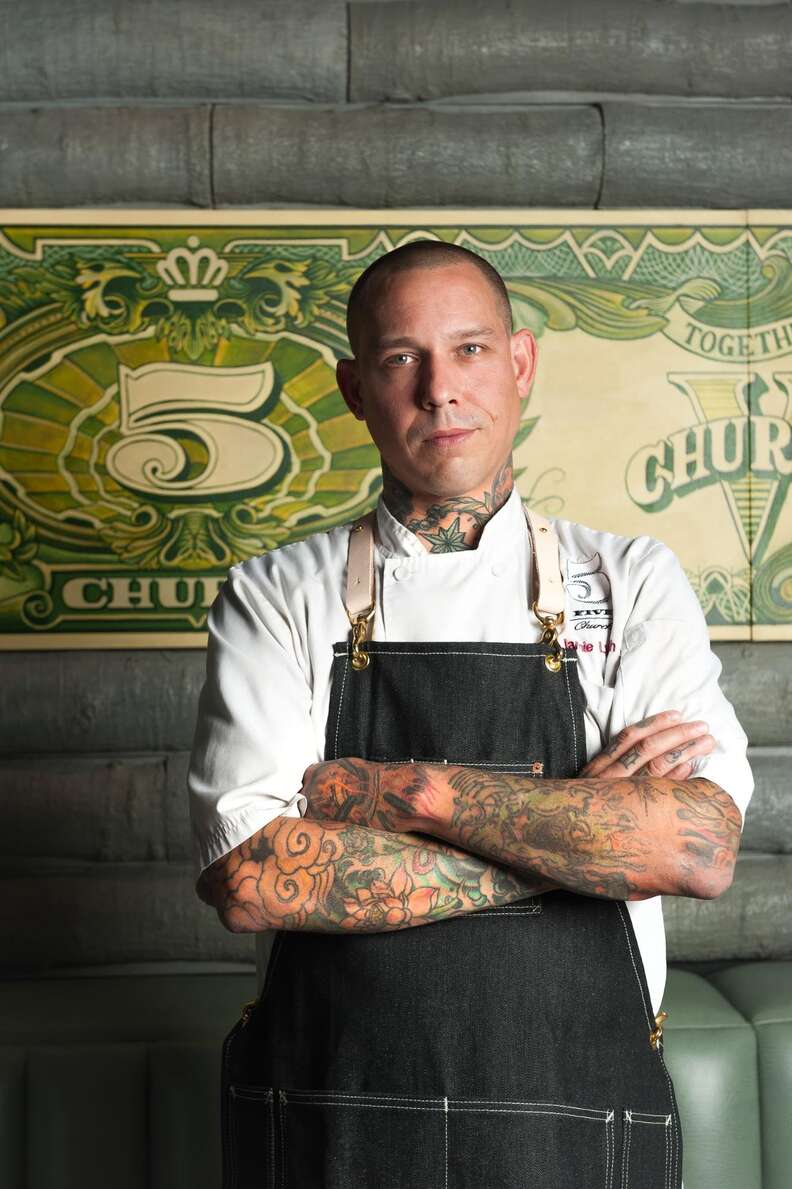 Realizing his restauranter dreams
Lynch moved to Charlotte in 2002 and worked at notable local joints such as Blue Restaurant and Barrington's before realizing his dream of opening his own restaurant.
"I always knew that cooking was my thing and I've always loved the hospitality of it," said Lynch. "My partners and I are all in this hospitality game for the same reason: we want to take care of people."
Moreover, Lynch was tired of working for other people. In 2012, Lynch and his three business partners opened 5Church, at the corner of Fifth and Church Streets, where he serves as executive chef. Lynch said the restaurant is special because of the collaboration between partners.
"We have the same drive and focus, but we bring a different aspect of the hospitality game to the table. Our diners know that it's not just about the food," he said.
This sleek, loft-style space with "dope artwork" in the center of Uptown focuses on new-American cuisine. The food and the space were a departure from the Queen City's steakhouses and restaurants, and left an immediate impression on Charlotteans and food critics.
"My approach in writing a menu or a dish is that I like to take a food or ingredient that is familiar and twist it on its head and add world flavors," Lynch explained. "For example, we had a pierogi on a menu that instead of potatoes and cheese, was stuffed with Indian spices and peas. I feel like that was refreshing at the time, and it got people excited."
By twisting familiar ingredients and sourcing locally as much as possible, Lynch has earned the Best Chef designation from Charlotte Magazine in 2013, 2014, and 2015.
5Church Charlotte, Charleston and Atlanta… Oh My!
In November of 2015, Lynch and his partners opened the second 5Church location in Charleston, South Carolina. That wasn't enough for Lynch and his crew. In June of 2016, 5Church Atlanta opened.
"The concept is the same in all three locations," said Lynch. "Same décor, accents, and The Art of War on the ceilings. We wanted the soul of 5Church to shine through at all three locations. No guessing game where [the diners] are at."
This strategic way of thinking carried over to their approach with all three of the restaurants.
"Our signature dishes are still the same, but the ingredients and the overall menu approach was changed to match each city," explained Lynch. "Charleston is near the water, so the menu tends to be more seafood heavy. Atlanta is a larger city with a more diverse crowd who are willing to embrace a risk. We use more modern cooking techniques in Atlanta than we do in Charlotte."
Speaking of Charlotte. The home base and the original of the chain concept got some love in 2016, too. Not to be outdone by the newer locations, the Charlotte location went through a décor refresh and a complete menu overhaul.
"We accumulated too many dishes [in Charlotte]," explained Lynch. "Too many items can stifle creativity, so we went back to where we started… a chef-driven menu that changes by what ingredients are available and not by what people want."
The menu was scaled back to just 12 items to focus on quality and seasonality. Charlotte welcomed the change, especially since the beloved lamb burger remained on the menu, but there was one deletion that almost caused a revolt.
"The scallops are back," said Lynch, laughing. "People were passionate about those. It was a business decision to take them off, but they are back now. Other than that, people are digging the scaled back menu."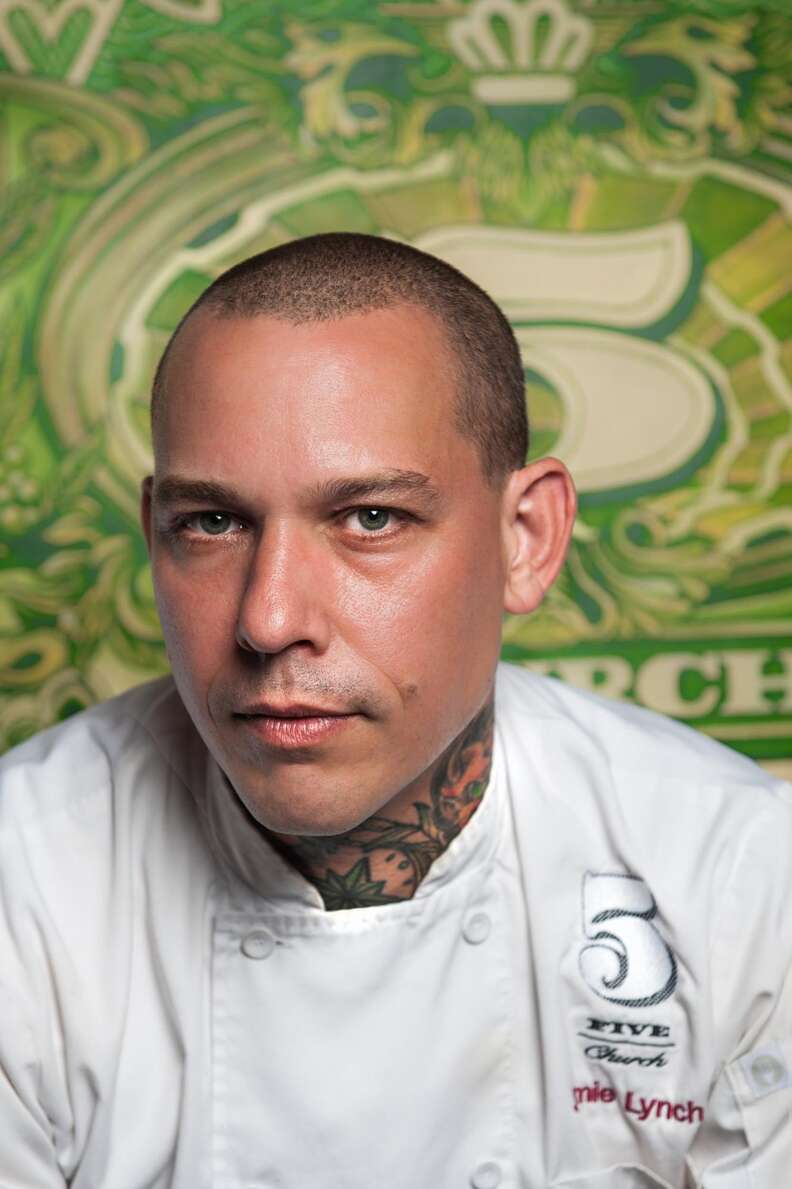 On becoming a Top Chef while opening No. 3
For most people, opening two restaurants and updating another would be considered enough work. Not for Lynch. It was a chance encounter at the Charleston 5Church that would set Lynch on a journey he never expected.
"A friend of a casting director [with Top Chef] came into our restaurant and told her about the restaurant and me," recalled Lynch. "The casting director then reached out to me on Facebook Messenger about applying to be on the show. I thought it was a joke, but it wasn't."
During filming, the Atlanta 5Church opened. Lynch relied on his business partners and staff to open the restaurant while he was "sequestered" during filming. Lynch refers to filming as being "hyper stressful," especially when it came to getting used to the idea of being on the show.
"It was difficult," reflected Lynch. "You think about what the judges want and how not to fall on your face while on camera. When I walked through the kitchen door on the first day of filming and saw Tom [Colicchio] and Padma [Lakshmi] I felt exhilaration, fear and I was trembling a bit. But once I knew the challenge, I put my head down, focused and had tunnel vision."
Although stressful, there were a few bright spots for Lynch.
"The best part of the experience was meeting the other cast members," said Lynch. "All are amazing chefs and super talented. I have a deep respect for all of them. There were big personalities and egos and things like that happen, but the underlying thing was that everyone was super cool… I'd love to work with many of them."
The other bright spot… seeing Padma for the first time.
"I was blushing," laughed Lynch. "Padma is beautiful. I'm sure I looked like the heart eyes emoji."
Lynch won't stop evolving
After returning from filming, Lynch said he felt like he "evolved as a chef and as a person."
"I have learned that you have two choices when things happen… you either unravel and you fall apart, or you make the most out of the situation and grow."
With that knowledge, Lynch is focusing on the new menu at the Charlotte 5Church, continuing the success of the Charleston location, and growing the Atlanta 5Church. In addition to working on building the 5Church brand, there is also a milestone coming up for Lynch and his partners. The mother ship location in Charlotte will celebrate five years in 2017.
"It's going to be wicked," said Lynch describing the planned anniversary party. "I mean it's going to be riding on elephants, shooting a cannon big. It'll be us going back to our old antics."
Top Chef has wrapped and has started airing. So far, Lynch is still in the game, although he did burn his vegetables on the first elimination quick fire challenge. We won't hold that against him.
This tattooed and talented chef is representing Charlotte well on a national level, has opened two restaurants and has re-envisioned the menu at a third restaurant. This level of success doesn't happen to everyone in the culinary world, but then again, nothing about our 2016 Charlotte Chef of the Year screams status quo.
Sign up here for our daily Charlotte email and be the first to get all the food/drink/fun in the Queen City.