The Best Italian Restaurants in Charlotte
Courtesy of Vivace/Urban Food Group
We may not have a chance to visit Italy in our lifetime, but we can still eat authentic Italian food. Charlotte has a variety of Italian restaurants -- from romantic fine-dining spots to more casual come-as-you-are eateries. There is something magical about sitting at a table with a white tablecloth, being served a pasta dish and a delicious Chianti as soft music plays in the background, but the real magic might be in the sauce.
Courtesy of Dolce Ristorante
Dilworth
Dolce is easy to pass on busy Kenilworth Ave, but that would be a travesty for you and your taste buds. It doesn't have showy décor, but the food is the true star -- each dish tastes like it was lovingly prepared by someone's grandmother. A simple caprese salad, for example, is so fresh, it tastes like the chefs just plucked the tomatoes off the vine. Likewise, fan-favorite gnocchi is only served on Tuesdays to allow other dishes to have a fighting chance of being ordered. Before heading home to fall into a carb-induced slumber, order the vin santo. You'll rest better with a belly full of this dessert wine, served over panna cotta gelato with fresh mixed berries and whipped cream to top it off.
Courtesy of Portofino's Ristorante Italiano e Pizzeria
Plaza-Midwood and other locations
With three locations, this Charlotte restaurant knows how to create pasta dishes, pizza, and other Italian entrees. Founded in 1996 by Giosue (Josh) and Luigi (Gino), who were childhood friends in Naples, Italy, Portofino's serves recipes from Josh and Gino's childhood. The family-friendly restaurant serves a mean veal saltimbocca alla Romana (veal, sautéed spinach, and prosciutto with melted mozzarella) and some of the best pizza in Charlotte.
Uptown
A lunch staple for Uptown workers, and a dinner staple for those going to the Blumenthal for a show, Aria is known for fast service and delicious food. To make sure the food is as authentic as possible, the kitchen staff at Aria were trained in Tuscany. Order the caramelized gnocchi with pear, gorgonzola, and truffle oil to share, or just keep it all for yourself (highly recommended). If you do go in a group, order the pasta tasting option for the table -- you'll get to enjoy a five-course chef's choice tasting menu. If you're still not stuffed, try the orecchiette with sausage -- made with chilies and roasted red peppers, it has just the right amount of kick without being too overpowering.
Courtesy of Fiamma
Dilworth
Don't let the fact that Fiamma is located in a strip mall deter you. Focused on Northern Italian cuisine, Fiamma makes pasta in-house, and the fish is flown in from Europe to give diners an authentic taste of Italian food. Although it serves lunch, the best time to visit is during dinner, where dim lights and flickering candles make for a very romantic setting. Start with the Polpettini di Melanzane -- eggplant croquettes served with salad and goat cheese -- or the Tagliolini alla Zafferano al Succo di Granchio (if you can pronounce the name, you're amazing), a homemade saffron pasta sautéed in a spicy tomato sauce with crabmeat.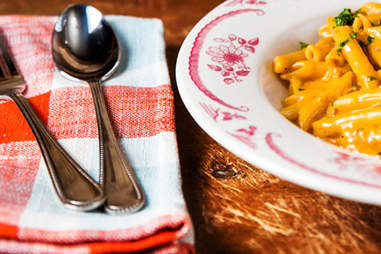 Courtesy of Mama Ricotta's Restaurant
Cherry
A Charlotte restaurant staple for almost 15 years, Mama Ricotta's is known for a welcoming atmosphere with attentive service. Reasonably priced and always delicious, Mama Ricotta's will make you feel like you're walking into someone's home. The bread is made in-house, so start with either the cheesy garlic bread (it costs extra, but add the truffle oil) or the warm goat cheese and mascarpone dip served with crostini. The ever-popular penne alla vodka with sautéed pancetta in a peppery, spicy, tomato cream vodka sauce is the most popular pasta dish, and with good reason.
Uptown
An intimate spot nestled at the base of the Hearst Tower, Luce is white tablecloth dining at its best. A great date or special-occasion spot, this Uptown restaurant has also become a lunch-spot staple for bankers and attorneys trying to impress clients. You can't order wrong here, but definitely go with one of the fresh seafood dishes -- the flash-fried calamari is served with a spicy marinara and caper aioli sauce and is a great way to kick off your meal. The branzino, also known as European sea bass, is a standout seafood dish because the recipe changes daily. Be sure to order the ricotta cheesecake before you leave.
Courtesy of Stagioni Four Seasons of Food
Myers Park
Opened in 2014, Stagioni is the third Charlotte restaurant from chef Bruce Moffett. Cozy is the best way to describe the interior of Stagioni, which is located in a historic house, as well as how you'll feel after dining here. The menu changes with each season (in fact, Stagioni means seasons in Italian), and while the pizza is a standout, the Italian dishes with a twist are the real draw. The pork chop is served with Anson Mills polenta, braised greens, and fried pickles. The gelato is amazing, but if it is on the menu, order the Baba au Rhum, a rum-soaked brioche with lemon crema.
South End
This casual dining spot is perfect for out-of-town guests and family because it feels more like a small neighborhood spot than a restaurant located in the heart of bustling South End. If you want something other than pasta, the eggplant Parmigiana is a perennial favorite. Even if you don't have room, order the zeppole to go; this dessert features Italian doughnuts filled with ricotta cheese and Nutella.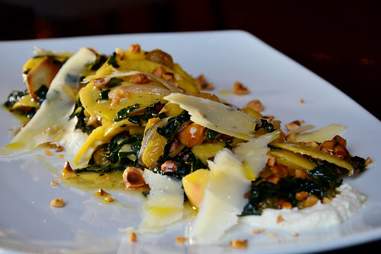 Courtesy of Vivace
Cherry
With a great atmosphere and one of the best patios in the city, Vivace serves up beautiful dishes in an equally beautiful setting. The spaghetti with braised meatballs is as comforting as a hug from your grandmother. And those with gluten allergies need not fear: Vivace has an entire gluten-free menu so you don't have to miss out on dishes such as pasta Bolognese and fettuccini. Don't forget to end your meal with a glass of the house-made limoncello.
Myers Park
This hidden gem is tucked away so only the true lovers of Italian cuisine know about it… until now. For over a decade, Zio has served made-from-scratch dishes to Charlotteans and transplants alike. Gluten-free and vegetarian options are available, but meat eaters can rejoice at this restaurant. The meat lasagna will silence you for the rest of your meal because you will want to savor every bite. When you visit, don't miss out on the chance to see where some of your food comes from and visit the garden where Zio grows fruits, vegetables, and herbs.
Sign up here for our daily Charlotte email and be the first to get all the food/drink/fun in the Queen City.
Erin Maddrey loves all things carbs, which is why Italian food may be her one true love. Follow her on Twitter and Instagram: @ErinMaddrey.